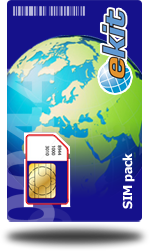 Despite the harsh economical climate. 0044.co.uk has seen a record number of sales for it's international SIM card. It appears the financial pinch has made more people consider the cost of using their mobile phone whilst abroad.
Director, Carl Austin said "We've been amazed by the increase in demand. We were expecting a dip in sales given the current environment, however we have seen the exact oppopsite".
By switching to the international SIM card UK travellers can save up to 80% on their mobile phone calls, SMS and data. Although this saving is being reduced in Europe for destniations such as the USA or Africa the savings are still considerable.
Here are a few handy tips for mobile users that want to avoid bill shock:
Low Users
Use SMS instead of voice. It's free to receive SMS anywhere in the world and costs 9p within the EU to send an SMS. However, be warned it can cost over 50p/sms when you are outside of Europe so avoid getting into a conversation.
TIP: If you have a smartphone turn off data roaming and only use WiFi access.
Medium Users
All of the network operator's offer discounted roaming tariffs for use abroad. Often they are free but some require a monthly fee. The savings can be as much as 40%, just remember to cancel when you are back in the UK
TIP: You UK network will have a preferential network for you to roam on whilst abroad. Make sure you are connected to this network or you could be paying a lot more.
High Users
Still the best option is to switch your SIM card. You can choose either a global SIM card or a local SIM card. A global SIM card will work throughout the world and offer lower rates than your UK network. However if you are remaining in one country for a long period of time a local SIM card is by far the cheapest option.
TIP: If you have a smart phone you now have the luxury of benefitting from FREE or low cost calls via Voip. However due to extortionate data roaming charges you will need to connect via WiFi.