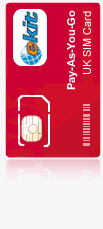 A newly launched
UK SIM card
from leading SIM retailer
www.0044.co.uk
is set to revolutionize the market by offering not only cheap local calls, but low cost international calls, free global roaming and the ability to call it from inclusive UK bundles. Unlike many of the current main network UK SIM cards, it can be used at home or abroad cost effectively and offers consumers huge savings compared with traditional UK SIM cards. The new UK SIM also features an exclusive O2 UK number range as well as a US number range for even greater convenience.
The new
UK SIM card
is the result of a joint development between Ekit, a leading global SIM provider, and O2 and is designed to offer a combination of features that previously would have required 2 or 3 SIMs. When used in the UK calls start from as little as 4p/min and incoming calls are free. International calls can also be made from a mobile in the UK, to the USA for example, again from only 4p/min. Outside the UK savings can be even greater as the
UK SIM card
can avoid roaming charges, offer low cost outgoing calls and free incoming calls where traditionally you still pay a premium to make and receive calls abroad with a UK SIM.
Angus MacLeod of 0044 Ltd commented,
"We have built a strong reputation by providing cost saving solutions for UK travellers leaving the UK, but this new UK SIM card now means both visitors and UK residents can enjoy big savings both in the UK and when they travel globally. It also enables UK contacts to reach them for free as part of their inclusive bundles or for the price or a local call, so provides a world beating solution for all involved."