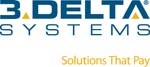 MIAMI & CHANTILLY, Va. -
ACM Payment Processing Solutions (ACM)
, a leader in electronic payment processing providing the utmost in discounts to merchants, is partnering with
3Delta Systems, Inc.r (3DSI)
, a leader in secure online credit card payment solutions, to expand and enhance
payment services
for approximately 19,000 business credit and financial professionals who belong to the
National Association of Credit Management (NACM)
and its network of Affiliated Associations.
As the preferred provider of financial services to NACM members worldwide for more than 13 years, ACM will offer its suite of
payment processing
products along with those of 3Delta Systems so that NACM members get the best combination of
low cost
,
security
,
flexibility
and
ease of use
for
processing payments
-- whether on paper or electronically. Now, NACM members who use 3DSI's web-based
processing gateway
will automatically comply with
Payment Card Industry Data Security Standards (PCI DSS)
, and those who include detailed,
Level-3 line-item
information with their credit and
purchase card
transactions will also qualify for the
lowest possible interchange rates
.
Under the joint agreement, NACM will continue to exclusively market ACM's solutions to its vast membership base.
"In keeping with NACM's efforts to improve the management of business credit and accounts receivable, we are excited about the robust payment processing capabilities that the ACM/3DSI partnership brings to our members," said
Robin Schauseil
, president of
NACM National
. "ACM has been our preferred provider of financial services for well over a decade and the relationship has proven to be very beneficial to our affiliates and members. Now, with the creation of the ACM/3DSI partnership, our members can easily mix and match the processing services that work best for them. 3Delta Systems' suite of
PCI-compliant
services with Level-3 line item detail qualifies merchants for the lowest possible interchange rate for their credit and
purchase card
transactions. 3DSI's capabilities will enhance ACM's existing broad product offering of customized services, which handles everything from paper to integrated electronic
check
and
ACH
processing. Combined, both companies' service offerings make for an extremely powerful, secure and sophisticated
payment processing
gateway solution."
"For years, we've had clients use 3Delta Systems' advanced payment services who were also NACM members," said
Aaron Bills
, chief operating officer and founder of 3Delta Systems. "By partnering with ACM, I'm confident we'll help NACM members sleep better at night, knowing their confidential
payment data is safe
. We'll
save
them money
, too. On average, 3Delta Systems customers save 30 percent on their payment transaction costs. And, as a leading
Software-as-a-Service (SaaS)
provider, NACM members will benefit from on-demand, real-time reporting and secure transaction management online that requires no additional software, hardware or customization by the user," Bills added.
"ACM remains committed to providing low-cost, high performance payment processing solutions to NACM," said Dean Middleton, President of
ACM
. "Our partnership with 3DSI now expands our product offering and provides even more exciting payment alternatives to NACM members and their customers. We are pleased to partner with 3DSI, the industry leader in credit card processing solutions. Both ACM and 3DSI are well-known leaders in the space each occupies within the payments processing arena and, together, we make a formidable team."
About ACM Payment Processing Solutions
ACM makes accepting payments safer, faster and more affordable. Whether payments are made online, by check, credit card or ACH, ACM offers the most sophisticated and affordable solutions in the industry. Our product offering now includes: Credit Card Processing, Remote Check Deposit-with no NSF's, Electronic Bill Presentment and Payment, Online Bill Pay, EFT/ACH-Check by Phone, E-mmediate(sm)-Check by Phone with no NSF's, and traditional Check Guarantee. Visit our website at
www.acmeft.net
to learn more about ACM's state-of-the-art processing capabilities.
About 3Delta Systems

3Delta Systems, Inc
.
[http://www.3dsi.com
] is a payment solutions company that delivers the power of secure, Internet-based purchase and credit card processing solutions to enterprise,
business-to-business
and
business-to-government
customers. 3DSI's complete suite of payment solutions - each designed from the ground up to be scalable, easy to implement and conform with PCI Data Security Standard best practices - enables merchants and buyers to manage, authorize and settle payment transactions in real time. As a leading
Software-as-a-Service(SaaS)
provider, 3DSI has processed more than 32 million payment transactions worth over $27 billion for more than 6,000 corporations and government agencies since the company was founded in 1999.
About National Credit Management Association
The
National Association of Credit Management[NACM]
, headquartered in Columbia, Maryland, supports approximately 19,000 business credit and financial professionals worldwide with premier industry services, tools and information. NACM and its network of Affiliated Associations are the leading resource for credit and financial management information and education, delivering products and services, which improve the management of business credit and accounts receivable. NACM's collective voice has influenced legislative results concerning commercial business and trade credit to our nation's policy makers for more than 100 years, and continues to play an active part in legislative issues pertaining to business credit and corporate bankruptcy. More information is available at
www.nacm.org
.
MEDIA CONTACTS
For 3Delta Systems:
Audra Capas
5StarPR, LLC

703.437.9301
audra@5starpr.com
For ACM:
Mark Kacer
786.264.7002
mkacer@acmeft.net
For NACM:
Caroline Zimmerman

410.740.5560
caroline@nacm.org