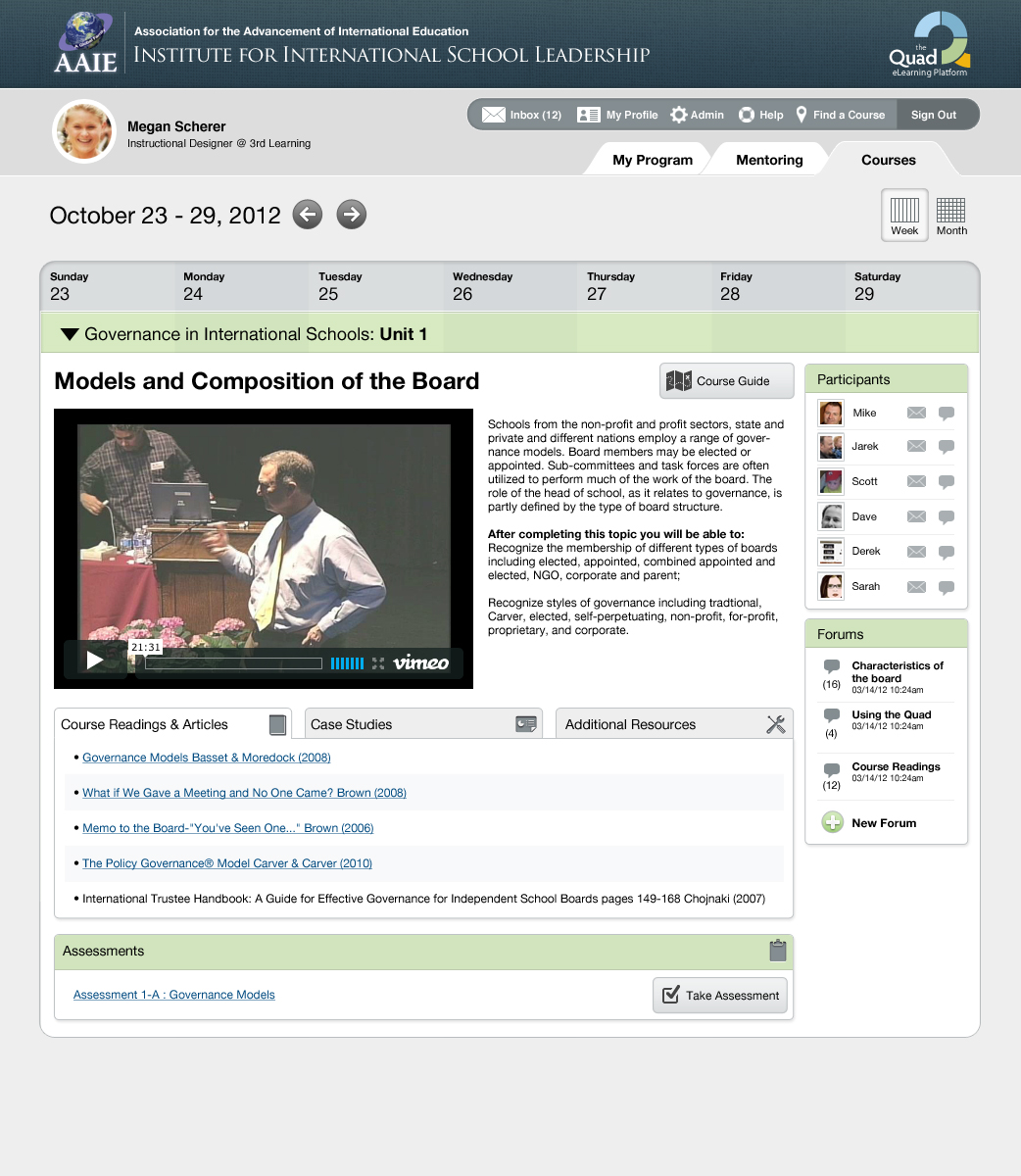 Buffalo, NY – The Association for the Advancement of International Education (AAIE) and Performance Learning Systems (PLS) today announce the launch of the AAIE Institute for International School Leadership, powered by 3rd Learning. The Institute, an initiative to prepare aspiring educational leaders for positions in international schools, consists of a menu of eight courses delivered online covering the fundamental components unique to international school guidance. Graduate credit leading to a Masters degree is available with these course offerings. Participants may select individual courses for personal improvement or seek a certificate by completing all courses. The program will launch in late September 2012.
Registration is now open for this online educational project co-developed by AAIE and PLS and powered by 3rd Learning. The joint project is the result of an assessment of the needs of current and aspiring international school leaders, delivering an online set of seven-week courses focusing on eight core components school leaders face. A final course supervised by a mentor assigned early in the program, completes the two-year sequence. This program supports institute participants in obtaining real-world knowledge with research-based frameworks for leadership within international schools.
"The goal of the Institute is to advance the preparation and continuing professional development of leaders in international schools. This initiative is designed to deliver critically important knowledge from experienced international school leaders to assist in the development and growth of currently-serving as well as aspiring school leaders," noted Elsa Lamb, AAIE Executive Director.
The Institute courses will be delivered via 3rd Learning's online delivery system, "The Quad®," which was custom-designed for this initiative. This professional learning community incorporates social media functionality into a course platform that allows enrolled students to fulfill assignments from any location and communicate both with cohorts and privately with their mentors.
"We are thrilled to partner with a well-respected organization such as AAIE on this important endeavor for the advancement of international education. Our technology aligns with the dedicated coursework from PLS and vision of AAIE to deliver a great asset for school leaders," said Donald Jacobs, Ph.D., CEO of 3rd Learning CEO.
Key Facts / Highlights
PLS has been helping educators for more than 45 years with professional development and online coursework.
AAIE Institute graduates will receive a certificate of completion upon successfully concluding all eight components. Participants will also be able to engage in individual components a la carte based on their needs.
Graduate credit for this program is available through Wilkes University, a partner of PLS for nearly 30 years. Wilkes University offers a variety of innovative and practical degree programs in education, including a master's degree in International School Leadership. This program combines the strengths of Performance Learning System's Institute in International School Leadership with core classes from Wilkes University, allowing students to earn an advanced degree in the field. Wilkes was recently recognized by The Chronicle of Higher Education as one of the fastest growing universities in the United States.
Component Courses include:
- Vision and Mission to Guide International Schools
- Leading for Staff and Student Learning in International Schools
- Governance in International Schools
- International School Management and Leadership
- Building and Sustaining a Healthy International School Culture
- Ethical Leadership in International Schools
- Situational Awareness and Diplomacy in International School Communities
- Continuous Professional Growth for International School Leaders
For more information about the AAIE Institute, please visit: www.aaieinstitute.com
About AAIE
Founded in the U.S. in 1966 the purpose of the Association for the Advancement of International Education (AAIE) is to create a dynamic, global community that provides forums for the exchange of ideas and research in the field of international education and international school leadership, and to advance international education through partnerships with educational institutions and associations worldwide. AAIE's global family is made up of over 400 members from 111 countries. This membership includes international schools, universities, organizations, and individuals who support communication and collaboration among globally minded educators. For 46 years AAIE has been connecting people, ideas and resources worldwide through the many opportunities it offers for professional development, personal growth, and networking, all with an emphasis on international school leadership. For more information, visit www.aaie.org.
About Performance Learning Systems
For over 45 years, Performance Learning Systems, Inc. and its wholly owned subsidiary 3rd Learning, have been committed to providing educators with the highest standard of on-line and on-site graduate education courses, professional development and technological resources. The PLS team of experts has helped more than one million teachers obtain the skills and strategies necessary to meet the needs of today's students and beyond. With over 45 courses and more than 13 published resources available in all 50 states and over 30 countries internationally, PLS and 3rd Learning are market leaders in education services. For more information, visit www.plsweb.com.
About 3rd Learning
Headquartered in Buffalo, NY, 3rd Learning is an award-winning educational company that provides standards-based software solutions for educators throughout the world. Founded in 2007, 3rd Learning's mission-driven team of experienced educators and web developers has experience creating web-based state and country education portals, tools and resources, teacher and leader professional development resources along with new school start-up and turnaround school strategies, products and services. For more information, visit www.3rdLearning.com.