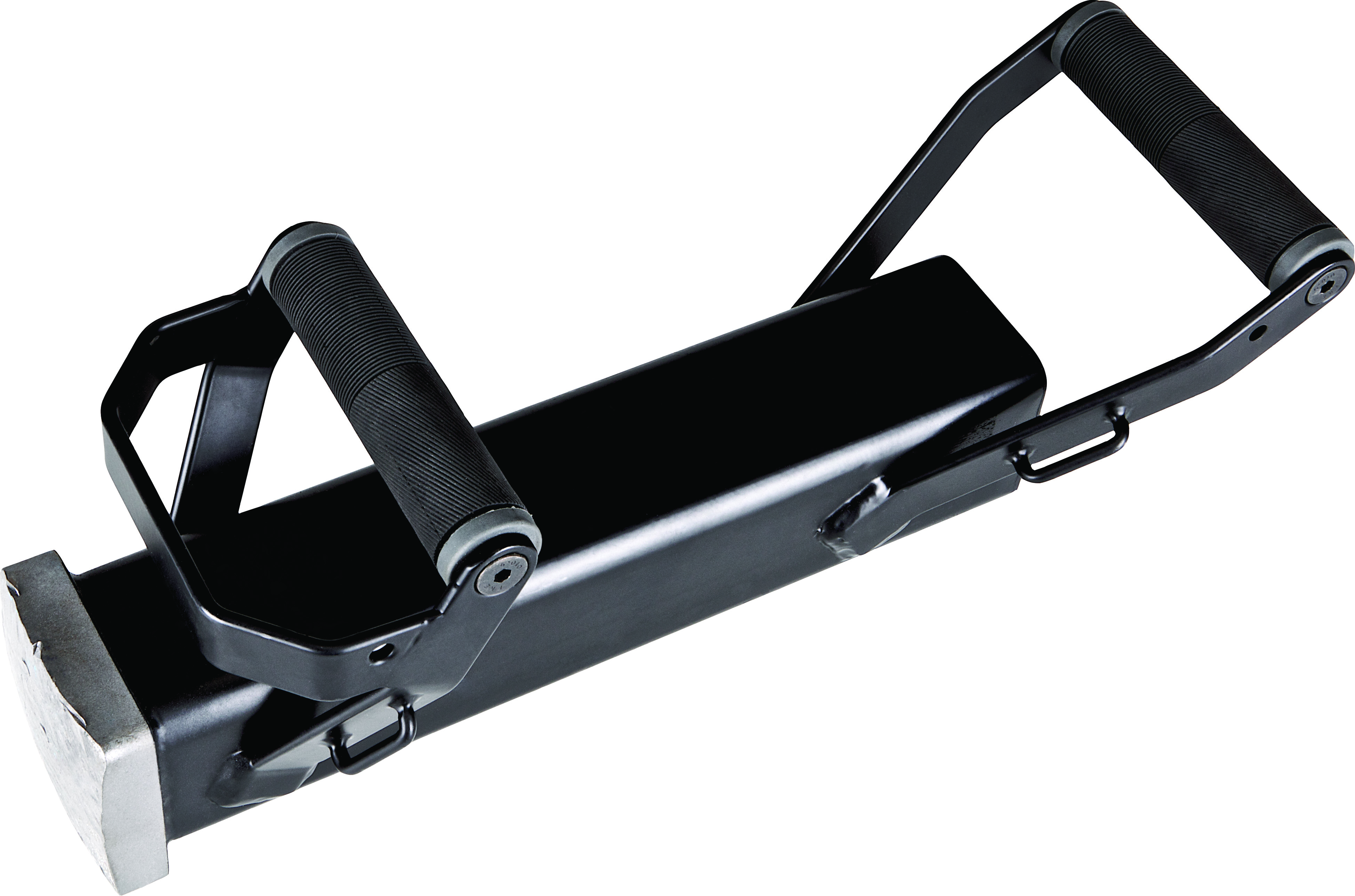 MODESTO, CALIFORNIA – Effective breaching minimizes operator exposure, maximizes effectiveness and requires proper tools and training. 5.11 Tactical® has partnered with Sweden Entry Tools (S.E.T.) to develop the 5.11 Tactical Breaching Tool System of rated Expert Entry Equipment, a new concept of mechanical breaching based on a line of mechanical entry tools and a full size breaching training door.
Designed for the durability and longevity of use, the 5.11 Breaching Tools are constructed with a proprietary TacForged steel alloy for superior light weight and incredible tool strength. The tool shafts are designed for rigidity, utilizing hydraulic pipe steel to eliminate all spring tension in the tool; applying maximum mechanical advantage on the breaching site where it is needed most.
The 5.11 Breaching Tool System, sold and registered only to law enforcement, fire, security and rescue personnel, allows breaching of inward and outward opening wooden, steel and security doors. The Expert Entry Tools in the system include the MiniRam, the compact MultiPry, the MultiSledge and the full-sized MultiBreacher. Two kit styles offer the versatility of compact carry options: the Active Patrol Breaching Kit for active shooters and HRT response maintained within patrol cars and a Heavy Breaching Kit to carry all the tools for heavy SWAT level response situations. The unique MultiPurpose Training Door allows for multiple variations of training on different types of outward and inward opening of wood, fire, metal and security niche plate mounted doors with both mechanical and hydraulic tools.
"S.E.T. and 5.11 Tactical partnered to develop efficient and balanced breaching tools with tremendous power and precision to open any door," says Tom Davin, CEO of 5.11 Tactical. "The Tactical Breaching Tool System offers a mechanical breaching system for quick and certain entry capability to open secure doors with speed whilst minimizing exposure. When time is critical, these tools help ensure success."
The fastest, easiest and most complete breaching system on the market; 5.11's Breaching Tool System launches Fall 2012. For more information visit www.511tactical.com/set.
Fall 2012 Breaching Tools
MiniRam Entry Tool
A weight optimized and balanced striking tool, the MiniRam provides the maximum striking force while retaining its flexibility of use. The MiniRam works as both a traditional ram for knocking in doors and as a striking tool for use in conjunction with the MultiBreacher. The MiniRam is designed for use at shoulder height to provide the maximum impact without the weight of traditional rams. Constructed of reinforced, weight-balanced steel with a convex striking head formed like a hammer. MSRP: $399.99
MultiPry Entry Tool
A small and very lightweight tool crafted with a unique head-design to open inward and outward swinging doors in all types of environments when used with the MultiSledge. Design ensures optimal bite, extreme case displacement and zero slippage for maximum mechanical advantage. High-strength hydraulic pipe steel handle design makes the tool superiorly strong, yet lightweight, for reduced time on the breaching site. MSRP: $169.99
MultiBreacher Entry Tool
The only breaching tool on the market that allows the opening of both outward and inward swinging security doors, fire doors and wooden doors. The unique design of the tool head ensures maximum mechanical advantage to open both upward and inward opening security doors in seconds. MSRP: $249.99
EdgeBender Entry Tool
This security plate bypass tool has revolutionized the ability to open outward swinging metal/security doors in a reliable way. With one simple motion the security plate edge is folded out of the way to
reveal the gap between the door and the frame. MSRP: 299.99
MultiSledge Entry Tool
Four optimal entry tools in one: a multi-directional hammer, break 'n rake, claw pry bar and a ram. The "break 'n rake" feature allows the operator to shatter all types of windows, the rake tool pulls glass shard out of the window frame. The claw pry end is used in conjunction with the MultiPry Tool to assist opening of reinforced, inward opening doors. MSRP: $219.99
Lite Kit Bag
This secure, simple stowage bag allows for the deployment and storage of the 5.11 Active Patrol Breaching Kit System. Secure tool storage with vehicle trunk lash down options, in an easy carry sling-style bag made of durable 1050D nylon. Allows for patrol and emergency response teams to standardize the way active threat response tools are deployed and stowed. MSRP: $79.99
Heavy Kit Bag
Designed to carry the Heavy Breaching Kit, this unique backpack allows for standardized operating procedure to be developed around the deployment and stowage of the 5.11 Heavy Breaching Kit System. Constructed of durable 1050D nylon with quick release lash downs, comfort yoke strap, reinforced internal steel frame, and padded waist support. MSRP: $299.99
Active Patrol Breaching Kit
Comprised of the MultiSledge and the Multiply for the lightest mechanical breaching kit available on the market. Ideal kit for standard use in patrol cars, emergency services, military, or wherever immediate access is required. After a short training an operator will be able to open outward and inward opening wooden doors, steel doors, security doors and windows. A nylon stowage case offers easy storage and access. MSRP: $399.99
Heavy Breaching Kit
The most complete and versatile breaching kit on the market for entry teams. Kit contains: MultiBreacher, MiniRam, MultiPry, and EdgeBender--everything a professional response team needs to quickly and safely enter buildings regardless of door types. The rugged, steel-framed nylon backpack provides a unique way to "SOP" the kit while stowed and deployed. MSRP: $1,249.99
MultiPurpose Training Door
Designed for mechanical and hydraulic door breaching training. Successful door entry requires that you know exactly how and where to place the tools. The MultiPurpose Training Door is constructed of steel for repeatable training. It is the only training door on the market that meets the requirements for 100% realistic training on outward and inward doors; wooden, security and fire doors and a wide variation of locking points, locking mechanisms and ram striking surfaces. With readily available, cost effective replacement doorjambs and door cases, the MultiPurpose Training Door provides a long term, maintainable training solution without the expense of replacing worn out or damaged training doors. MSRP: $7,999.99
About 5.11 Tactical Series®
5.11 Tactical Series®, with the assistance of public safety individuals, creates innovative products that enhance the safety, speed and performance of law enforcement, military, fire and EMS professionals worldwide. Built on a foundation of durability, quality and value that began with the authentic 5.11 Tactical Pant, 5.11's team of over 300 employees leads the industry in delivering the world's most innovative gear, head to toe. By working directly with end-users and utilizing the expertise of highly qualified subject matter experts, all 5.11 products exceed rigorous and exacting standards. Learn more about 5.11's best-selling tactical clothing, uniforms, station-wear, outerwear, footwear and accessories at www.511tactical.com
About S.E.T.
Two leading team members from a Swedish HRT team created Sweden Entry Tools (SET). Lars Ingesson has been the Lead Breacher and instructor on the full-time HRT team since 2000 and was the head of Sweden's National Breaching Project when the tools were first developed. Lars has trained many of the best-known tactical teams in Europe in mechanical and explosive breaching. Patrik Gustavsson is a former HRT Team Leader with an engineering background.