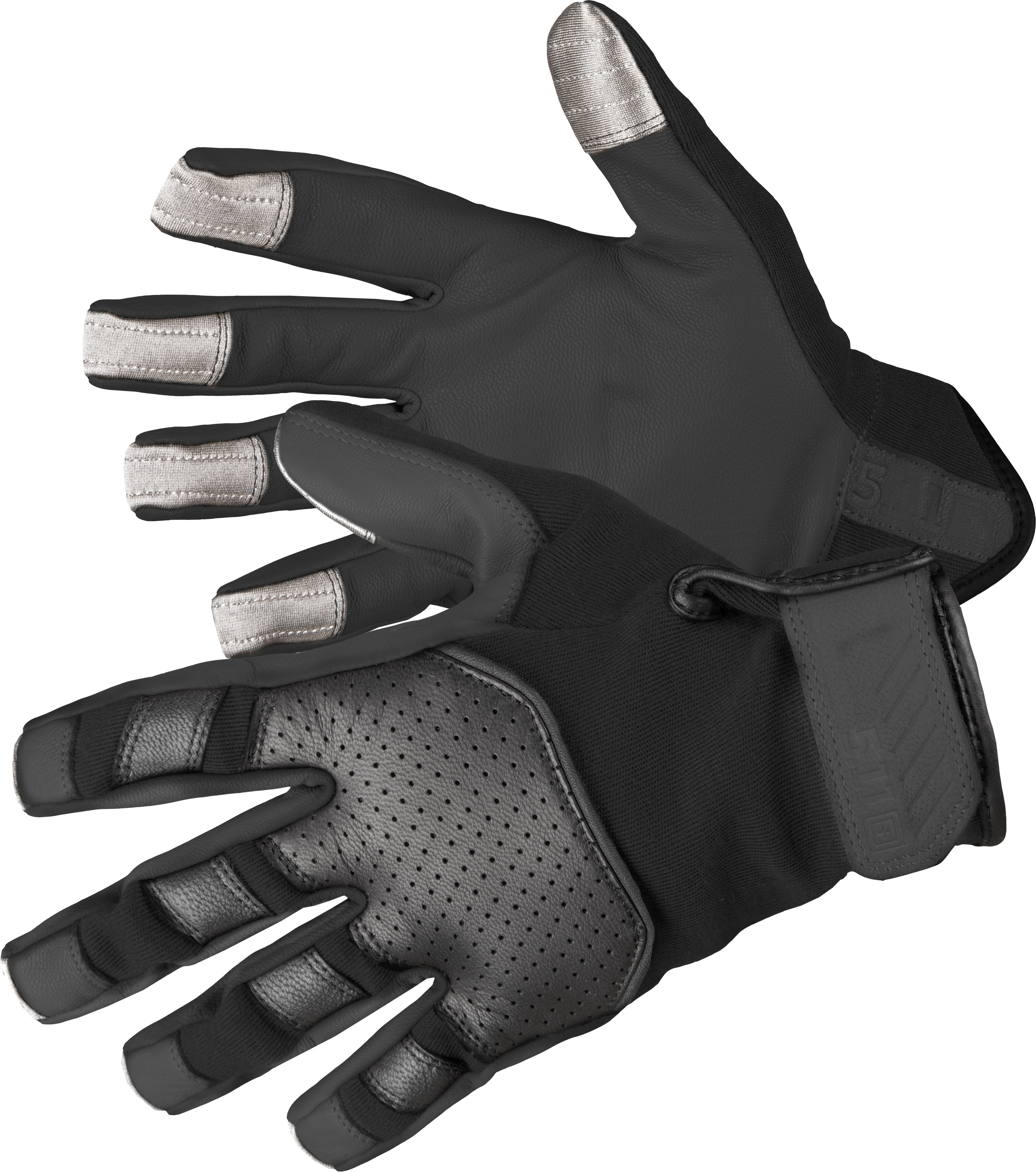 MODESTO, CALIFORNIA – New tactical, covert and high performance products are featured in the spring/summer catalog from 5.11 Tactical® that will be available in March 2012. In addition to cargo pants, polos and desert boots, these tactical products were previewed at Shot Show 2012 and promise to be the top new choices of law enforcement, public safety and fire/EMS. Increase your performance with gear that is made by 5.11 Tactical and trusted by professionals. Click here to view the catalog.
Screen Ops™ Gloves
Patrol, Duty and Tactical Gloves with specially constructed fingertips enable efficient and precise operation of touch screen devices with all five fingertips. From cell phones to iPads, the patented Tactical Touch™ seamless fingertip construction assures superior dexterity, fit and comfort. The technology enables the wearer to operate capacitive resistance touch screens with all five fingers without having to remove their gloves. Three styles to choose from: The Patrol and Duty Gloves are constructed of seamless sheepskin, perfect for pat-downs, weapons handling, driving or other tasks. The Tactical Gloves are made of goatskin on the palm and fingers, with perforated leather padding the knuckles for added protection.
All Hazards Prime™ Pack and Ammo Mule
Foreseeing the need for "at ready" equipment and gear, 5.11 Tactical has partnered with Multiple-Assault Counter Terrorism Action Capability (MACTAC) instructors to develop the All Hazards Prime™ Back Pack and Ammo Mule. Built on the concept of their popular RUSH series backpacks, the All Hazards Prime features an internal laptop case, internal tablet sleeve, a hydration (or armor) compartment, front admin panel and a large 'shove-it' area. The main internal compartment will accept 2 fully loaded 5.11 All Hazards Ammo Mules for a total of 20 AR magazines. The front organizer unzips a full 180 degrees for full access to internal mesh pouches. A fleece-lined and padded pocket provides protection for eyewear.
Double Duty Knives
5.11 introduces two Double Duty Knives, both 9.7" total length, containing two locking blades made of AUS8 stainless steel with 3.7"combo edge main blades. The Double Duty Karambit Blade provides a secondary black oxide Karambit blade with FRN scales. The Double Duty Responder Knife is outfitted with a secondary serrated safety seat belt blade with orange FRN scales and rubber overmolding for exceptional wet or dry control.
Side Pick™ Spearpoint Knife
Value, durability and versatility. Constructed of high quality AUS8 blade steel with fiberglass reinforced nylon scales, this 3.5" blade knife provides versatile carry options for ultimate accessibility. Contoured and textured grip offers optimum control of this rugged performance tool.
ATAC™ and TPT™ Mid and Full-Size Torches
A leader in illumination, 5.11 introduces five new high performance tactical and duty torches. Available May 2012, the ATAC™ Tactical Torches with LiIon rechargeable systems provide over 2.5 hours of run time. Other features include low, high and strobe modes and over 175 lumens from LED bulbs. The TPT™ family of torches includes 2 models with NiMH rechargeable or battery operated systems and the value CR123A polymer tactical torch. All TPT™ models have high impact molded body, three light modes with tight hot spot with Large Corona beam.
Covert Casual
Updated design and performance proven, a short sleeve covert casual shirt now in expanded fabrics, styles and colors with 39 shirts to choose from - no one will suspect that this shirt was designed for undercover operatives. Generous length and RAPIDraw™ center placket with mock buttons conceal your holstered sidearm yet makes it accessible when you need it.
Breaching Tools
The fastest, easiest and most complete breaching system on the market. 5.11's Breaching Tool System launches with the MiniRam, the compact MultiPry, the MultiSledge, the full-sized MultiBreacher and the unique MultiDoor that allows training for different types of outward and inward opening doors with mechanical and hydraulic tools. An entirely new method of breaching, realized by the team from Swedish Entry Tools, allows public safety personnel to breach inward and outward opening security doors with speed whilst minimizing exposure.
About 5.11 Tactical Series®
Located in Modesto, California, 5.11 Tactical Series®, with the assistance of public safety individuals, creates innovative products that enhance the safety, speed and performance of law enforcement, military, fire and EMS professionals worldwide. Built on a foundation of durability, quality and value that began with the authentic 5.11 Tactical Pant, 5.11's team of over 300 employees leads the industry in delivering the world's most innovative gear, head to toe. By working directly with end-users and utilizing the expertise of highly qualified subject matter experts, all 5.11 products exceed rigorous and exacting standards. Learn more about 5.11's best-selling tactical clothing, uniforms, station-wear, outerwear, footwear and accessories at www.511tactical.com.