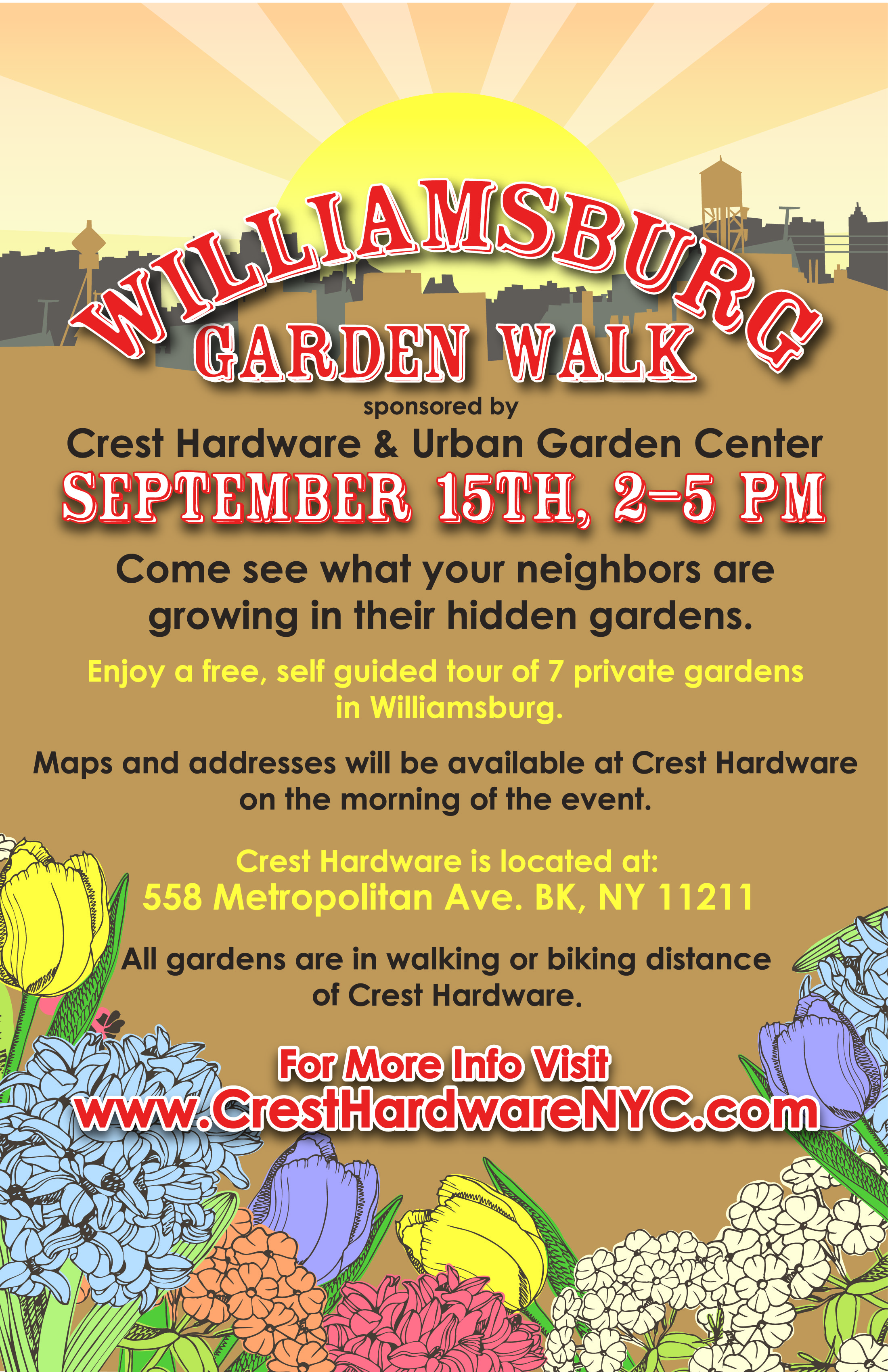 On Saturday afternoon, September 15th, from 2-5pm, 7 households will open their doors and invite you to see the green spaces they've created and lovingly tend. All the gardens are within walking and biking distance of
Crest Hardware and Urban Garden Center
. Maps and addresses will be available on the day of the event at Crest, located at 558 Metropoltan Avenue, Brooklyn. We recommend getting an early start so you can see everything on the tour.
We're inviting you on this walk, because talking to your neighbors about gardening is a lot more fun than reading about it on the internet. Gardens are meant to be experienced up close and personal, but most urban gardens are tucked behind buildings, up in the air, and out of view. Gardening in Brooklyn can mean clearing rubble, testing soil, and hauling in lots of soil before you even get to the fun part.
Several of the spaces on view started with those challenges and overcame them. One garden's access is through the kitchen window, another incorporates tomb stone rocks a former resident got from a tombstone carver, a third is a living memorial to the grandparents who once gardened there. Here's your chance to see them and get practical ideas from gardeners at all levels, including 2 professional gardeners and designers whose yards will be on the tour.
We know many gardeners have been at it for years and have stories and advice to share, while others are just starting out and have much to learn. Here's where the conversation starts. Take a walk with us. Enjoy the last, glorious days of summer and see the greener side of Brooklyn.
An Introduction to the gardens and gardeners on the tour:
Gotham Garden
Ten years ago, my husband and I had the concrete dug out of the middle of the back yard. For a year, we turned the dirt and let the rain wash it, and then we started planting. My husband did the in-ground gardening, while I handled the containers. He died suddenly in 2008, just after planting a little twig of a grape plant. The grape vine has grown enormous since then, and I have had to figure everything out without him. Luckily, I've had wonderful friends over the wall at Crest who have offered every kind of encouragement, advice, and the occasional foster plant. I blog about the gardening, literal and figurative, at g
arden.evensnog.com.
The Clubhouse Garden
Ten years ago, I cleaned out dozens of bags of garbage and weeds from the backyard area, revealing an amazing space. I dug out giant blue stones from under a few inches of soil to build up our patio. We had a reclaimed wood fence built a few years ago to separate the property lines and make the garden a bit more private.
Today we use the garden as storage for
my garden design company
as well as a rehabilitation center for sick and sorry plants I bring home. I re-organize a few times each season to make room for my installation materials as well as the occasional photo shoot. With a few friends living in the building, our garden feels like a classic clubhouse. We have flowers in our front window boxes and stoop as well as a ground-level garden out back. The upstairs neighbors are good friends who also add greenery above on the fire escapes. We are a partly shady garden with a ton of reflected light from the school building across the street. Lots of ferns, hosta, hydrangeas, begonias.
Entrance is through our kitchen window and down a set of ramshackle stairs. Be warned: if you are really tall, you may not fit through the window!
The Ingenito Memory Garden
This was the home of my grandparents—my father's parents. I have plants in memory of my relations, and I've been gardening here about 20 years. It's a courtyard garden, full sun, about 75 square feet with a fountain in the center. The décor has a Greco-Roman influence with contemporary furnishings.
Each year I like to use my plants like paint. I move them around garden and put them in planters so I can play with the colors as they grow. When I'm rearranging my garden and thinning it out, I often give away or trade plants. That's the fun part!
Greenery Garden
This is a double-wide backyard lot, probably around 3,000 square feet. When I took it over a year ago, it was a mess of weeds. The structure of the space was good—it just needed a lot of love. I've added three raised beds for veggies and a cut flower garden. It's a communal space that I maintain for the benefit of my lovely neighbors.
I am a professional gardener (
www.greenerynyc.com
), and this garden is a testing ground for lots of plants that I use in client spaces. It's also the home of many unwanted plants that I remove when re-designing client spaces. It's a relaxing space built for entertaining and chock full of delightful little surprises if you take the time to look closely. It's half-sun, half-shade but will have more sun next year after I top off a giant overgrown fig tree!
The garden was started over ten years ago, and I am merely its most recent caretaker. While previous caretakers have had marvelous intentions, the soil quality is rather poor, so I've spent a good part of the year adding amendments and removing glass, metal, and other urban detritus. Recently, the first gardener of this space found me on the internet and shared photos of the garden back in the day—I'd be happy to break out the iPad and show folks the evolution of the space. One interesting fact is that the boyfriend of the original gardener was friends with a gravestone carver. Any time the stones broke or a mistake was made, the friend would donate the stones, so there is a large collection of tombstone rocks that I've used to make retaining walls and bed borders.
There are two feral but friendly cats living in the garden. Though they prevent me from keeping a bird feeder, I have grown to love them and they will undoubtedly make an appearance at the garden walk.
Brad Hurtado & Sean Martin Hingston Residence
Come see our townhouse garden in containers on concrete. When we purchased our house two summers ago, the entire yard in front and between the front townhouse and rear carriage house was a barren concrete slab, but we knew we wanted to transform it into an oasis for our family. The garden in front of the house is 20' x 7' and enclosed by a traditional cast-iron fence along the sidewalk. The rear garden is 28' x 28' and was where the previous residents parked their cars. Both gardens receive full sun all day in the summer.
Our first spring we began by enclosing the two sides of the back yard with rolls of bamboo fencing to create some privacy and by planting vines along them. Then we purchased two 15' river birch trees to anchor the large backyard space and slowly began to fill in the rest of the yard with perennials and flowering annuals.
We love mandevilla vines and moonflower vines for how they climb and produce amazing flowers all season. Wave petunias are always a favorite, as are vinca vines and Creeping Jenny, a fantastic bright green/yellow ground cover. Since everything had to be in pots, our biggest challenge was how to water them, so we installed an outdoor water faucet and an automatic drip watering system. This has made gardening in containers a breeze. One hot day without water will ruin a full season of growth, so we highly recommend this to everyone with a city garden. It's the secret to our garden's lushness.
The main feature of our back yard is a water garden created from an eighteenth century French zinc bathtub, purchased in 1995 in Soho. It now holds Egyptian Papyrus and goldfish. Our gardens have become our favorite places to relax and entertain, and we love inviting people in to see our secret garden.
Alex Aguilar's Small Rooftop Garden
This 14' x 16' garden contains more then 300 plants among at least 100 different species. In order to achieve this, I had to increase the surface area by creating different layers at different levels within the garden. The result has been a green oasis surrounded by a concrete jungle.
The garden was recently featured in the
New York Times
and on
Apartment Therapy
.