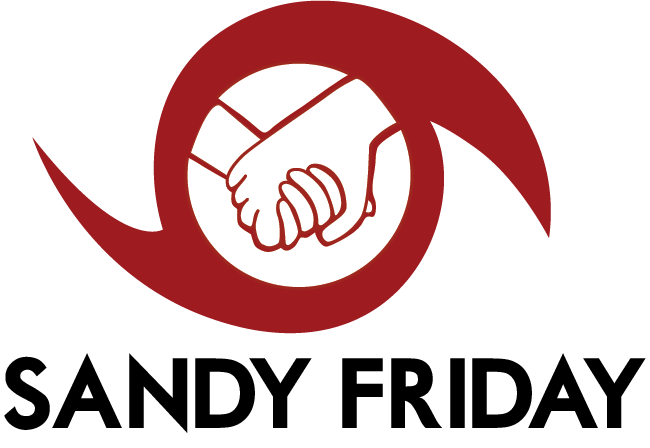 Dear Supporter,
As you know, New Yorkers are a tough, resilient crowd - which is why we wasted no time rolling up our sleeves, getting our hands dirty and tackling the devastation inflicted by
Superstorm Sandy.
The enormous outpouring of generosity, kindness and grit is invaluable, but the clean up is far from over. Sandy's damage is costly - at an estimated $50 billion dollars - and is heartbreaking to the thousands of families that lost their homes, and to the businesses that lost their livelihoods.
This Thanksgiving, as we reflect on the nature of giving, we ask you to donate 10% of Black Friday's (11/23) and/or Cyber Monday's (11/26) profits to ongoing relief efforts in the most hard hit areas of Coney Island, Red Hook, Long Island and the Rockaways. The money pledged during
Sandy Friday
will directly affect those most in need of help this holiday season.
The dollars you contribute will support local New York organizations that have been on the ground since Sandy hit, working tirelessly to provide volunteer training, supplies and essential services. Sandy's toll was enormous, but we have the power and ability rebuild our home.
Today, we ask you to stand with other businesses leaders in your community, including notable bars, restaurants and purveyors, by committing to be a part of
Sandy Friday.
If you are unable to contribute 10% of Black Friday's profits, there are many ways to participate:
Pledge on a sliding scale based on your profits
Pledge a singular dollar amount
Ask your customers to give $1 at the time of purchase
Pledge in-kind donations to Hurricane relief
Spread the word about Sandy Friday and get others to be involved
Please register online at
sandyfriday.org
to pledge your support.
We look forward to collaborating with you to create meaningful impact in the lives of fellow New Yorkers during this extraordinary time.
Sincerely,
Alia Kate
Founder
###
#SANDY FRIDAY MISSION:
Sandy Friday is a national Black Friday campaign that encourages shop-owners, e-retailers, restaurants, and organizations to pledge up to 10% of Black Friday/Cyber Monday profits to ongoing Hurricane Relief in the most hard-hit areas of Coney Island, Rockaways, Red Hook, and Staten Island.
OUR GOALS:
Our goal is to raise at least $50,000 in pledges which will be directly split amongst the community-based organizations doing disaster relief in these areas. All donations are tax-deductible and will be accepted through a fiscal sponsor. The money will be partitioned among several community-based organizations which have been vital to the region's recovery efforts. These organizations have taken an active role in communicating donation needs and mobilizing volunteers to help rebuild these zones. Moreover, they have heroically risen to the challenge of creating an infrastructure for disaster relief.
WHY WE NEED YOUR HELP:
Estimates on the costs of damage from Hurricane Sandy range from $10-$20 billion in insured losses alone, with an additional $20-$30 billion in economic losses. If these figures bear out, $50 billion in total damages would make Sandy the second costliest natural disaster in U.S. history after Hurricane Katrina in 2005. In the wake of Sandy, over 8 million people were left without power, and a small fraction of those people still have no power as of two weeks after the storm. Hundreds of thousands of homes and businesses were flooded or otherwise damaged, some entirely destroyed. FEMA reports that 300,000 people have signed up already for access to disaster relief funds. This number is almost certain to continue growing. Even as power, transit, and other critical infrastructures are restored, there will still be months of gruelling recovery and rebuilding work to be done in the most seriously impacted regions.
OUR STORY:
Sandy Friday grew out of our desire to find a long-term solution to a problem that needs urgent attention. We needed to find a way to keep the issue present in peoples' minds after the media attention would inevitably fade; we wanted to connect the humanity of people across the United States with those who were most affected; We hoped to stir the consciousness of business-owners everywhere to join in solidarity with folks in the Rockaways, Coney Island, Red Hook, and Staten Island.
The organization of the Sandy Friday team is a testament to the spirit of what we are trying to accomplish-- we are a small, eclectic group of people who come from many walks of life-including a 12 year-old student- who built our website!
We are not activists by trade, but normal people with day jobs who saw a need and responded. We are all drawn to this because we know that in the long-term what is most needed in these disaster zones is a sustained, concerted effort to clean up and get back to life as normal.
While this started with an idea and a small team of committed individuals, we now turn to you and ask you to join our team. Sign our pledge,
like us on Facebook,
but also turn to your neighbor and start a conversation about how to give back in an effective way that goes directly to the people that need it.