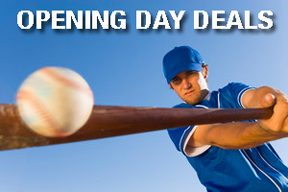 It's a double play...The FatWallet Blog has rounded up the top 15 stores offering additional savings in Cash Back for all your baseball needs and desires! Any of these trusted retailers will help you score more savings with coupons and discounts on your favorite MLB team jerseys and hats, little league and softball bats, gloves, spikes, batting gloves and equipment.
Here's a quick click to list to the cash (back):
adidas.com (w/5% Cash Back)

Baseball Savings (w/3.5% Cash Back)

CBS Sports Shop (w/5% Cash Back)

Champion USA (w/4% Cash Back)

Champs Sports (w/4% Cash Back)

Dick's Sporting Goods (w/3% Cash Back)

Eastbay (w/6% Cash Back)

Footlocker.com (w/6% Cash Back)

HomerunMonkey.com NEW! (w/3% Cash Back)

Kmart (w/2% Cash Back)

MLB.com (w/4% Cash Back)

Sears.com (w/3% Cash Back)

Sports Authority (w/4% Cash Back)

UnderArmour (w/6% Cash Back)

Walmart (w/1.5% Cash Back)
About FatWallet: As the preferred online shopping resource for millions of savvy consumers, FatWallet.com works closely with hundreds of retailers like HP, Newegg, Walmart and Amazon to publish thousands of special offers, discounts, coupon codes and Cash Back rewards to its members. The much celebrated FatWallet forums represent the pulse of an evolving online marketplace where smart consumers gather to share and learn. Voted "One of the 50 Best Small and Medium Companies to Work for in America" by Great Places To Work®, FatWallet ranks as one of the top 600 internet properties in the nation. (Quantcast)

For more deals like this, follow us on Twitter at: http://www.twitter.com/fatwallet or like us on Facebook at: http://www.facebook.com/fatwallet.