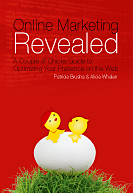 Toronto, Ontario -- Award winning internet marketing firm A Couple of Chicks e-Marketing continues its mandate of educating business professionals on how to successfully market online with the publication of the first in a series of books titled "Online Marketing Revealed: A Couple of Chicks Guide to Optimizing Your Presence on the Web".

"The book is a unique, user-friendly guide to navigating through the new vocabulary and strategies that are necessary to understand to compete within this fast evolving new marketing medium," said Patricia Brusha, Co-Author of the internet marketing guide and Co-Founder of A Couple of Chicks e-Marketing. "There is no tech-talk here, just a fun and easy step by step guide to optimizing your web presence, which is now critical for any business."

The 70-page guide offers a concise, easy to understand approach to getting started online, with a valuable detailed glossary of terms with descriptions in layman's terms. Valuable "Chick Tips" are served up with chapters dedicated to all the major aspects of marketing online such as Search Engine Optimization (SEO), Keyword Strategy, Website Usability, Content Syndication, Web 2.0 marketing strategies, Social Media campaign development through platforms such as Facebook, Paid Search Marketing (PPC) with search engines like Google and Yahoo and more.

"How we do understand what will work for our business? Where do we start? What do all these new terms really mean and most often - why can't I be found in Google?" are the most frequently asked questions says Alicia Whalen, Co-Author of the book and Co-Founder of A Couple of Chicks e-Marketing. "This user friendly guide was designed to address those concerns in a non-intimidating and fun way, which has been our approach since we began 4 years ago working with both our clients and in presenting our workshops."

Frequently quoted, and featured in numerous publications such as the Globe and Mail and Hotelier Magazine, A Couple of Chicks have made their mark on the tourism and travel industry over the past four years deploying internet marketing strategies for clients such as Marriott, Niagara Falls Tourism and more.

From large companies to small, understanding how to position a business on the internet is fast becoming critical to the success of any business as consumers are increasingly spending their time and dollars online.
The book retails for $39.95 including taxes and delivery and is now available for purchase online at www.acoupleofchicks.com and coming soon to www.BarnesandNoble.com and www.amazon.ca.