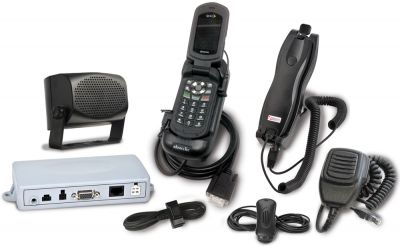 The AdvanceTec Kyocera® DuraMax™ E4255 custom designed Car Kit provides a safer and convenient use of the phone in both Cellular and Push-to-Talk (PTT) modes while driving. The specially designed cradle mounting bracket allows users to rotate the cradle 90 degrees to view for wide screen GPS applications. The Car Kit consists of a junction box/brain box, 10 Watt External Speaker, Remote Push-To-Talk (PTT) button, Noise Canceling Visor Microphone as well as all the necessary required cabling.
Keep your eyes on the road while talking on your Kyocera DuraMax CDMA Direct Connect Push-to-Talk (PTT) phone in your car, in cellular or PTT mode. It is safer and more convenient for your business!
Be sure to subscribe to our
mailing list
for our latest products and updates!