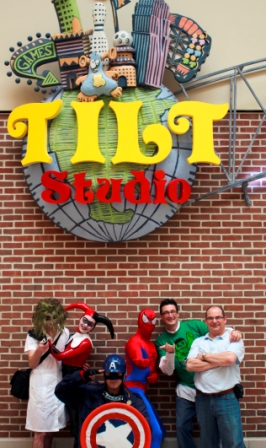 Left to right: John Rifici, Ami Reader, Joe Kuzmunich, Spiderman, Sal Fichera (owner of Adventure Land Store), Rob Mondelli (General Manager of Tilt Studio). Photo by Jesse Czapkewicz

Left to right: John Rifici, Ami Reader, Joe Kuzmunich, Spiderman, Sal Fichera (owner of Adventure Land Store), Rob Mondelli (General Manager of Tilt Studio). Photo by Jesse Czapkewicz
VOORHEES, N.J., May 6, 2012 – Adventure Land Store, South Jersey's premier pop-culture and comic book superstore, held a fundraiser yesterday with all proceeds going to The Children's Hospital of Philadelphia (CHOP). Celebrating Free Comic Book Day, more than 225 adults and kids enjoyed meeting popular comic book authors and artists, taking pictures with comic book characters in costume, face painting, plus a children's book reading by the author.

The daylong event, held at the Voorhees Town Center in Voorhees, N.J., was the brainchild of longtime area business owner and resident, Sal Fichera. Additional Voorhees Town Center mall tenants – including Tilt Studio and Fusion Performance Arts Center – kindly donated their time and storefront space for the worthy cause.

"After bringing my young son to CHOP in early 2012, I was overly impressed by their compassionate medical team and tireless work," said Sal Fichera, Owner of Adventure Land Store. "When my family left that appointment, I immediately wondered what I could do to support their fight against children's cancer. This is one way I plan to give back."
From magicians to music and dancing, plenty of activities for the kid in everyone were offered. Families lined up to have their photo taken with Spiderman, Captain America and the mighty Thor – who flexed muscles and held their famous poses.
Follow us on Twitter: @AdventureLandSt
'Like' us on Facebook: http://www.facebook.com/AdventureLandStores
ABOUT ADVENTURE LAND STORE
Founded and owned by Sal Fichera, Adventure Land Store is South Jersey's premier pop-culture and comic book superstore. Formerly known as Hall of Heroes, the comic shop located in the Voorhees Town Center – as well as online –has wowed adults and children of all ages with the hottest and most collectible superhero and novelty products for more than 20 years. See what our "super" team is up to on Twitter at @AdventureLandSt.