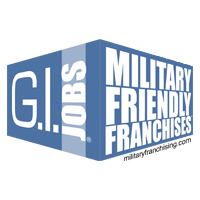 Aire Serv LLC
is proud to announce that it was ranked in the top 10 percent of all franchises nationwide and named a 2012
Military Friendly Franchise
® by G.I. Jobs Magazine.
The heating, ventilation and air conditioning company honors military veterans all year round by offering service members a discount of 25 percent off the initial territory fee, allowing veterans to use their training and operational skills in a new civilian career.
"The Military Friendly Franchises list was created three years ago out of demand from military veterans, many of whom want to start or own their own business but are unclear where to begin," said Sean Collins, director for G.I. Jobs. "Being selected as a Military Friendly Franchise places Aire Serv in this elite group, and is testimony to Aire Serv's world class programs and policies that support military veterans interested franchise opportunities."
The Dwyer Group, parent company to Aire Serv, has given more than $1.3 million in discounts to veteran franchise owners. Since 2001, Aire Serv has helped 64 veterans start their own business.
Aire Serv was also named a military friendly franchise in 2011 by G.I. Jobs and was included in Entrepreneur magazine's 10 Most Popular Franchises for Military Veterans list in 2011.
-30-
About Aire Serv®:
Established in 1992, Aire Serv is a global franchise organization providing installation, maintenance and repair of heating, ventilation, air conditioning and indoor air quality systems. Recognized by Entrepreneur magazine among its "Franchise 500," Aire Serv franchisees provide these services to both residential and commercial customers at more than 175 locations in the United States and Canada. Aire Serv is a subsidiary of The Dwyer Group, Inc. For further information or to find the location nearest you, visit
AireServ.com
.
About G.I. Jobs:
The full list of Military Friendly Franchises® is published each June in G.I. Jobs Magazine, and on www.MilitaryFranchising.com, a web tool that helps veterans decide which franchise to choose. Additional resources are posted on the Military Friendly Franchises® Facebook page:
www.facebook.com/MilitaryFranchising
.
G.I. Jobs (www.gijobs.com) is published 12 times per year by Victory Media, a veteran-owned business. The company also publishes The Guide to Military Friendly Schools®. You can follow G.I. Jobs on Facebook at www.facebook.com/GIJobsMagazine or on Twitter @gijobsmagazine.