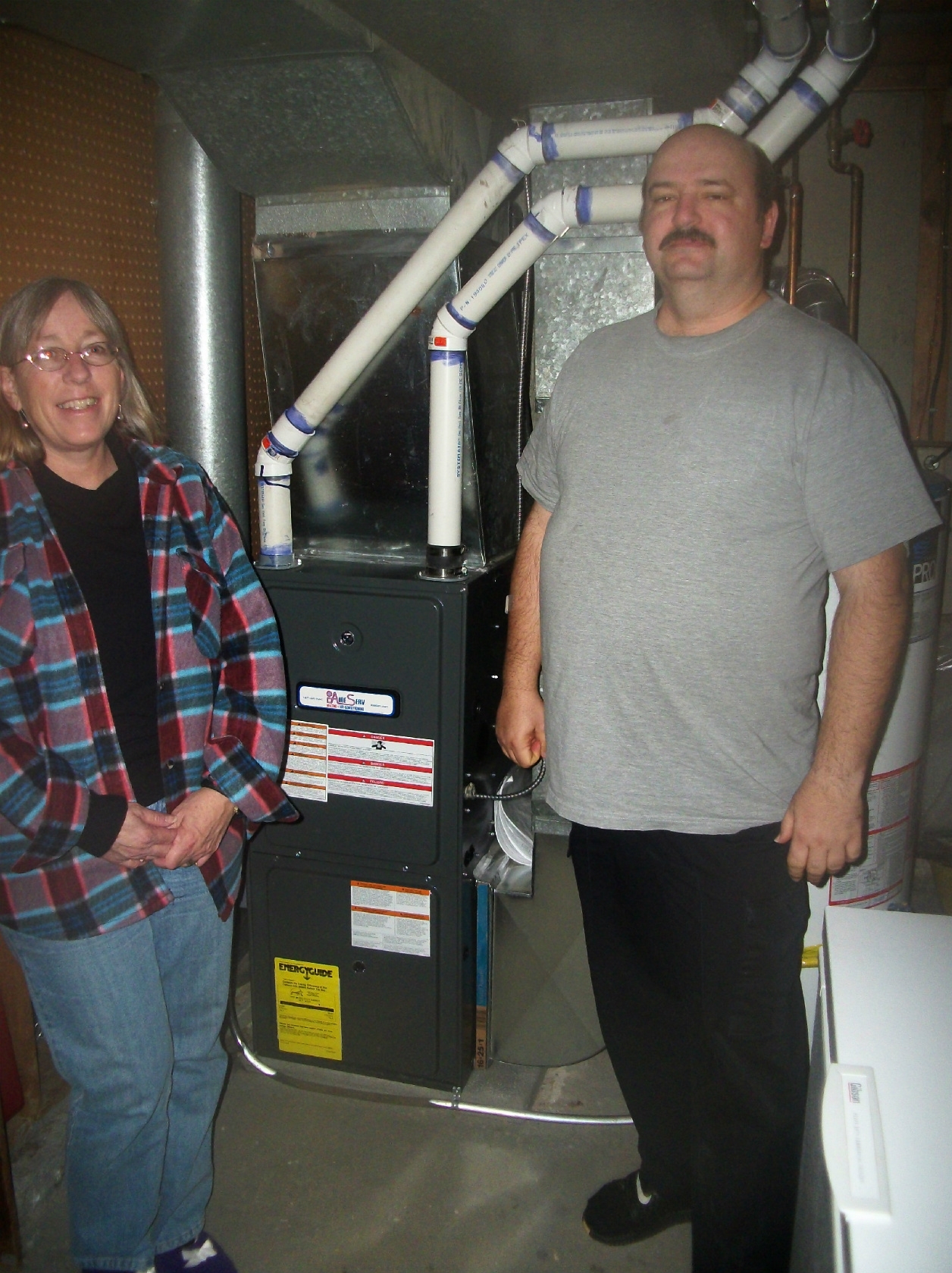 Contact: Marco Silvestri, (204) 832-3206
Winnipeg, MB (April 12, 2011) – With over 35,000attendees, Aire Serv of Winnipeg is happy to announce the winner of the Kitchen, Bath & Renovation Show Free Furnace Draw held January 13th-15th at the Winnipeg Convention Center.
The lucky KBR attendees, Rob & Lori LeBoeuf, were the grand prize winners of the High Efficient Goodman Furnace. "We were very excited to be the winners - we were in need of a replacement but hadn't gotten around to it," said LeBoeuf.
After the installation was completed LeBoeuf added "The technicians worked well, left no mess, and were very professional - I've done a lot of work with the trades and I appreciate the Aire Serv difference. Their technicians know what they're doing and they're good at it".
Marco Silvestri, the owner of Aire Serv of Winnipeg, along with the owners of Mr Rooter Plumbing, Mr Appliance, and Mr Electric set-up side by side booths at the KBR show. The four companies are all under the Dwyer Group umbrella of service companies. "We want to be your home service team!" Marco exclaimed. "There's strength in numbers and at this years KBR, we were able to show the attendees where to go for all their home servicing needs," Marco added.
Installing a new home comfort system can be very expensive but with the current options to improve its' efficiency a new system can you save you a lot in heating costs monthly. Aire Serv is now offering a Cash for Clunkers Rebate, up to $1250 off a new furnace (installed before March 31st, 2012).
About Aire Serv®:
Established in 1992, Aire Serv is a global franchise organization providing installation, maintenance and repair of heating, ventilation, air conditioning and indoor air quality systems. Recognized by Entrepreneur magazine among its "Franchise 500," Aire Serv franchisees provide these services to both residential and commercial customers at more than 180 locations in Canada and the United States. Aire Serv is a subsidiary of The Dwyer Group, Inc. For further information or to find the location nearest you, visit AireServ.com.
-30-