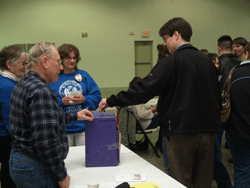 The Alaska State Fair is seeking qualified individuals who wish to serve on the Fair board of directors; the candidate application deadline is Thursday, December 15, 2011. A total of four seats will be open on the board; the Fair's general membership will vote to fill the open seats at the Fair's annual membership meeting on February 9, 2012.
Applicants must be residents of the State of Alaska, be at least 18 years of age, and be current members of the Alaska State Fair, Inc. Directors become ambassadors of the Fair. Candidates who are visible and active in the community are encouraged to apply.
Candidates should be prepared to assume the responsibilities of a Fair director, which include preparing for and attending monthly meetings and actively participating in committees, which meet periodically through the year.
Completed application packets, which include a candidate profile, conflict of interest disclosure and membership application and fee, must be received at the Fair's Main Office no later than 4:30 p.m. on Thursday, December 15, 2011.
Applications may be submitted via mail or personal delivery to 2075 Glenn Highway, Palmer, Alaska 99645; faxed to 907.746.2699; or emailed to info@alaskastatefair.org.
The Alaska State Fair is a 501(c)(3) nonprofit membership organization governed by a seven-member board of directors.
For more information and application materials, contact the Fair Main Office at 907.746.7155 or info@alaskastatefair.org.