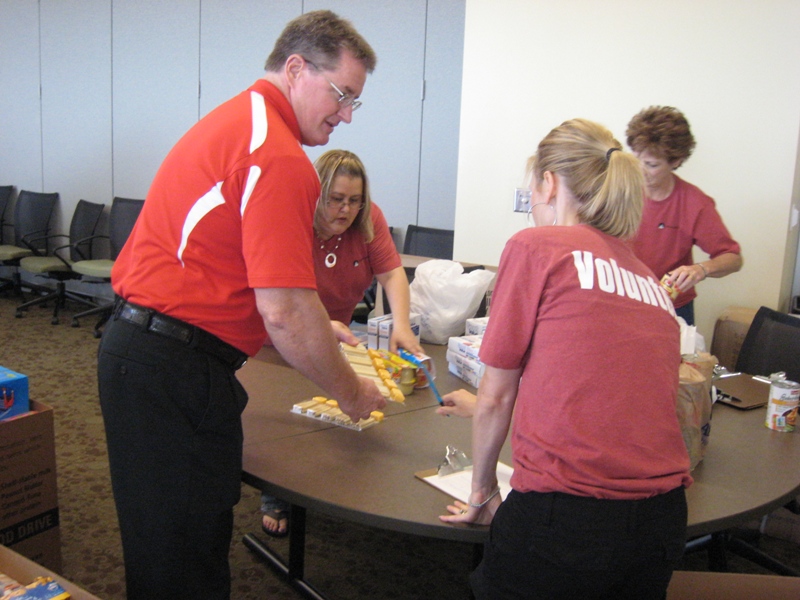 DALLAS, TX-Alliance Data, a Plano-based leading provider of loyalty and marketing solutions, recently partnered with North Texas Food Bank (NTFB) for the company's first-ever "Hungry Today" summer hunger food drive and education campaign. Company employees were taught about summer hunger among kids in North Texas and encouraged to donate self-serve, kid-friendly food such as granola bars, fruit cups, trail mix, cereal bars, and more. The campaign was the first of its kind in North Texas.

The campaign consisted of a seven-day food drive, a lunch-and-learn educational session led by NTFB representatives, a group shopping outing, and a volunteer event in which more than 20 Alliance Data employees, including Alliance Data President and CEO Ed Heffernan, sorted and organized the donated food into boxes to be picked up by NTFB. Food donated from the "Hungry Today" campaign will feed children through NTFB's member agency food pantries and meal programs, such as the non-profit's Summer Feeding Program.

"We've learned that summer is actually the hungriest time of the year for children, because school programs that provide subsidized meals for qualifying children aren't available in the summer. We wanted to host a campaign to educate our employees on this growing, little-known problem, and the ways that hunger affects kids," said Alliance Data spokesperson Alyson Evans. "This was Alliance Data's first time hosting a food drive in several years, and our employees really rallied around the cause. Partnering with North Texas Food Bank to pursue a hunger-free community was more than worthwhile; it brought the issue of hunger to the forefront of conversation and changed how many of our employees consider hunger as an issue this time of year."

In addition to donations from the food drive, the company made a financial contribution and donated nearly 100 red backpacks toward NTFB's Food4Kids backpack program, which provides nutritious, self-serve food delivered in a backpack to feed children over the weekend. In its second year, the Food4Kids summer program is especially important because it feeds kids during the summer months, when economically disadvantaged children do not have weekday access to school-sponsored feeding programs.

Altogether, Alliance Data's food drive and financial contributions to North Texas Food Bank are the equivalent of nearly 10,000 meals for kids in the North Texas community.

"North Texas Food Bank has been working to close the gap on hunger for the last three years, and it's because of companies like Alliance Data that we were able to reach our goal of providing access to more than 50 million meals this year," said Christina Cavalier, Corporate Engagement Manager for North Texas Food Bank. "Because of the donation from Alliance Data and its employees, nearly 10,000 meals will be served to hungry families and kids across North Texas. We're grateful for this partnership with Alliance Data."

For additional information about Alliance Data's corporate giving program, or specifically about the 'Hungry Today' campaign benefiting NTFB, contact Alyson Evans at alyson.evans@alliancedata.com or 214-494-3818.



About Alliance Data
Alliance Datar and its combined businesses is North America's largest and most comprehensive provider of transaction-based, data-driven marketing and loyalty solutions serving large, consumer-based industries. The Company creates and deploys customized solutions, enhancing the critical customer marketing experience; the result is measurably changing consumer behavior while driving business growth and profitability for some of today's most recognizable brands. Alliance Data helps its clients create and increase customer loyalty through solutions that engage millions of customers each day across multiple touch points using traditional, digital, mobile and other emerging technologies. Headquartered in Dallas, Alliance Data employs approximately 8,500 associates at more than 50 locations worldwide.

Alliance Data is a leading provider of marketing-driven credit solutions, and is the parent company of Epsilonr, a leading provider of multi-channel, data-driven technologies and marketing services, and LoyaltyOner, which owns and operates the AIR MILESr Reward Program, Canada's premier coalition loyalty program. For more information about the company, visit our web site, www.AllianceData.com, or you can follow us on Twitter at www.Twitter.com/AllianceData.