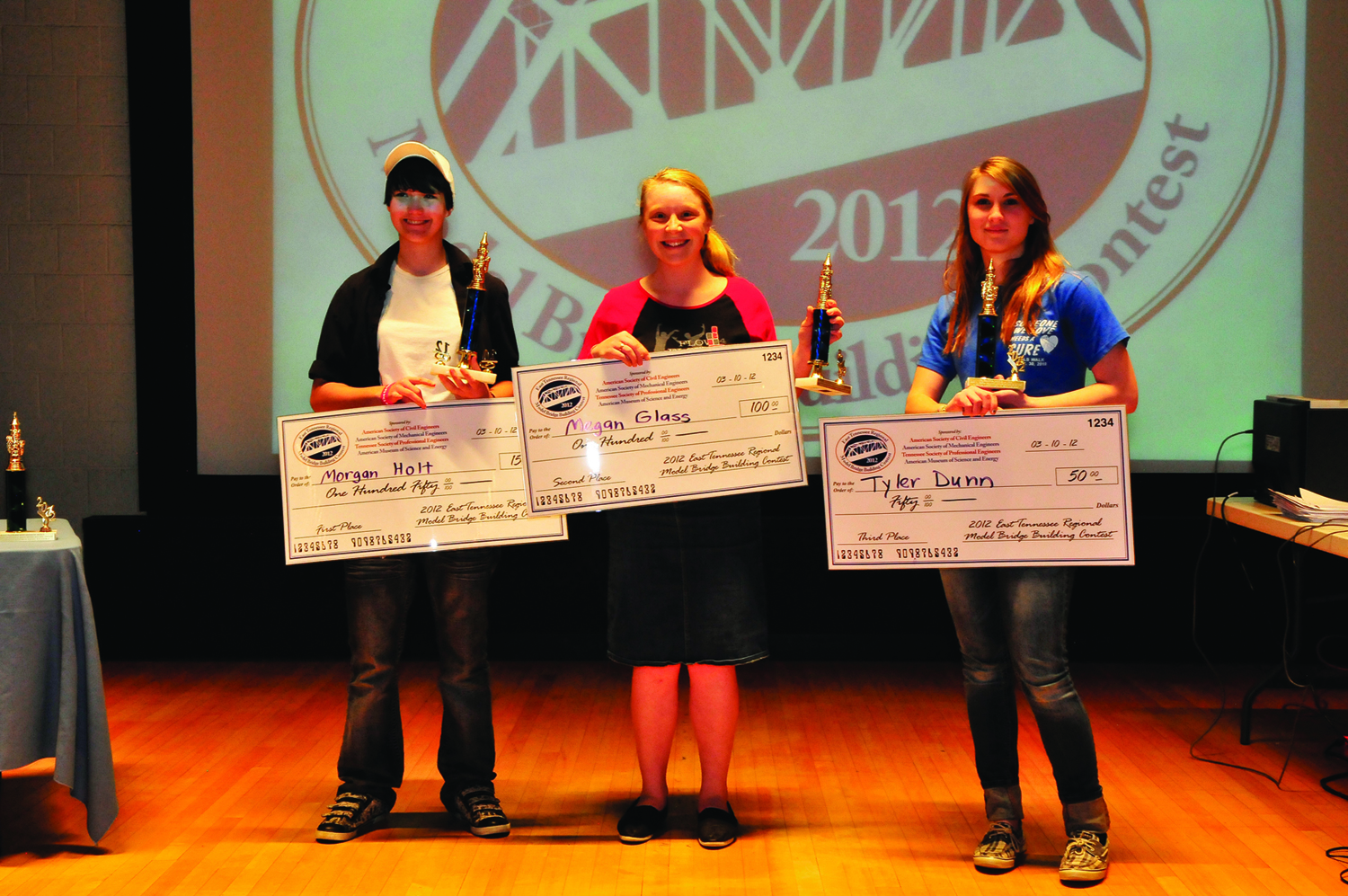 After 91 students each entered their model bridge for testing, the winners of the East Tennessee Model Bridge Building Contest were Blackman High in Murfreesboro earning the High Point Trophy and sweeping the top three places in the Senior High division, while Oak Ridge students took the top two places in the Junior High division and two Bearden High students received first and third place for the most Aesthetic Bridge, on March 10 at the American Museum of Science and Energy in Oak Ridge.
The Model Bridge contest is a hands-on opportunity to design and build a bridge using sound engineering principles and finally testing the success of their efforts. The objective of the contest is to build a model bridge, according to prescribed size and weight restrictions, that is capable of supporting the greatest load per unit of mass. Students in grades 7 - 12 participate in the contest with the Junior High Division (grades 7-9) and Senior High Division (grades 9 - 12).
Sponsors of the East Tennessee Model Bridge Building Contest are the American Museum of Science and Energy, American Society of Civil Engineers, Tennessee Society of Professional Engineers, American Society of Mechanical Engineers and the AMSE Foundation. These sponsors provided trophies and cash awards for the student winners and cash awards for the schools of the winning students.
In the Senior High division there were three girls from Blackman High in Murfreesboro, who took the top three places in the East Tennessee Model Bridge Building Contest. First place was Morgan Holt, Second place was Megan Glass and Third place was Tyler Dunn. The Senior High winners each received a trophy and cash awards of $150 for first, $100 for second and $50 for third. Blackman High School received $300, which was accepted by Gail Dawson and Nicole Harvey, the teacher/coaches for the school team. The High Point trophy, for the most bridges with the highest structural efficiency ratio from one school, was earned by Blackman High School. The top two winners in the Senior High division advance to the International Model Bridge Building Contest in Las Vegas.
The Junior High Division winners from Oak Ridge were Noah Hylton, a homeschool student, first place and Thomas Colburn, a Robertsville Middle school student, second place. Each Junior High winner received a trophy. Noah Hylton also received second place for Aesthetic Bridge.
The Aesthetic Bridge Division winners were First place Cameron Bard, Bearden High, Second place Noah Hylton, Oak Ridge Homeschool student and Third place Rosemary Dabbs, Bearden High.
The American Museum of Science and Energy, located at 300 South Tulane Avenue in Oak Ridge, is open Monday through Saturday from 9 am - 5 pm and Sunday 1 - 5 pm. Admission is Adults $5, Seniors (65+) $4, Students (6 - 17) $3, and Children (5 and under) free. AMSE members are free. Group rates are available for 20 or more with advance reservations. AMSE memberships, good for 12 months from purchase date, are Family $40, Grandparents $35, Individuals $25, and Family & Friends $75. AMSE members receive unlimited AMSE visits and free admission to 250 museums that participate in the ASTC Passport Program. Fro more information on AMSE member benefits, AMSE exhibits, programs, camps and events, go online to www.amse.org To schedule a group visit, call AMSE at (865) 576-3200.