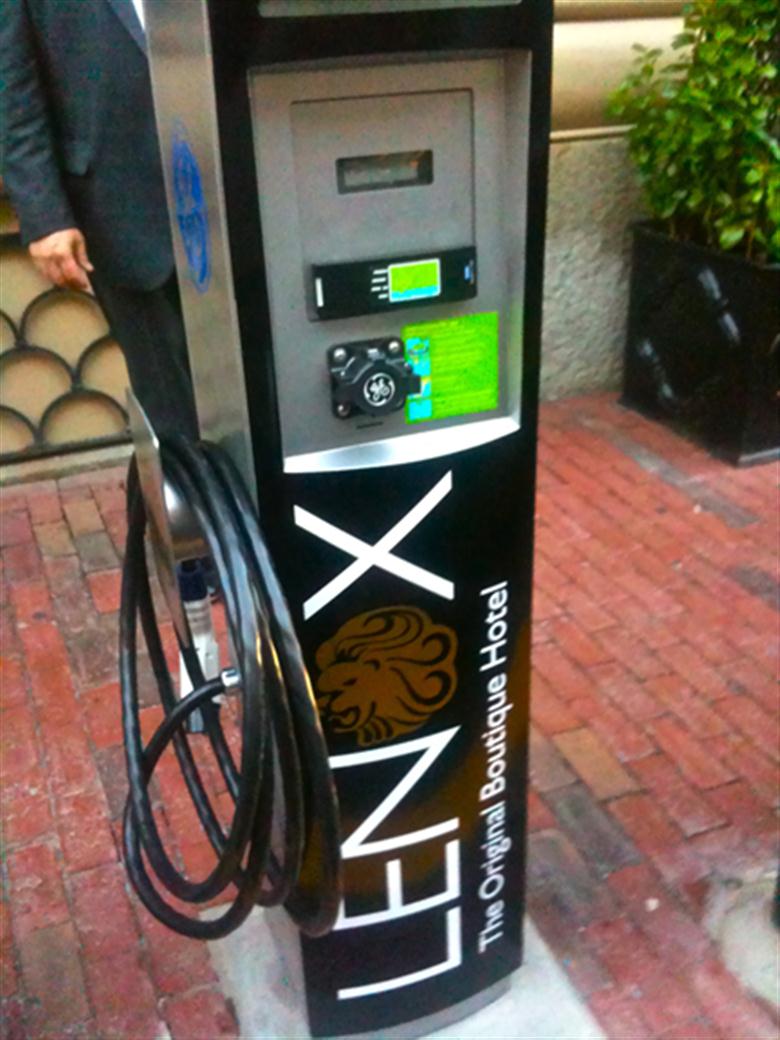 Boston, MA-The Lenox Hotel, a global hospitality leader in eco initiatives, announced today it will sponsor and host Boston's first commercial curbside charging station for electric cars on Exeter Street. The Lenox Hotel plans to unveil the electronic vehicle charging station in a special ceremony later this month.

The bold move, in conjunction with Voltrek, is intended to create a new guest incentive while also generating eco awareness for passersby on the high-traffic corner where the hotel is perched. "We're hoping to lead the charge by inspiring more electric vehicles to hit the road," said Lenox's Brand Ambassador Scott Grigelevich. Guests with EV's will receive complimentary valet parking as well as a free charge upon arrival. General public may also enjoy a free charge for the modest fee of Lenox valet service. "Lenox's Green Team remains committed to promoting a sustainable environment in our community and considering a third of the nation's greenhouse gases come from transportation, and 60 percent of that is from personal vehicle use, EV's really can reduce our carbon footprint," added Lenox's Director of Environmental Programs, Scot Hopps.

Lenox Hotel and Saunders Hotel Group continue to be at the forefront of promoting environmental initiatives both in the community and in the hospitality sector. The new charging station is further proof to its commitment of expanding eco practices outside of the hotel walls.

See a complete list of Lenox's Eco Initiatives

To learn more, please contact Eco-Logical Solutions at (617) 421-4915

About Lenox Hotel's Sustainability Efforts:
The Lenox began offsetting all of its carbon emissions as early as 2001. Hybrid vehicles, filtered water stations on each floor, LED roof signs, waterless urinals, state-of-the-art insulated windows, low-VOC paints and an entire hypo-allergenic floor are just some of the more recent innovations. In 2009, The Lenox invited other Boston hotels to join them in converting vegetable oil into biodiesel for operational use in lieu of oil from fossil fuels, a move that can reduce carbon emissions by as much as 74 percent.