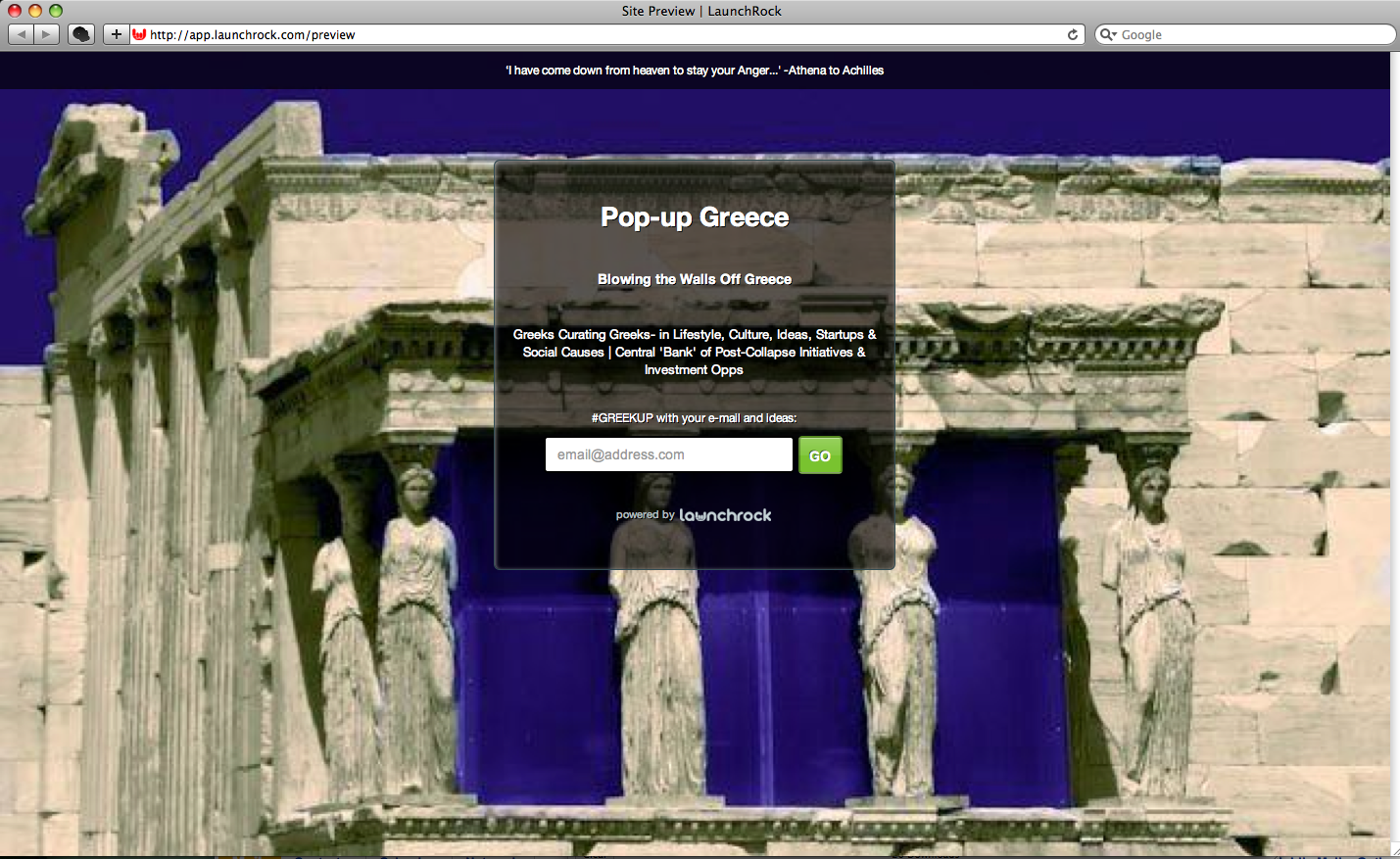 On June 21,
Bill Clinton made a plea
to creative communicators gathered at Cannes Lions. He said: "We need to figure out the image and the self-image of the Greeks... break their shackles of the perception of the world that they aren't of the world."
We are those communicators and this is that time.
Pop-up Greece
is not a tourism campaign. Nor a fundraiser.
It's a People Platform.
A Big Fat Greek PR Platform
...One where Greeks will Curate Post-Collapse Greek Ideas & Initiatives, to help one another be informed.
"Greeks know why they love being Greek...Now we must
conspire to inspire
the world by blowing the walls off Greece," says movement creator Diane Mantouvalos. "This is not a Top Down effort... It is a Greek UP one."
Mantouvalos is organizing a Global Conference Call to highlight all the action. She wants Greeks around the world to Listen & Learn or Curate 'Live' what they are already doing to help Greece -- Or potentially plug in to one of the amazing initiatives already underway. In a 2 minute video she dubbs
Athena's Plea,
Mantouvalos channels the disruptive powers of the Goddess Athena to inspire Greeks to break free from their shackles. She plans only to curate the curators by attracting willing Greeks who 'get it' and then synthesize the content into a Curated Experience which highlights both Curator and Subject. As Odysseus was guided by Athena, so too, hopes Mantouvalos this effort will be.
Simply go to popupgreece.com then Get it to a Greek!
CONTACT: Diane Mantouvalos (617) 416-4897
_________________________________________________________
BRAND IDENTITY CONCEPT EXPLAINED
Pop-up:
"Pop-up" … is a cultural trend characterizing a makeshift entity installed in a random location. Popular in retail, art, food and fashion, Pop-ups are all the rage, capturing and creating excitement through expression of a viral, moving attitude toward the brand represented.
Pop-Up Greece
... is a makeshift entity, where here, Greece is the IDEA of GREECE and the random location it is popping up in, is, VIRTUALLY EVERYWHERE, fueled and moved by evangelists in social media and media buzz.
Greek Columns
… symbolize the strength of Ancient Greece and the ideals that hold it up. The 'Walls' are what are blocking the progress and transparency, thus blocking it from the rest of the world.
"Blowing the walls off Greece"
… is a tagline intended to hook and confuse… illustrating the bold, Socratic-like, disruptive nature of this human campaign, running contrary to status quo and convention.
Curation
… is the hottest social content trend of the Social Web and Media Platforms. Curating Content has gone viral thanks to companies like: Pinterest.com, OpenSky.com and FAB.com.
Curation of Post-Collapse Initiatives
…there are many efforts but few resonate or are conveyed effectively. Pop-Up Greece will streamline and create a curated experience - thus highlighting both Curator and Initiative (could be a post-collapse startup, social cause, designer, hotel, fund, charity etc.). This is the site's Curated Content and is the platform's primary goal by informing in-country Greeks, the Diaspora, the Media and global investors of the drastic and dynamic change 'Happening Now' proving that Greece transcends its non-ending debilitating headlines...
Greece is an Idea.

_________________________________________________________
Diane Mantouvalos is a Brand Strategist, Publicist and 1st Generation Greek-American. In the 2008 Presidential Election, Mantouvalos led and branded a disruptive movement for Hillary Clinton, garnering dozens of interviews and appearances with every major media outlet including The Washington Post, Reuters, AP, CNN, MSNBC, FOX and foreign networks from Germany to Japan. Her tenacity led to being offered an appearance on Larry King Live following Clinton's speech at the Democratic Convention and some say the rogue movement of Hillary supporters gave Clinton a 'Black Card' worth of political capital to spend in negotiating her current role as U.S. Secretary of State.