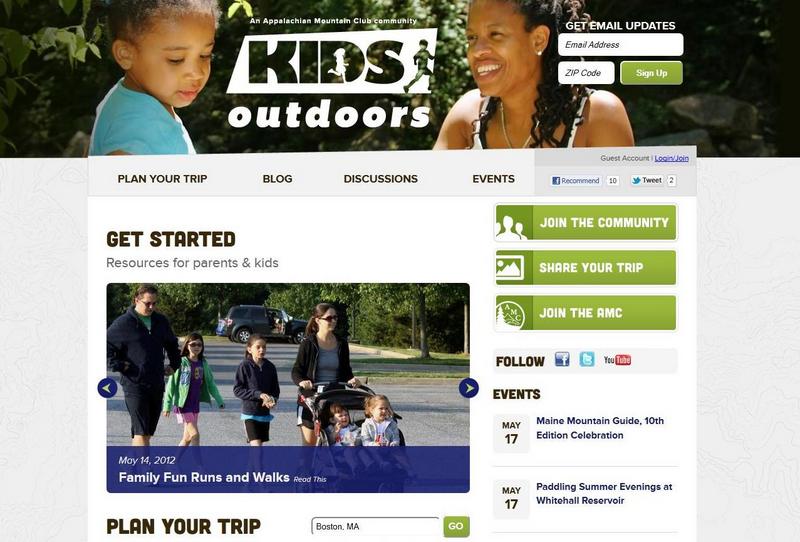 The Appalachian Mountain Club (AMC) has launched free, registration-based "Kids Outdoors" online communities to get families outdoors close to home in the Boston and New York City areas. Parents can now visit the new "Kids Outdoors" at http://kids.outdoors.org for local expert advice and more than 100 outdoor activities, many close to public transportation, based on two new books from AMC, Outdoors with Kids Boston and Outdoors with Kids New York City.
Each "Kids Outdoors" community, customized with local content, features:
Close-to-home hiking, biking, swimming, paddling, and playground ideas for kids up to age 12, searchable through Google Maps
Tips for getting started
Opportunities for parents to ask questions and get advice
Local blog focused on outdoor advice and ideas for parents
Local event calendar, including AMC chapter family activities
Ability to share favorite trip ideas, photos, comments, and ratings
Ability to share with friends via Facebook and Twitter
The authors of Outdoors with Kids Boston and Outdoors with Kids New York City will moderate the communities, contribute content, and respond to questions.
Kim Foley MacKinnon is a Boston-based editor, journalist, and travel writer—and the mother of a teenage daughter. She has written four guidebooks and contributed to several others.
Cheryl and William de Jong-Lambert live with their two young children in New York City. Cheryl is the editorial director at the Mount Sinai Medical Center and a longtime freelance writer. William is an associate professor of history at Bronx Community College, City University of New York, and affiliate faculty at the Harriman Institute at Columbia University.
AMC's "Kids Outdoors" communities support AMC's strategic "Vision 2020" goal of getting 500,000 young people and their families outdoors by the end of the decade. AMC is committed to broadening the range of family activities offered through its chapters and local partnerships, in addition to increasing the use of AMC destinations easily accessible to urban areas, including AMC's Mohican Outdoor Center in New Jersey's Delaware Water Gap and Ponkapoag Camp in the Blue Hills outside Boston.
AMC offers special thanks to its "Kids Outdoors" sponsors, including L.L. Bean, BostonCentral, Bright Horizons, and NYMetroParents.
Founded in 1876, the Appalachian Mountain Club is America's oldest conservation and recreation organization. With more than 100,000 members, advocates, and supporters in the Northeast and beyond, the nonprofit AMC promotes the protection, enjoyment, and understanding of the mountains, forests, waters, and trails of the Appalachian region. The AMC supports natural resource conservation while encouraging responsible recreation, based on the philosophy that successful, long-term conservation depends upon first-hand enjoyment of the natural environment.
###