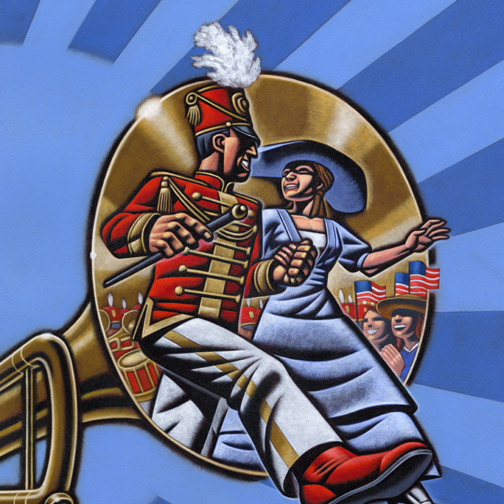 Burke Moses stars as Harold Hill in THE MUSIC MAN at Arena Stage. Photo courtesy Arena Stage.

Burke Moses stars as Harold Hill in THE MUSIC MAN at Arena Stage. Photo courtesy Arena Stage.
(Washington, D.C.) Crafty con-man Harold Hill brings mischief and the magic of music to Arena Stage at the Mead Center for American Theater this spring in Meredith Willson's The Music Man. This five-time Tony Award-winning musical is directed by Artistic Director Molly Smith, whose cultural dynamism made Oklahoma! a record-breaking audience favorite last season. With choreography by Parker Esse and music direction by Lawrence Goldberg, The Music Man runs May 11-July 22, 2012 in the Fichandler Stage, with all performances in May already sold out.
The Music Man stars Kate Baldwin (Tony Award nominee for Broadway's Finian's Rainbow) as Marian the librarian and Burke Moses (original Gaston in Broadway's Beauty and the Beast) as Harold Hill, along with D.C.-area natives John Lescault (Signature's Brother Russia) as Mayor Shinn, Donna Migliaccio (Broadway's Ragtime) as Mrs. Paroo and Nehal Joshi (Ali Hakim in Arena's Oklahoma!) as Marcellus Washburn. Making their Arena Stage debuts are Barbara Tirrell (national tour of Wicked) as Eulalie Mackecknie Shinn, with newcomers Will Burton as Tommy Djilas and Juliane Godfrey as Zaneeta Shinn, among others.
"I was born in a small town. Some of the most narrow-minded people come from small towns and some of the most visionary," says Smith. "In The Music Man, Willson has captured the essence of a small town in the middle of America. Our world for The Music Man is set in a vision of America's past with echoes of today."
She continues, "For many Americans, gold-standard musicals like The Music Man are their first exposure to live theater, and this production may be the first time that many families experience this great American musical. There is an essential optimism, a kinetic energy and a spirit in the form that reminds us of something central about America at its best."
Choreographer Parker Esse returns for his 10th production at Arena Stage and second as choreographer after last working with Smith on Oklahoma!, for which he won a Helen Hayes Award. Esse's choreography highlights the blossoming of self-awareness and young love explored by the youth in River City as their small town pulses with newfound rhythms. Music director Lawrence Goldberg, who makes his Arena Stage debut and was most recently on Broadway with the revival of How to Succeed in Business Without Really Trying, leads 15 musicians in the orchestra.
Award-winning environmental set designer Eugene Lee also returns after collaborating with Smith on Oklahoma! to create a world in the round, with much of the set taking place in a gymnasium-type town hall. The citizens of River City will be transformed by costume designer Judith Bowden, who worked with Smith on My Fair Lady at the Shaw Festival, and lighting designer Dawn Chiang, who recently designed The Great Gatsby for Arizona Theatre Company and is a longtime company member at Oregon Shakespeare Festival.
In The Music Man, for Harold Hill, there's a sucker born every minute. Sooner or later, this smooth-talking "Professor" has everyone eating out of the palm of his hand – and the citizens of River City, IA are his latest mark. When local librarian Marian Paroo tries to expose him as a swindler, Hill sets out to win her heart and save his hide. Will the town get wise to Hill before he steals their savings or will Marian make an honest man out of him? This summer's toe-tapping production, featuring all-time favorites "Ya Got Trouble," "Goodnight Ladies," "Shipoopi," and "76 Trombones," will put a spring in your step and a song in your heart.
Meredith Willson (Book, Music, Lyrics; 1902-84) was born in Mason City, Iowa. He learned to play flute and left to study at Damrosch Institute (later Juilliard). He became principal flutist and piccolo player with John Philip Sousa's Band and, later, first flutist with the New York Philharmonic. As NBC's West Coast musical director, his radio programs included The Big Show, starring Tallulah Bankhead, for which he wrote the hit "May the Lord Bless and Keep You." He composed film scores for The Great Dictator and The Little Foxes, as well as symphonic, band and choral works. He wrote three Broadway musicals: The Music Man, The Unsinkable Molly Brown and Here's Love. His published works include the memoir But He Doesn't Know the Territory.
Molly Smith (Director) has been instrumental in leading the reinvention of Arena Stage, focusing on the creation of the new Mead Center for American Theater as well as major artistic changes. Arena Stage is a center for the production, presentation, development and study of American theater. Molly has been a leader in new play development for 30 years while at Arena Stage and at Perseverance Theatre in Alaska, the theater she founded and led for 19 years. She has commissioned or championed numerous world premieres, some of which she has directed, including Paula Vogel's How I Learned to Drive and Sarah Ruhl's Passion Play. Molly's directorial work has also been seen at the Shaw Festival, Berkeley Repertory Theatre, Trinity Repertory Company, Tarragon Theatre, and Centaur Theatre.
The Cast of The Music Man (in alphabetical order)
Kate Baldwin (Marian Paroo) Broadway: Finian's Rainbow (Sharon; Tony, Drama Desk, Outer Critic's Circle award nominations), Wonderful Town, Thoroughly Modern Millie and The Full Monty. Arena Stage: South Pacific (Nellie Forbush; Helen Hayes Award nomination). Regional: Giant (Dallas Theater Center), The Women (Old Globe), Henry V (Shakespeare Theatre of NJ), I Do, I Do (Westport), She Loves Me (Williamstown Theatre Festival) and 1776 (Ford's Theater). Television: Law and Order: SVU, Stephen Sondheim's Passion (PBS). Solo recordings: Let's See What Happens and She Loves Him. Appearances with Stephen Sondheim in A Conversation with Stephen Sondheim.
Will Burton (Tommy Djilas) NY Workshop: Big Fish. Regional: Miss Saigon; Hello, Dolly!, Fiddler on the Roof and Singin' in the Rain (The Muny). Recent graduate from the University of Michigan, BFA Musical Theater.
Juliane Godfrey (Zaneeta Shinn) NY Workshop: Volleygirls. Regional: It's a Wonderful Life (Engeman Theater) and A Chorus Line, Anything Goes and Hair (Woodstock Playhouse). Recent graduate from UCLA, BA Theater.
Nehal Joshi (Marcellus Washburn) Broadway: Les Misérables and Threepenny Opera. Off-Broadway: Falling for Eve. Arena Stage: Oklahoma! and Señor Discretion Himself. Regional: Mister Roberts (Kennedy Center), Recent Tragic Events (Woolly Mammoth), Mad Dancers (Theater J), Carousel (Olney Theatre Center), Working (Old Globe, Asolo Repertory) and Arsenic and Old Lace (Dallas Theater Center), the 25th and 26th annual Humana Festival of New American Plays (Actors Theatre of Louisville). Film/television: Blackout (BET) and The Wire (HBO).
John Lescault (Mayor Shinn) NY: Le Deserteur (Lincoln Center). Recent D.C.: Brother Russia and Art (Signature Theatre), Fahrenheit 451 (Roundhouse), From Prague (Contemporary American Theater Festival), Defiant Requiem, Sancho Panca and Le Deserteur (Kennedy Center), and Henry V and Richard II (Shakespeare Theatre Company). International: Defiant Requiem (Prague Spring Music Festival). Film/television: Spielberg's Lincoln, The Day Lincoln Was Shot and Unsolved Mysteries.
Donna Migliaccio (Mrs. Paroo) Broadway: Ragtime (Emma Goldman). National tour/Arena Stage: Guys and Dolls. Regional: The Sound of Music (Olney Theatre Center), Liberty Smith (Ford's Theatre), Assasins and Sweeney Todd (Signature Theatre, Helen Hayes Award winner for both), Elegies: A Song Cycle (Philadelphia Theatre Company), The Dinosaur Musical (Arden Theatre) and Dirty Blonde (Theatre in the Square).
Burke Moses (Harold Hill) Broadway: Beauty and the Beast (created the role of Gaston on Broadway, the West End and in Los Angeles); Kiss Me, Kate (Fred Graham); Guys and Dolls (Sky Masterson) and Stephen Sondheim's The Frogs (Herakles). Regional: City of Angels (Goodspeed Opera House), Johnny Baseball (American Repertory Theater) and The Sound of Music (Captain Von Trapp, Princess of Wales Theatre, Toronto).
Barbara Tirrell (Eulalie Mackecknie Shinn) Broadway/National tour: Wicked (Madame Morrible, first national tour), Fiddler on the Roof and Annie. Off-Broadway: A Man of No Importance, No Way to Treat a Lady, Night of the Hunter, The Grass Harp and I Remember Mama. Regional: Kennedy Center, Guthrie Theater, Goodspeed Opera House, Walnut Street Theatre, Pioneer, Casa Mañana and Coconut Grove. Television: Guilty (FOX pilot), Boardwalk Empire (HBO) and Law and Order: SVU.
Five D.C.-area youth were cast as a result of an all-day casting call held at Arena Stage. The chosen young actors include Ian Berlin making his professional theater debut as Winthrop Paroo, Heidi Kaplan as Amaryllis and Jamie Goodson as Gracie Shinn. Colin J. Cech and Mia Alessandra Goodman appear as River City kids.
Rounding out the cast are Sasha Olinick as Charlie Cowell/Constable Locke, Katerina Papacostas as Ethel Toffelmeir, Joe Peck as Ewart Dunlop/Traveling Salesman, Janet Aldrich as Maud Dunlop, Lawrence Redmond as Oliver Hix/Traveling Salesman, Tina Stafford as Alma Hix, Michael Brian Dunn as Jacey Squires, Rayanne Gonzales as Mrs. Squires and Justin Lee Miller as Olin Britt. Christina Kidd, Scott Shedenhelm, Eric Shorey, Kristen J. Smith, Jessica Wu and Nicholas Yenson make up the ensemble cast, with Alissa Alter (Female Swing) and Kurt Domoney (Male Swing).
Led by Goldberg, the orchestra for The Music Man features Anne Ament (E-flat clarinet, clarinet, bass clarinet), Jerry Amoury (bass trombone), Deborah Milan Brudvig (cello), Mark Carson (drums, percussion, timpani), Curt Christensen (trumpet), Rita Eggert (oboe, English horn, clarinet, soprano saxophone), Dennis Ferry (trumpet), George Hummel (piccolo, flute, clarinet), Kieron C. Irvine (trumpet), John Jensen (trombone), Robert Landham (flute, clarinet, baritone saxophone), Dana Landis (bass trombone), Bruno Nasta (violin), Jose Simbulan (synthesizer, assistant music director) and Greg Watkins (bass).
The Creative Team for The Music Man features Director Molly Smith, Choreographer Parker Esse, Musical Director Lawrence Goldberg, Set Designer Eugene Lee, Costume Designer Judith Bowden, Lighting Designer Dawn Chiang, Sound Designer Timothy M. Thompson, Wig Designer Anne Nesmith, Associate Director Anita Maynard-Losh, Assistant Choreographer Ashley Yeater, Assistant Music Director Jose Simbulan, Assistant Set Designer Patrick Lynch, Artistic Associate & Casting Director Dan Pruksarnukul, NY Casting by Stuart Howard and Paul Hardt, Dramaturg Amrita Ramanan, Stage Manager Susan R. White and Assistant Stage Manager Jenna Henderson.
Full bios and images available upon request. Please e-mail press@arenastage.org.
The Music Man is sponsored by Karen and Edward A. Burka and Margot Kelly. The 2011/12 Fichandler Stage Season is sponsored by Life Trustee Dr. Jaylee Montague Mead.
The Music Man Special Events, Ticket Information and Performance Calendar
Trombone-Playing Guinness World Record Attempt—June 1, 2012 at Nationals Stadium
Inspired by The Music Man's signature song "76 Trombones," Arena Stage aims to bring together more than 500 trombone players to set a new world record for the largest all-trombone ensemble. Together with FAME (The Foundation for the Advancement of Music & Education, Inc., fameorg.org), Arena Stage will focus awareness on the musical education needs of children in the greater D.C. Metro area. Set for the evening of June 1 at the Nationals Stadium, prior to a game against the Atlanta Braves, the attempt should be a memorable event for participants and spectators alike.
Musical Theater 101—ongoing
Musical Theater 101 is an extended seminar for audiences interested in deepening their understanding of the process of musical development. Participants will discover the unique challenges of creating a giant American musical and see how the song, dance, book and stagecraft come together by attending first rehearsal, weekly rehearsals, technical rehearsals, invited dress rehearsal and the show itself. For a complete calendar, visit arenastage.org/new-play-institute/theater-101/PDF/Theater%20101%20The%20Music%20Man%20Schedule.pdf, though please note that registration is now closed for Musical Theater 101 with The Music Man.
Odyssey & The Music Man Ticket Package
Call 202-488-4380 or visit arenastage.org/shows-tickets/group-sales/specialty-events/index.shtml#odyssey to learn more about The Music Man Cruises with Odyssey Cruise Lines. Featuring a luxury dinner or brunch cruise with spectacular views of Washington, D.C., immediately followed by an extraordinary production of The Music Man!
TICKETS: Tickets for The Music Man are $46-$91, subject to change and based on availability, plus applicable fees. For information on savings programs such as student discounts, Southwest Nights, Pay-Your-Age tickets, Family Fun Packs, HOTTIX and Hero's Discounts, visit arenastage.org/shows-tickets/single-tickets/savings-programs/. Tickets may be purchased online at arenastage.org, by phone at 202-488-3300 or at the Sales Office at 1101 Sixth St., SW, D.C.
Sales Office/Subscriptions: 202-488-3300
Group Sales Hotline for 10+ Tickets: 202-488-4380
TTY for deaf patrons: 202-484-0247
Info for patrons with disabilities: 202-488-3300
Tuesday, Wednesday & Sunday at 7:30 p.m.
Thursday, Friday & Saturday at 8:00 p.m.
Saturday & Sunday matinees at 2:00 p.m.
Weekday matinees at noon on 5/29, 6/6, 6/13 & 7/5.
Full calendar: tickets.arenastage.org/single/psDetail.aspx?psn=13383.
Open-captioned performances: Wednesday, 5/30 at 7:30 p.m. and Thursday, 5/31 at 8:00 p.m.
Audio-described performance: Saturday, 6/2 at 2:00 p.m.
METRO: Arena Stage at the Mead Center for American Theater is only one block from the Waterfront-SEU Metro station (Green Line). When exiting the station, walk west on M Street toward Sixth Street, and the main entrance to the Mead Center is on the right.
PARKING: Parking is available in Arena Stage's on-site garage. Subscribers may purchase parking in advance for $15. Single ticket buyers may purchase parking in advance for $18 or on the day of the performance for $20 on a first-come, first-served basis. Limited handicapped parking is available by reservation. Advanced parking must be reserved by calling 202-488-3300. The entrance to the Mead Center garage is on Maine Avenue between Sixth and Seventh streets. Patrons can also park at the Public Parking Garage at 1101 Fourth Street, one block from the Mead Center, for $11. Street parking is also available along Maine Avenue and Water Street.
VALET PARKING: Arena Stage offers valet service at no additional cost to patrons with accessibility needs who have booked their parking in advance by calling 202-488-3300. Valet parking is available to general patrons one hour prior to show time for $25, based upon availability. To use valet parking, pull up to the main entrance on Sixth Street.
Follow Arena Stage on Twitter @arenastage or twitter.com/arenastage and mention The Music Man with #ASMusicMan. Find us on Facebook at facebook.com/arenastage.
###