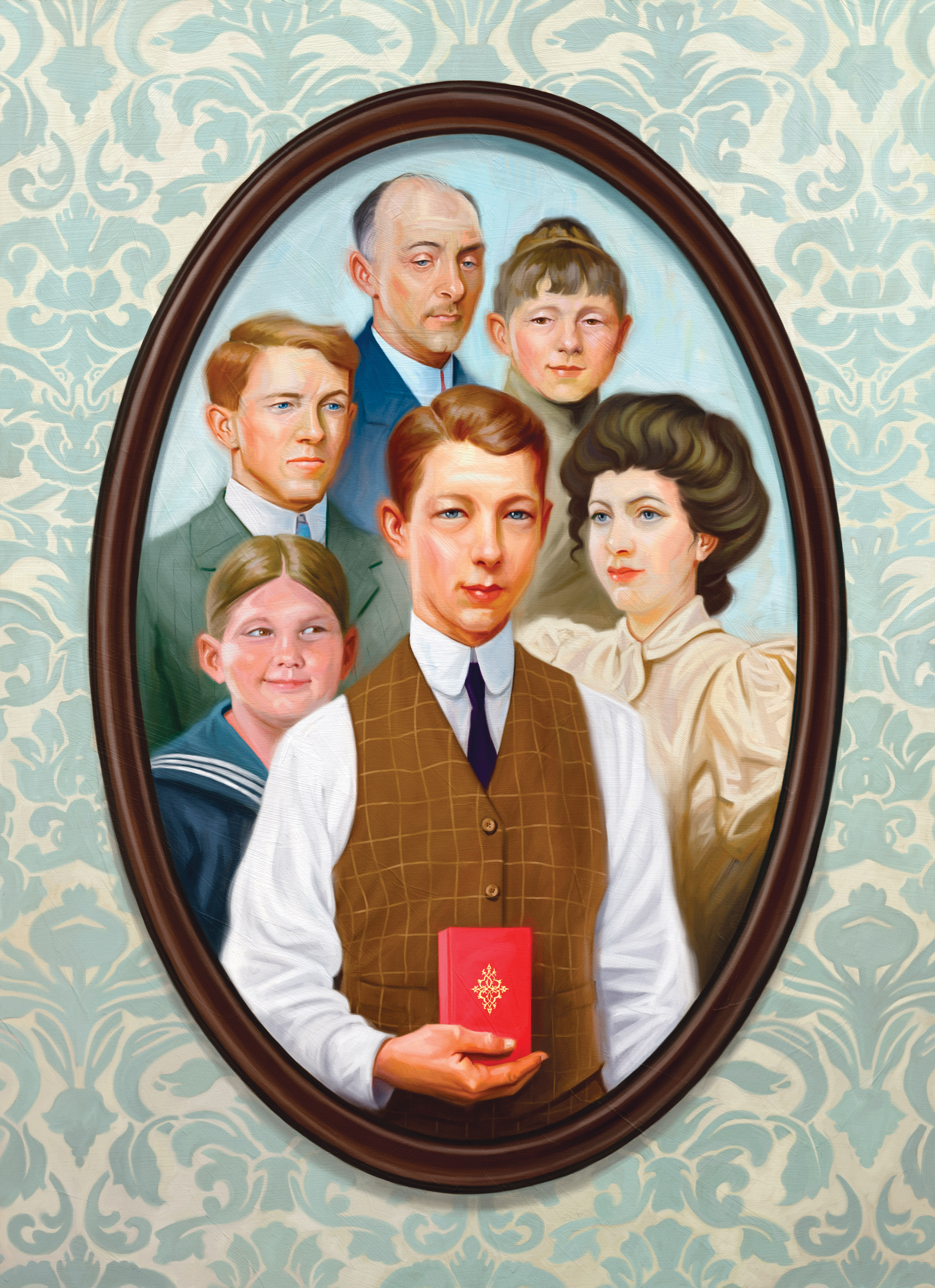 (Washington, D.C.) Ah, Wilderness!, Eugene O'Neill's joyous and truthful depiction of American family life at the turn of the 20th century, will kick off the two-month citywide Eugene O'Neill Festival at Arena Stage at the Mead Center for American Theater. From a playwright better known for his darker stories comes the brilliant Ah, Wilderness!, O'Neill's singular comedy that represents a fantasy of what his own childhood might have been. Helen Hayes Award winner and former Arena Stage Associate Artistic Director Kyle Donnelly returns to direct her 21st show at Arena Stage, which features an almost entirely local cast led by Rick Foucheux, Nancy Robinette and June Schreiner. Ah, Wilderness! runs March 9-April 8, 2012 in the Fichandler Stage.
"It's the story of Ah, Wilderness! that really strikes me. Eugene O'Neill was a flat-out wonderful storyteller," says Arena Stage Artistic Director Molly Smith. "It's a moving play about adolescence, romance and transformation in a middle-class American family. In Donnelly's skilled hands, this masterwork will strike a chord with our audiences."
Return to an idyllic age of America in Eugene O'Neill's unabashedly romantic and sweetly funny Ah, Wilderness! As the Connecticut-based Miller clan plans their traditional Fourth of July festivities, their dreamy-eyed middle child, Richard, is wrestling with cultural conventions, political uncertainty, the power of literature and the exquisite pain of love. The memories of family life were never so delicately portrayed as in O'Neill's only comedy. His coming-of-age love letter to a simpler time astounded critics at its premiere as "one of his best works … alternately poignant and disarming" (New York Times).
"Eugene O'Neill was truly our first great American playwright, and I am thrilled to spend time in his world back in the Fichandler Stage—a unique theater space that I'm obsessed with," says Donnelly. "Ah, Wilderness! is a fantasy, a recollection of what never happened, but of course, we also see a glimmer of darker undercurrents. So we have the privilege of experiencing this depth of reality while also enjoying the humor and fantasy of the play."
Ah, Wilderness! is produced as part of the Eugene O'Neill Festival, a two-month citywide examination of the life and work of American playwright Eugene O'Neill. Featuring partnerships with education and arts organizations in the area, the festival runs March 9-May 6, 2012 and features three full-length productions and more than 20 readings, workshops, radio plays, lectures, panels, presentations and art exhibits. For a complete festival schedule, visit arenastage.org/shows-tickets/the-season/productions/eugene-oneill-festival/index.shtml.
As previously announced, Helen Hayes Award winners Rick Foucheux and Nancy Robinette lead the cast as Nat and Essie Miller. They are joined by Jonathan Lincoln Fried as Sid Davis, Kimberly Schraf as Lily Miller, Leo Erickson as David McComber/Salesman and June Schreiner as Muriel McComber. Portraying the Miller siblings are Davis Chandler Hasty as Arthur, William Patrick Riley as Richard, Talisa Friedman as Mildred and 10-year-old Thomas Langston as Tommy, understudied by his brother T.J. Langston. Rounding out the cast are James Flanagan as Wint Selby/Bartender, Allison Leigh Corke as Norah and Pearl Rhein as Belle. This nearly entirely local company boasts 11 actors from the D.C. area. For further information about the cast, e-mail press@arenastage.org.
After working with Donnelly most recently on South Coast Repertory's Pride and Prejudice, Set Designer Kate Edmunds and Composer Michael Roth join the design team for Ah, Wilderness! Also reuniting with Donnelly are Costume Designer Nan Cibula-Jenkins (Broadway's Speed-the-Plow) and Lighting Designer Russell Champa (Broadway's In the Next Room, or the vibrator play), joined by Hair and Makeup Designer/Wig Fabricator Christal Schanes (Broadway's Coram Boy). The creative team also includes Arena Casting Director Daniel Pruksarnukul, Dramaturg Aaron Malkin, Stage Manager Jenna Henderson and Assistant Stage Manager Christi B. Spann.
Eugene O'Neill (Playwright, 1888-1953) began writing when melodrama dominated American theater. Influenced by Strindberg and Ibsen, O'Neill vowed to strip theater of sentimentality. He won Pulitzers for Beyond the Horizon, Anna Christie, and Strange Interlude and received further acclaim for The Emperor Jones, The Hairy Ape, Desire Under the Elms, The Great God Brown and Mourning Becomes Electra. In 1936, he won the Nobel Prize, the only American playwright so honored. The autobiographical The Iceman Cometh, Long Day's Journey into Night and A Moon for the Misbegotten tower over his other works and portray with "faithful realism" the haunting figures of his family. He won a fourth Pulitzer, posthumously, in 1956 for Long Day's Journey into Night. In a career of more than three decades, O'Neill experimented with dramatic techniques, tackled controversial issues and changed American theater forever.
Kyle Donnelly (Director) was associate artistic director at Arena Stage (1992-98) and directed Dancing at Lughnasa (Hayes Award, Best Production), Polk County (Hayes Award, Best Musical) and numerous other productions. She directed the American premiere of Brian Friel's Give Me Your Answer, Do! Off-Broadway and has worked with many regional theaters, including Old Globe (Orson's Shadow), Seattle Rep (The Three Musketeers, Constant Wife), Goodman (The Rover), Steppenwolf (Molly Sweeney), Huntington (Ah, Wilderness!, Aristocrats), ACT (Constant Wife), Studio (Baltimore Waltz) and Alliance (To Kill a Mockingbird). She has won Helen Hayes and Joseph Jefferson awards and the Arthur and Molli Wagner Endowed Chair in Acting at UC San Diego, where she heads the M.F.A. Program in Acting.
The Cast of Ah, Wilderness! (in alphabetical order)
Allison Leigh Corke (Norah) makes her Arena Stage debut. Local credits include Holiday (Linda) and By Jeeves (Madeline) at 1st Stage, Laughter on the 23rd Floor (Helen) at Keegan Theatre, Stage Door (Jean Maitland) at American Century Theater and performances with Scena Theatre and the Madcap Winter Carnival of New Works. She has also performed with Georgia Shakespeare (A Midsummer Night's Dream, Titus Andronicus, Julius Caesar) and PTP/NYC (Scenes from an Execution). Allison was a proud member of the National Players' 60th tour, based out of Olney Theater Center.
Leo Erickson (David McComber) recently played Darwin in Darwin in Malibu with Washington Stage Guild. He previously appeared at Arena Stage in Passion Play, a cycle. Performances at other area theaters include The Solid Gold Cadillac, Guantanamo, The Life of Galileo, A Class Act and Prometheus at Studio Theatre; Dog in the Manger and Major Barbara at Shakespeare Theatre Company; The Voysey Inheritance and Mary Stuart at Center Stage; Big Love at Woolly Mammoth; and leading roles at Rep Stage and Olney Theatre Center. His regional work includes Cyrano in Cyrano de Bergerac, George in Who's Afraid of Virginia Woolf? and Honeyman in A Walk in the Woods. His international work includes Lee Blessing's Two Rooms at Sibu Theatre Festival (Romania) and Merlin Theatre (Budapest).
James Flanagan (Wint Selby) recently appeared in The Cherry Orchard at Quotidian Theatre Company. Other credits include House of Gold at Woolly Mammoth; Photograph 51 at Theater J; dark play or stories for boys at Forum Theatre; The Intelligent Design of Jenny Chow at Studio Theatre 2nd Stage; columbinus at Round House Theatre; and other productions with Rep Stage, Perseverance Theatre, Baltimore Shakespeare Festival, Chesapeake Shakespeare Company, Maryland Shakespeare Festival, VSA Arts, Kennedy Center Theater for Young Audiences, Longacre Lea Productions, Taffety Punk's Bootleg Shakespeare, Hub Theatre Company and New York Theatre Workshop. Film: Absentia (featuring Doug Jones).
Rick Foucheux (Nat Miller) returns to Arena Stage, where he appeared as Bucky in R. Buckminster Fuller, Willy Loman in Death of a Salesman, Devery in Kyle Donnelly's production of Born Yesterday and last spring in Theater J's production of The Chosen. His many roles over the past 27 years include appearances at Shakespeare Theatre, Studio, Olney Theatre Center, Folger, Round House and Woolly Mammoth. Rick has twice received the Helen Hayes Award for Outstanding Leading Actor. He is a Lunt-Fontanne fellow of the Ten Chimneys Foundation.
Jonathan Lincoln Fried (Sid Davis) has appeared at Arena Stage in A Time to Kill and Born Yesterday (dir. Kyle Donnelly). At Shakespeare Theatre he played Menelaus in JoAnne Akalaitis' Trojan Women. NY credits: BAM's Bridge Project with London's Old Vic (The Tempest), Signature (Landscape of the Body, Sleep Deprivation Chamber), NYSF (Two Noble Kinsmen, Hamlet), TFNA (Hamlet, Coriolanus), NYTW (Anne Bogart's 1951), Ohio Theater (No Plays No Poetry). Regional: Mark Taper (Slavs), Yale Rep (Richard II), Williamstown (Cherry Orchard, Three Sisters), Old Globe (Orson in Orson's Shadow), and many roles at ART, including Edmund in King Lear. Jonathan was a longtime company member at Trinity Rep (Tom in The Glass Menagerie, Treplev in Seagull). His oral history of Alvin Epstein will be published this year.
Talisa Friedman (Mildred) makes her Arena Stage debut and returns to the D.C. stage for the first time since she performed in Studio Theatre's The Prime of Miss Jean Brodie as a high school senior. She recently played the role of Cindy Brady in The Brady Bunch, which won Best Ensemble at the NYC Fringe Fest. Other recent appearances include the world-premiere stage adaption of Donnie Darko (Cherita) at American Repertory Theater, the premiere of the NAMT-winning Snow (Georgia) at Spirit of Broadway Theater and Liz Swados' oratorio Resilient Souls (Jean Donovan). She graduated from Harvard, where she was awarded the Jonathan Levy Prize for Most Promising Actor and the David McCord Prize for the Arts.
Davis Chandler Hasty (Arthur) is making his first appearance at Arena Stage. Other D.C. area credits include A Wrinkle in Time (Round House Theatre), One Flea Spare (Forum Theatre), Becky's New Car (Bay Theatre) and Charlotte's Web (Adventure Theatre). Davis is a graduate of Duke Univ. and of the National Theatre Institute at the Eugene O'Neill Theatre in Connecticut.
Thomas Langston (Tommy) makes his first appearance with Arena Stage. His Washington-Baltimore appearances include Tommy in All My Sons at Everyman Theatre and several area theatrical productions, including Peter Pan, Joseph and the Amazing Technicolor Dreamcoat and Snow White (as Grumpy). Thomas has also been seen in the feature films J. Edgar and Meet Dave with Eddie Murphy. His TV credits include Tommy in Paternity, an episode of Law & Order: SVU and young Thomas Adams in the HBO production John Adams.
T.J. Langston (u/s Tommy) makes his first appearance with Arena Stage. Other Washington-Baltimore appearances include Joseph and the Amazing Technicolor Dreamcoat at Olney Theatre, Tommy in All My Sons at Everyman Theatre, Oliver in Oliver! at Toby's Dinner Theatre and Louis in The King and I at Toby's, as well as several other theatrical productions. T.J. has also done several TV commercials. He studies piano, plays soccer, loves all animals and sings with The Young Columbians.
Pearl Rhein (Belle) makes her Arena Stage debut. New York appearances include Deb in (and composer for) Hotel Apocalypse (Page 73 Productions), Willow in Willow's One Night Stand (Foxy Films & Stage Productions) and Carstairs the Dog in The Red Letterbox (Brooklyn College at Classic Stage Company). Pearl has appeared regionally at Alabama Shakespeare Festival (Rita in Cowgirls), Playhouse on Park (Lisa in Collected Stories) and La Jolla Playhouse (Ensemble in Memphis). She is also a singer-songwriter and composer and a proud holder of a B.S. in theater from Ball State Univ. and M.F.A. in acting from UC San Diego.
William Patrick Riley (Richard) makes his Arena Stage debut. Other credits include: Hoover Comes Alive! (La Jolla Playhouse); The Tempest, Twelfth Night, As You Like It (Shakespeare Santa Cruz); The Seagull, Camino Real, The Misanthrope, As You Like It (UCSD). Recent TV credits include appearances on Torchwood and 90210. William is co-founder and artistic director of Lonesome No More! Theatre in Los Angeles, where he recently directed a highly acclaimed production of Spring Awakening. He earned his M.F.A. in acting from University of California, San Diego.
Nancy Robinette (Essie Miller) most recently appeared at Arena Stage in You, Nero; Death of a Salesman; Well; and Christmas Carol 1941. She has also been seen recently at Studio Theatre in New Electric Ballroom, Souvenir and Frozen; The Carpetbagger's Children at Ford's Theatre; and Ideal Husband and The Heir Apparent at Shakespeare Theatre. She has appeared at Old Globe, Paper Mill, Williamstown, New York Theatre Workshop, Roundabout and McCarter theaters. TV includes Louie and Homicide. Films: Serial Mom, Soldier Jack, The Hunley and The Day Lincoln Was Shot.
Kimberly Schraf (Lily Miller) returns to Arena Stage after appearing in Kyle Donnelly's production of The Women. Other D.C. appearances include After the Fall at Theatre J; The Carpetbagger's Children and Sabrina Fair at Ford's Theatre; Freedomland and Measure for Pleasure (Hayes nom, Lead Actress) at Woolly Mammoth; Angels in America and Show Boat (Hayes nom, Supporting Actress, Musical) at Signature; Crestfall, Skylight and Frozen at Studio; and Our Town and A Prayer for Owen Meany at Round House. She will be seen as Olga in the upcoming You Can't Take It with You at Everyman Theatre. She has appeared on Homicide: Life on the Streets. As co-director of the Honors Conservatory at Theatre Lab, she prepares adult actors for professional theater work.
June Schreiner (Muriel McComber) is a senior at The Madeira School – Go Snails! After two summers at the Arena Academy and two rounds in Oklahoma!, she is so excited to be back. In addition to training with Synetic, receiving coaching from the brilliant Ms. Lilia Slavova, and of course Oklahoma! here at Arena, June's credits include A Midsummer Night's Dream, The Snow Queen, Hansel and Gretel (Synetic); Grey Gardens (Studio); Urinetown (RCP); and Little Women, directed by her father, Bill.
The O'Neill Festival is generously sponsored by Joan and David Maxwell. The 2011/12 Fichandler Stage Season is sponsored by Life Trustee Dr. Jaylee Montague Mead.
TICKETS: Tickets for Ah, Wilderness! are $40-$85, subject to change and based on availability, plus applicable fees. For information on savings programs such as student discounts, Southwest Nights, Pay-Your-Age tickets, HOTTIX and Hero's Discounts, visit arenastage.org/shows-tickets/single-tickets/savings-programs/. Tickets may be purchased online at arenastage.org, by phone at 202-488-3300 or at the Sales Office at 1101 Sixth St., SW, D.C.
Sales Office/Subscriptions 202-488-3300
Group Sales Hotline for 10+ Tickets 202-488-4380
TTY for deaf patrons 202-484-0247
Info for patrons with disabilities 202-488-3300
Sunday, Tuesday & Wednesday at 7:30 p.m.
Thursday, Friday & Saturday at 8:00 p.m.
Saturday & Sunday at 2:00 p.m.
Weekdays at noon on Wednesday, 3/21; Tuesday, 3/27 and Wednesday, 4/4
Full calendar: tickets.arenastage.org/single/psDetail.aspx?psn=13343
METRO: Arena Stage at the Mead Center for American Theater is only one block from the Waterfront-SEU Metro station (Green Line). When exiting the station, walk west on M Street toward Sixth Street, and the main entrance to the Mead Center is on the right.
PARKING: Parking is available in Arena Stage's on-site garage. Subscribers may purchase parking in advance for $15. Single ticket buyers may purchase parking in advance for $18 or on the day of the performance for $20 on a first-come, first-served basis. Limited handicapped parking is available by reservation. Advanced parking must be reserved by calling 202-488-3300. The entrance to the Mead Center garage is on Maine Avenue between Sixth and Seventh streets. Patrons can also park at the Public Parking Garage at 1101 Fourth Street, one block from the Mead Center, for $11. Street parking is also available along Maine Avenue and Water Street.
VALET PARKING: Arena Stage offers valet service at no additional cost to patrons with accessibility needs who have booked their parking in advance by calling 202-488-3300. Valet parking is available to general patrons one hour prior to show time for $25, based upon availability. To use valet parking, pull up to the main entrance on Sixth Street.
Follow Arena Stage on Twitter @arenastage or twitter.com/arenastage and mention Ah, Wilderness! with #ASWilderness and the Eugene O'Neill Festival with #ASONeill. Visit Arena Stage on Facebook at facebook.com/arenastage.
###