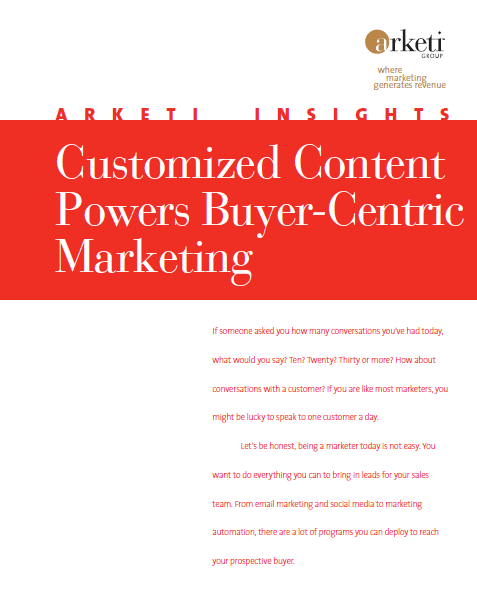 ATLANTA – June 26, 2012 – Arketi Group, a high-tech business-to-business
public relations
and digital marketing firm, released its second
Arketi Insights
, titled
Customized Content Powers Buyer-Centric Marketing
.
Focused on content marketing in the BtoB space, the second
Arketi Insights
continues the series of publications that examines top and emerging BtoB marketing topics, and what they mean for high-tech business marketers.
Customized Content Powers Buyer-Centric Marketing
is available for free download at
www.arketi.com/2012contentinsights
.
"To successfully drive revenue for your organization, you must understand your customers' business problems and then sell to them based on their priorities and needs," said Sami Jajeh, Arketi principal. "Once you've accomplished that, you can use the marketing program which will work best to accelerate the buying process and close more deals."
In today's BtoB environment, strong, fresh and relevant content can be the single most important accelerator to move prospects through the sales cycle. In fact, relevant content can decrease buyer decision time by almost 20 percent, thus reducing the cost of sales, according to IDG Connect.
This issue of
Arketi Insights
covers key considerations when
creating customized content
, such as:
• Adjusting your thinking to a customer-centric approach
• Identifying buying motivations, expectations and goals through one-on-one interviews
• Grouping buyers into segments and creating buyer personas
• Mapping the marketing process to the customer's purchase process
Arketi Insights
is a regular component of the agency's ongoing
Stop Selling. Start Listening.
movement designed to help re-introduce BtoB marketers to a way of thinking that places buyers and their needs at the center of marketing priorities. The campaign also includes webinars and the firm's annual High-Tech CMO Roundtable to be held later this year.
About Arketi Group
Arketi Group
is a public relations (PR) and digital marketing firm that helps business-to-business (B2B) technology organizations accelerate growth through intelligent strategy, public relations, messaging, branding and demand generation. Consistently recognized by
BtoB
magazine as one of the nation's "Top BtoB Agencies," Arketi helps its clients use marketing to generate revenue. Companies benefiting from this approach to B2B marketing include Concurrent, CorFire, Extol, Jacada, Stonesoft and Xerox. For more information, call 404-929-0091 ext. 202 or visit
www.arketi.com
.