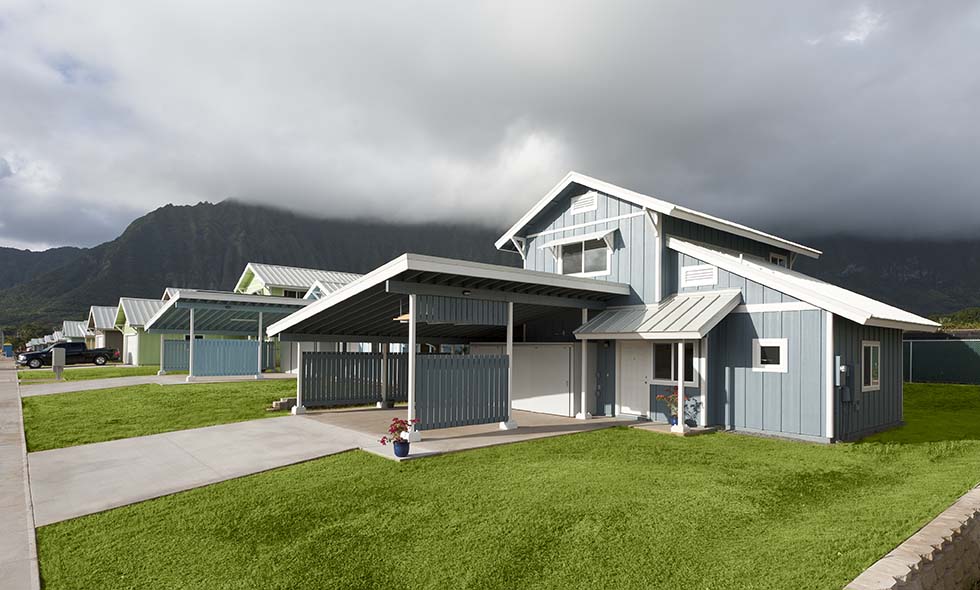 HONOLULU- Kumuhau, a residential community built by Armstrong Builders in partnership with the Department of Hawaiian Home Lands in Waimanalo, has been awarded LEED Gold certification by the U.S. Green Building Council (USGBC). Armstrong Builders received five LEED Gold certificates-one for each of its model homes-for achievement in
green homebuilding and design.
Standing for Leadership in Energy and Environmental Design, LEED is the most popular green building rating system in the world. The rigorous certification process takes into account site sustainability, energy efficiency, water efficiency, materials and resources, indoor air quality, and design innovation, among other factors to ensure healthy, durable, energy-efficient homes.
"At Armstrong Builders, we're committed to
building green
sustainable homes to last generations," said President James Keller. "We're not only incorporating green features and amenities to offset energy costs, but we're also educating our homeowners on how to take advantage of these homes so that they can live in them comfortably and affordably for years to come."
"With its LEED-certified homes, Kumuhau serves as a model of greener living for the entire state," added Nate Kredich, Vice President of Residential Market Development for the USGBC. "The home sets the example that we can all live better by reducing our environmental footprint, cutting our utility bills, and coming home to a greener place to live."
Kumuhau is a 45-home neighborhood located at the base of the Ko'olau Mountains in Waimanalo. Homes range from three to five bedrooms and offer a number of green features, such as solar photovoltaic panels, rainwater harvesting systems, dual flush toilets, high-quality insulation, and low-VOC paints, flooring and carpet. The homes also feature whole house fans, which are used to naturally cool and ventilate the homes by exchanging hot air, moisture and odors with fresh air that is pulled in from the outside.
About USGBC
The U.S. Green Building Council is a nonprofit membership organization whose vision is a sustainable built environment within a generation. Since USGBC's founding in 1993, USGBC has grown to more than 18,000 member companies and organizations and a comprehensive suite of LEED green building certification systems. Its membership includes corporations, builders, universities, government agencies, and other nonprofit organizations all sharing USGBC commitment to a prosperous and sustainable future for our nation through cost-efficient and energy-saving green buildings. Visit www.usgbc.org for more information.
About
Armstrong Builders
, LLC
Established in 1976, Armstrong Builders, LLC is an award-winning integrated multi-disciplinary company dedicated to outstanding service and craftsmanship in the areas of custom home building, luxury, affordable housing and residential community development, and commercial construction. The company is also a leader in Hawaii's green building industry with a team of LEED accredited professionals and a commitment to building and living sustainably. For more information visit their website or call (808) 848-2484.