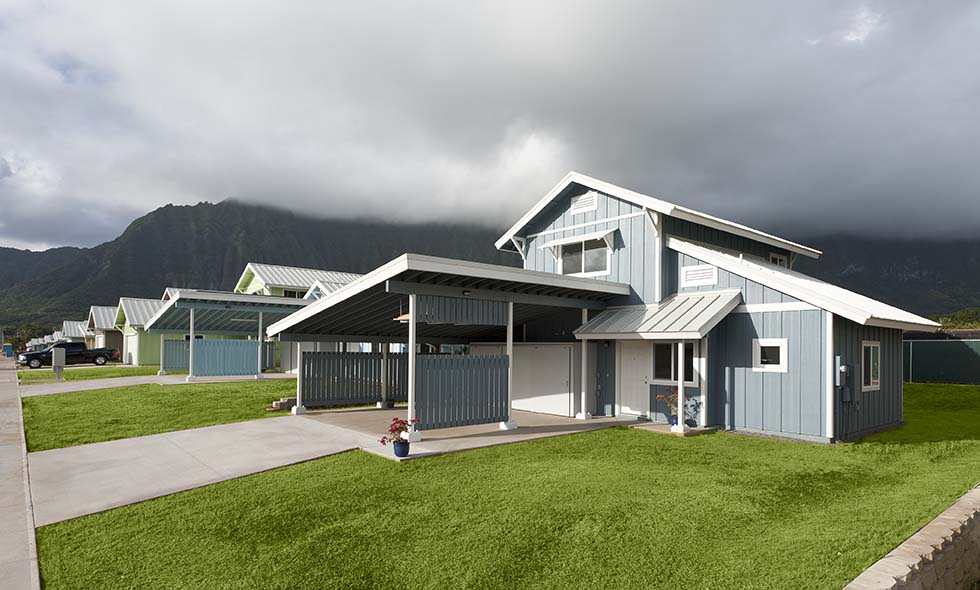 HONOLULU -
Armstrong Builders
has received another award for its Kumuhau project on Oahu, earning the Gold Award for
Best Detached Home of the Year
in the 2011 Dream Home Awards. Designed and built by Armstrong Builders in partnership with the Department of Hawaiian Home Lands, this dream home is both affordable and environmentally friendly.
"We were able to implement a number of cost savings measures, such as prefabrication and creative procurement, to ensure these homes would be affordable to buy," said James Keller, president of Armstrong Builders. "More importantly, we combined a number of green features with a thoughtful layout to allow residents to save money and
minimize their environmental footprint
for years to come."
Kumuhau consists of 45 single-family homes located at the base of the Ko'olau Mountains in Waimanalo. Featuring Hawaiian Plantation-style architecture, there are five different model homes, ranging from three to five bedrooms. Among the homes' green features are solar photovoltaic panels, rainwater harvesting systems, dual flush toilets, high-quality insulation, and low-VOC paints, flooring and carpet. The homes also feature whole house fans, which are used to naturally cool and ventilate the homes by exchanging hot air, moisture and odors with fresh air that is pulled in from the outside. All five of the model homes in the Kumuhau community have been certified as LEED Gold.
Presented to architects, builders and interior designers, the Dream Home Awards recognize companies and individuals who actually create the homes that Americans dream about, while raising the bar for excellence in the national building industry.
About
Armstrong Builders, LLC
Established in 1976, Armstrong Builders, LLC is an award-winning integrated multi-disciplinary company dedicated to outstanding service and craftsmanship in the areas of custom home building, luxury, affordable housing and residential community development, and commercial construction. The company is also a leader in Hawaii's green building industry with a team of LEED accredited professionals and a commitment to building and living sustainably. For more information, visit the website or call (808) 848-2484.
###
EDITOR'S NOTE: High-resolution images of the project are available upon request. Please contact
Caroline Witherspoon
or
Lindsay McClelland
of Becker Communications, Inc.
Media Contact:
Caroline Witherspoon
or
Lindsay McClelland
Becker Communications, Inc.
(808) 533-4165