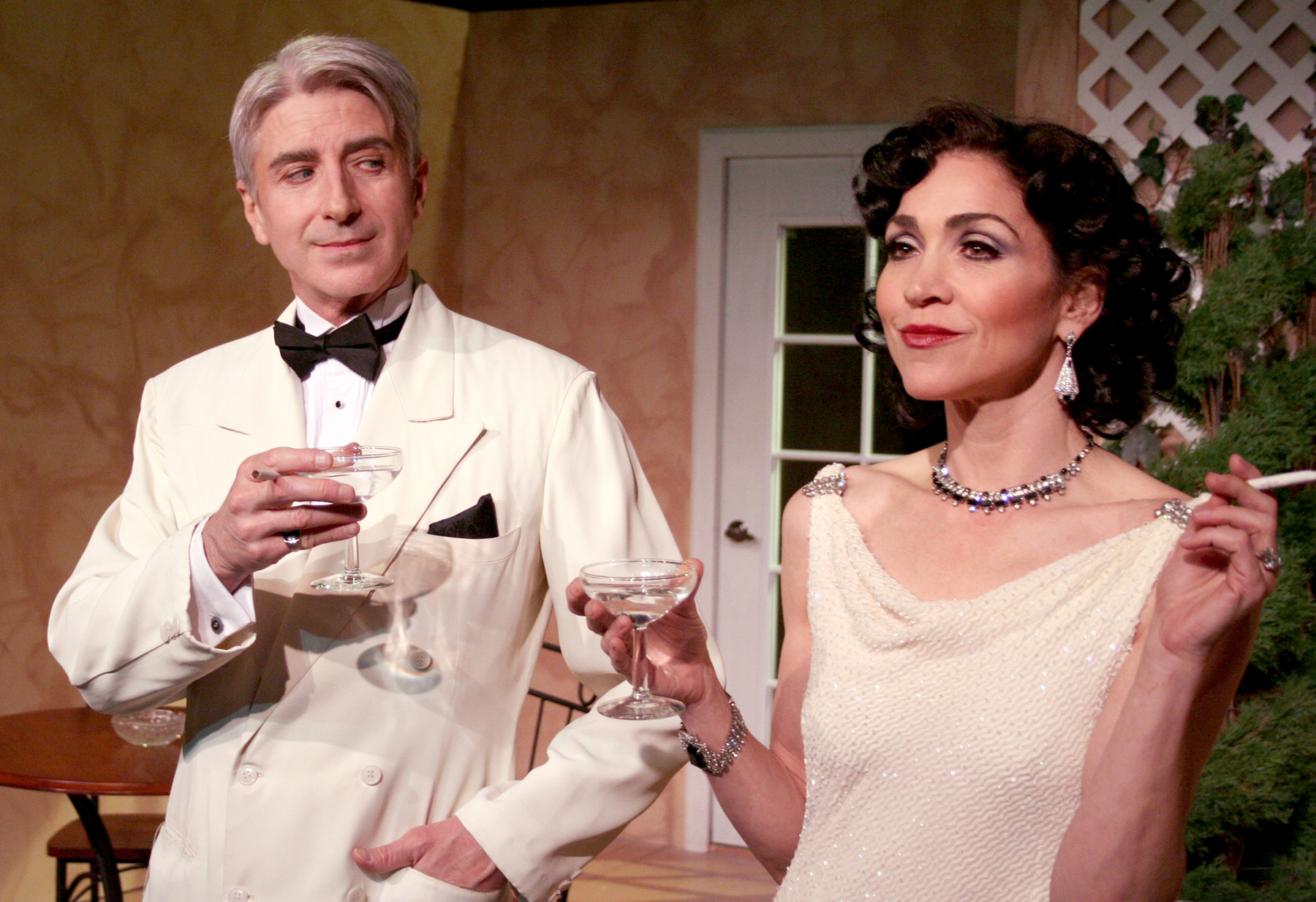 BURBANK, CA – March 1, 2012 – "An absolute must see." "5 out of 5 stars." "A gifted cast." "Critics pick." "A stylish and fun-filled gem."
Those are just a few of the accolades that critics have bestowed on Table for Two Productions' presentation of Noël Coward's classic comedy Private Lives that runs through March 25 at GTC Burbank Theatre.
In The Los Angeles Times, F. Kathleen Foley notes that "director Jules Aaron has assembled a gifted cast that keeps the tone light and the dialogue properly aerated…Stasha Surdyke and Lenny Von Dohlen capture the drawling sophistication of their characters in crisp Cowardian style."
Don Grigware of BroadwayWorld says "Private Lives works to perfection when properly cast. In the latest revival by Table For Two at GTC Burbank, Jules Aaron has assembled a superior ensemble that mesh together like clockwork…Lenny Von Dohlen (Elyot) and Stasha Surdyke (Amanda) are deliciously egomaniacal in every way. Jeff Witzke as Victor and Annie Abrams as Sibyl fit their roles divinely. Aaron's pacing is up, up, up and bright throughout. Shon LeBlanc's costumes are to die for. If you like your wit lyrical and lilting, look no further than to Noel Coward and to this well-conceived and executed production of Private Lives."
And on his Grigware Talks Theatre website, Don added this accolade: "5 out of 5 stars…Critics Pick."
In the Tolucan Times, Pat Taylor raves that Private Lives is "a stylish and fun-filled 'laugh a minute' gem! Boasting a flawless cast and technical excellence all round, every zany moment is an audience pleasing joy! When the delicate balance of a savvy script, ambitious performances, visionary direction, classy costumes, appealing sets, and effective sound and lighting designs come together, audiences truly experience the thrill of live theatre. An A-Class, award worthy effort in every aspect. This is an absolute must see for theatre enthusiasts!"
StageSceneLA says that Private Lives is "adroitly directed by Jules Aaron and spiffily acted by a topnotch cast…as Amanda, Stasha Surdyke is delectably dry and delightfully sophisticated, with Surdyke's Act Two vocalizing proving an added treat. Silver fox Lenny Von Dohlen matches Surdyke in dryness and sophistication, scenes between the two positively crackling with romantic, sexual chemistry. As Sibyl, Annie Abrams is a wide-eyed, Kewpie Doll-cute charmer opposite a deliciously stiff-shirted Jeff Witzke's Victor."
ABOUT PRIVATE LIVES
Directed by Jules Aaron, Private Lives stars Stasha Surdyke and Lenny Von Dohlen as perpetually dueling lovers Amanda and Elyot, two divorcees who unwittingly book adjoining rooms while honeymooning with their new spouses (played by Annie Abrams and Jeff Witzke). They soon realize the folly of their new marriages and impulsively flee together to Paris, only to be caught days later by their jilted spouses. This stylish, savvy and still-timely comedy is loaded with pointed barbs about modern romance and the people we can't live with—or without.
Written in 1930, the original London production of Private Lives starred Noël Coward and Gertrude Lawrence. A Broadway production followed in 1931. The play has been revived several times on Broadway, and has been produced in theaters around the world.
Tickets: $34.50 for adults, and $29.50 for seniors and students.
Performances: Thursday through Saturday at 8 p.m., and Sundays at 2 p.m., through March 25.
To purchase tickets, call (323) 960-7738, or visit www.Plays411.com/PrivateLives. For information on Private Lives, visit www.Table4Two-PrivateLives.com.
ABOUT TABLE FOR TWO PRODUCTIONS
Table for Two Productions was founded by Stasha Surdyke and Christopher Trela to create and host theatrical & culinary fundraising events for arts organizations, as well as present professionally produced plays in venues throughout Southern California. Christopher and Stasha co-write the Table for Two dining column in the Newport Beach Independent, and they are the co-editors of Coastal Food and Wine, a website devoted to covering epicurean experiences along the coast of So Cal.
ABOUT GTC BURBANK
Nestled in the George Izay Park in Central Burbank, GTC Burbank's venue is an attractive, comfortable and intimate theater. This 98-seat state-of-the-art theater offers seats that are never more the 30 feet from the stage. GTC Burbank is located at 1111-B West Olive Ave, Burbank CA, 91506. Private Lives is a Guest Production at GTC Burbank. For more information on GTC Burbank, go to www.gtc.org.