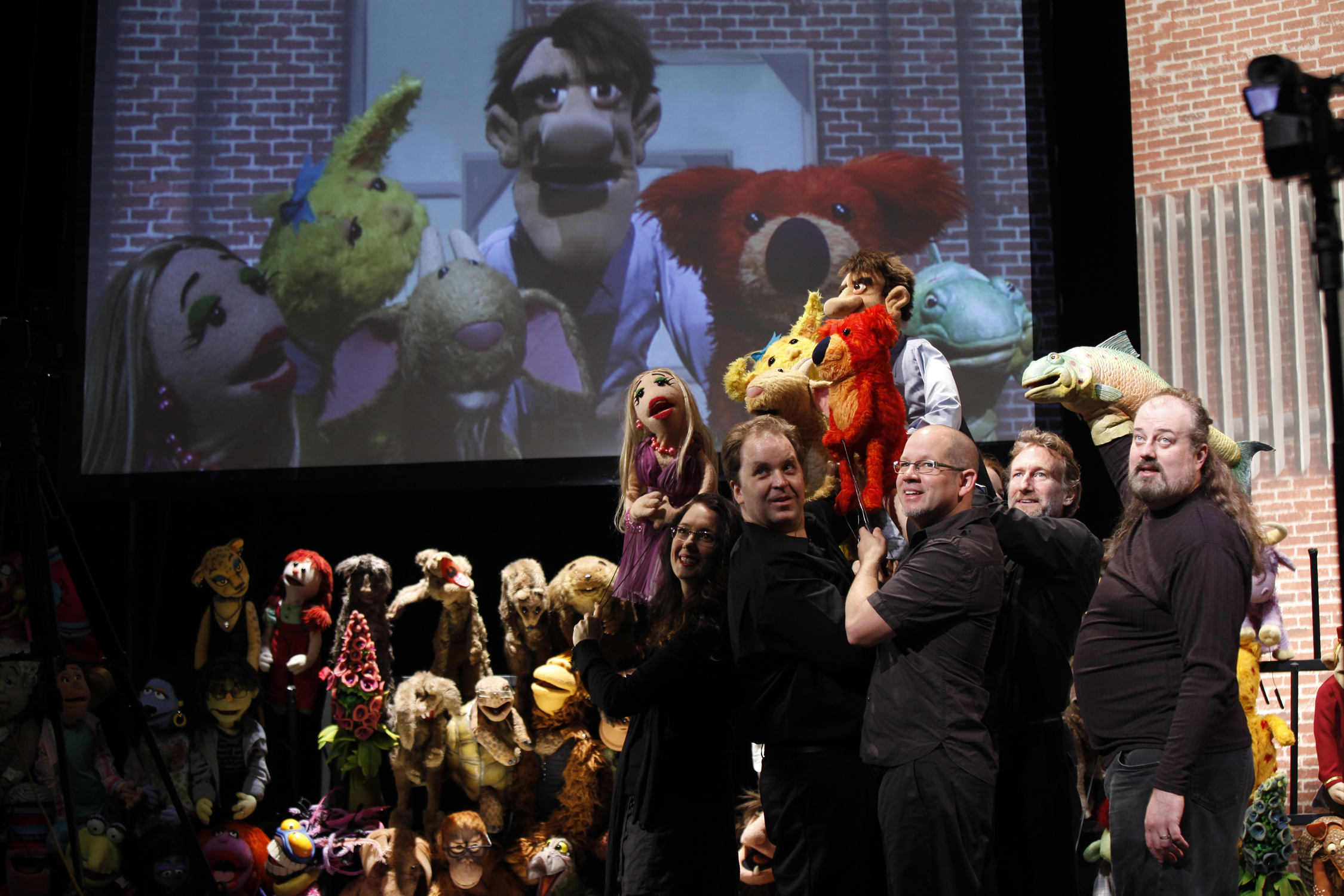 IRVINE, CA –
They may look like cuddly little Muppets, but these Henson Alternative puppets have a wicked sense of humor. In fact, they're
Stuffed and Unstrung
, a live, outrageous, comedy-variety show for adults that returns to the
Irvine Barclay Theatre
December 28 through January 1.
Host
Patrick Bristow
and six superb comedian/puppeteers improvise songs and sketches based on suggestions from the audience to create a one-of-a-kind show that can be enjoyed two different ways. Watch the action onstage, or view the live puppet feed projected on screens overhead. It's double the fun. Each show also features re-creations of Jim Henson classics that first aired on the
Ed Sullivan Show
and launched the Henson phenomenon.
"
Stuffed and Unstrung
is a silly, daring and exciting challenge that has evolved from a small class where our puppeteers could work on their improvising skills," explains Brian Henson, Chairman of
The Jim Henson Company
and Jim's son. "Traditionally, going back to the earliest appearances my dad did on
The Ed Sullivan Show
,
The Tonight Show
and many others, our company's style of puppetry has always involved improvisation. It was quite often true that our funniest moments on set happened after the director yelled cut. Improvising brings a certain energy that is exciting, irreverent and unique, and I wanted to strengthen that comedic voice in our work."
With a motley group of characters brought to life by the world renowned puppeteers of The Jim Henson Company, this is not your average night at the improve, and it is definitely not for children. But all others are welcome to enjoy the uninhibited anarchy of live puppet performance as never seen before.
A special New Year's eve show on December 31 at 7pm ends with a live telecast from Times Square humorously counted down to midnight (EST) by our fabulous felt friends.
Performances
Wednesday, December 28, 2011 @ 8:00 PM
Thursday, December 29, 2011 @ 8:00 PM
Friday, December 30, 2011 @ 8:00 PM
Saturday, December 31, 2011 @ 7:00 PM
Sunday, January 01, 2012 @ 2:00 PM
Sunday, January 01, 2012 @ 7:00 PM
Tickets
Dec 28, 29: $38, $45
Dec 30, 31 & Jan 1: $45, $55
$100 Gold Seats
(includes VIP seating, admission to the Gold Bar, and complimentary beverages)
The Irvine Barclay Information
(949) 854-4646
4242 Campus Drive, Irvine, CA 92612
About Irvine Barclay Theatre
Since opening its doors in 1990, Irvine Barclay Theatre has emerged as one of California's most imaginative performing arts showcases. A unique collaborative venture among the City of Irvine, the University of California, Irvine, and the private sector, the theatre has a reputation for wide-ranging programming in the fields of contemporary dance, music, and theater arts. Performances take place in the 756-seat Cheng Hall, renowned for its intimate atmosphere and superb acoustics.
Irvine Barclay Theatre is an independent non-profit organization established twenty years ago as an innovative public-private partnership with the vision of creating a unique performing arts venue. The private sector, the City of Irvine and the University of California, Irvine - combined funding and land to achieve a long-standing mutual goal.
The partners created Irvine Barclay Theatre to showcase top quality artists, to provide a superior facility for local and regional arts groups, and to enhance UCI's educational mission, particularly the programs generated by its School of the Arts. The theatre building is named for Mr. Richard Barclay, an area philanthropist, who provided the leading gift for the theatre's construction. The theatre auditorium is named for Dr. George and Arlene Cheng, also area philanthropists.
The Barclay's 750-seat Cheng Hall is now virtually in constant use. Irvine Barclay Theatre has gained a national reputation for its great acoustics, intimate feel, and the high quality of its production facilities. Among artists, it is a venue of choice when performing in southern California.