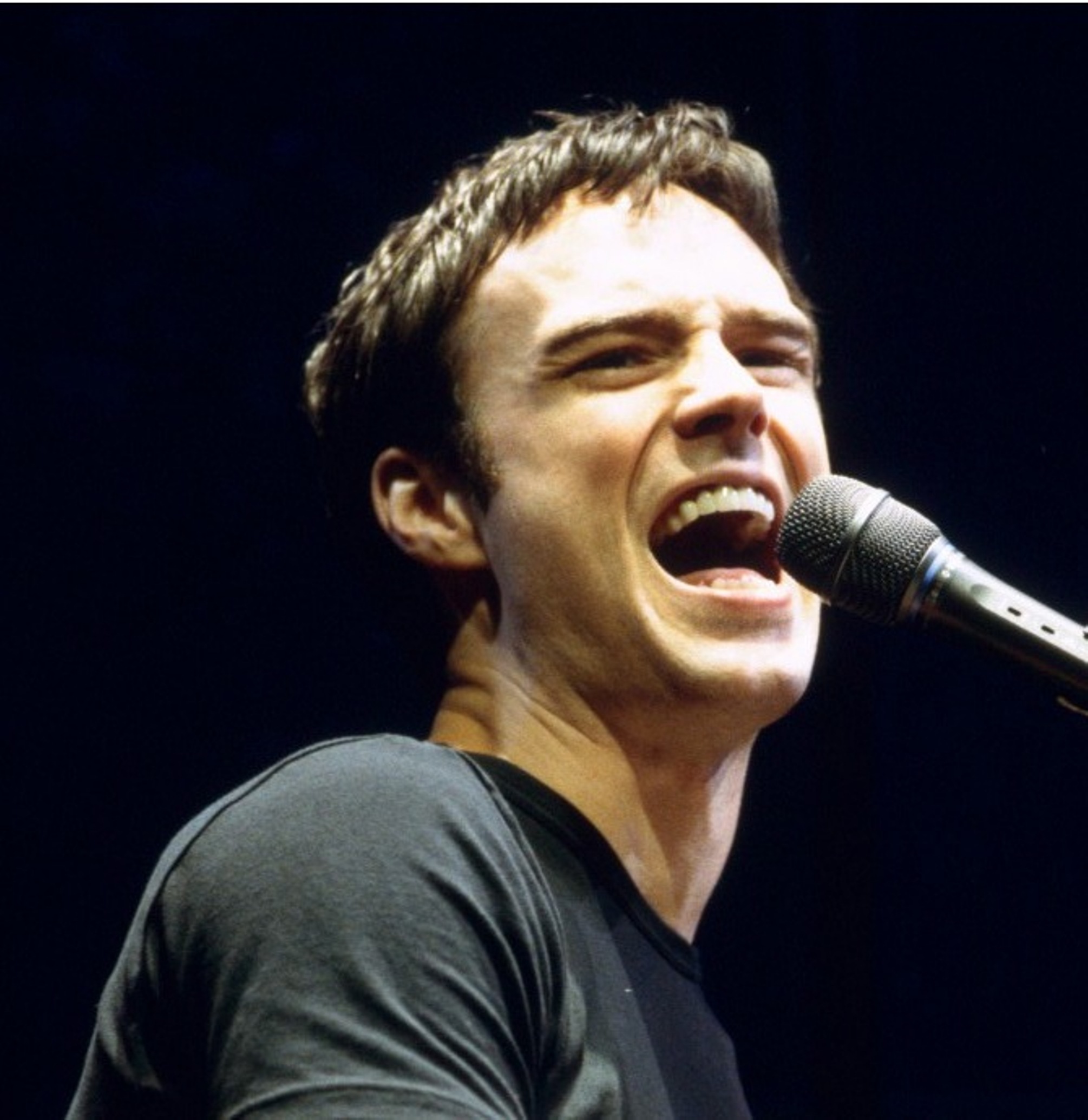 "Your Song," "Saturday Night's Alright for Fightin'," and "Bennie and the Jets" are just a few of the classic Elton John songs scheduled to be performed by guest artist Michael Cavanaugh when he joins the Long Beach Symphony Orchestra POPS! for "Michael Cavanaugh in Concert: The Songs of Elton John and More" on Saturday, March 24, 2012 at The Long Beach Arena.
The concert features Principal POPS! Conductor Steven Reineke alongside guest artist Cavanaugh, who wowed LBSO audiences in 2010 when he performed with the Orchestra POPS! in "The Music of Billy Joel and More."
Dubbed "the New Voice of the American Rock and Roll Songbook" by Billboard Magazine, Cavanaugh will perform hits by Elton John, Chicago, Paul McCartney, The Eagles, and more, featuring the Long Beach Symphony Orchestra.
This will be Steven Reineke's final concert with the LBSO as Principal POPS! Conductor.
"Our audiences have been fortunate to have enjoyed the remarkable conducting and programming of Steven Reineke for three seasons," says LBSO Executive Director Robert C. Jones, "but it is now time to wish him well as he focuses his attention on his impressive, and growing, major East Coast orchestra relationships. He has a standing invitation to return as a guest conductor in future seasons. In Steven's short tenure, he has set a new standard for your Orchestra POPS! for which we thank him and wish him the very best."
"Michael Cavanaugh in Concert: The Songs of Elton John and More" begins at 8 p.m. at the Long Beach Arena, 300 East Ocean Blvd. in Long Beach. Doors open at 6:30 p.m. for picnicking. Tickets start at only $21. Student rush tickets are available for $10 with valid I.D.
Audience members are welcome to bring their own food and beverages with them to enjoy during the concert, or purchase them at the Arena. Audiences may enjoy the concert from one of 300 cabaret tables on the Arena floor, or from the theater-style seats in the loge or balcony.For more information or to purchase tickets, call (562) 436-3203, or visit LBSO.org.
ABOUT THE ORCHESTRA POPS!
The Long Beach Symphony Orchestra POPS! is a fun and friendly way to enjoy an entertaining night out. There are two ways to experience the Orchestra POPS!—either at a table of 10 on the Arena floor, or from the upstairs loge or balcony in a theater-style seat. The concert itself starts at 8 pm, but the doors open at 6:30 pm and people are encouraged to come early and bring a picnic dinner to enjoy before the show. There are concessions available at the Arena (pizza, sandwiches, and full beverage service). Patrons can also choose to have their table catered by one of the Orchestra POPS! approved caterers.
ABOUT MICHAEL CAVANAUGH
Dubbed "the New Voice of the American Rock & Roll Songbook" by Billboard Magazine, Michael Cavanaugh is a charismatic performer, musician and actor, made famous for his piano/lead vocals in the Broadway Musical Movin' Out, featuring the music of Billy Joel. Michael Cavanaugh was handpicked by Billy Joel to star in title role of that show, and evokes a style rivaling the Piano Man. Michael appeared in the show for 3 years and over 1200 performances, receiving accolade after accolade, which culminated in 2003 with both Grammy and Tony award nominations.
Michael began playing at age 7, when his parents bought their first piano. Encouraged by family and friends, and inspired by his hero Billy Joel, Michael formed his first band at age 10 and began playing local functions, fine-tuning the craft that would become his chosen career. His first full time gig as a musician was an extended engagement in Orlando Florida at a piano bar called Blazing Pianos. In January of 1999, Michael received an offer that would unknowingly change his life, with an opportunity to play Las Vegas at the famed New York, New York Hotel and Casino. It was there that Billy Joel spotted Michael and joined him on stage one fateful night in February 2001. It only took two songs before Billy was convinced that he had found his new Piano Man. Michael left Las Vegas and moved to New York City to work alongside Billy Joel and Twyla Tharp while they shaped the Broadway musical Movin' Out.
With the close of Movin' Out at the end of 2005, Michael began touring in his own right, creating a show that reinterprets the modern pop/rock songbook. Michael soon became one of the hottest artists in the corporate/events market. He continues to perform worldwide for company and charity events as well as sporting events including PGA tour events, the US Open, and the Indy 500. It wasn't long before symphony orchestras discovered Michael's talents and audience appeal. His first orchestral show, "Michael Cavanaugh - The Songs of Billy Joel and more," debuted in April 2008 with the Indianapolis Symphony and continues to tour. In October 2008, he signed with Warner/ADA to distribute his first CD titled "In Color." In June 2010, Michael debuted his second symphony show in the "Generations of Rock" series entitled "Michael Cavanaugh: The Songs of Elton John & more." He continues to tour both symphony productions.
ABOUT STEVEN REINEKE & THE LONG BEACH SYMPHONY ORCHESTRA
Steven Reineke's boundless enthusiasm and exceptional artistry have made him one of the nation's most sought-after pops conductors, composers and arrangers. Mr. Reineke is the newly appointed Principal Pops Conductor of the Toronto Symphony Orchestra, Music Director of The New York Pops at Carnegie Hall and Principal Pops Conductor of the National Symphony Orchestra at The Kennedy Center for the Performing Arts. He also serves as Principal Pops Conductor of the Long Beach and Modesto Symphony Orchestras through the end of the 2011/2012 season and was Associate Conductor of the Cincinnati Pops Orchestra.
Mr. Reineke is a frequent guest conductor with The Philadelphia Orchestra and in the past year he's been on the podium with the Boston Pops and The Cleveland Orchestra. He makes his Chicago Symphony Orchestra debut on July 4, 2012 at Ravinia. His extensive North American conducting appearances include Los Angeles, Houston, Seattle, Edmonton, Vancouver, Ottawa (National Arts Centre), Detroit, Fort Worth, Jacksonville, Tampa (The Florida Orchestra), Calgary, Memphis and Oklahoma City.
As the creator of more than one hundred orchestral arrangements for the Cincinnati Pops Orchestra, Mr. Reineke's work has been performed worldwide, and can be heard on numerous Cincinnati Pops Orchestra recordings on the Telarc label. His symphonic works Celebration Fanfare, Legend of Sleepy Hollow and Casey at the Bat are performed frequently in North America, including performances by the New York Philharmonic and Los Angeles Philharmonic. His Sun Valley Festival Fanfare was used to commemorate the Sun Valley Summer Symphony's pavilion, and his Festival Te Deum and Swan's Island Sojourn were debuted by the Cincinnati Symphony and Cincinnati Pops Orchestras. His numerous wind ensemble compositions are published by the C.L. Barnhouse Company and are performed by concert bands around the world.
A native of Ohio, Mr. Reineke is a graduate of Miami University of Ohio, where he earned bachelor of music degrees with honors in both trumpet performance and music composition. He currently resides in New York City. Mr. Reineke is represented by Peter Throm Management, LLC.
Established in 1935, the Long Beach Symphony Orchestra launches its 77th season in October 2011. Under the leadership of Music Director Enrique Arturo Diemecke, LBSO draws loyal audiences from the greater metro-coastal area to its six Classics concerts in the Terrace Theater, four Orchestra POPS! events in the Long Beach Arena and two Holiday Celebration concerts in the Terrace Theater. The Orchestra works with the Long Beach Unified School District to provide sequential, curriculum-based music education opportunities throughout the year. Through its comprehensive music education programs—including professional ensembles in elementary and middle schools and widely acclaimed Miller Foundation Symphony Concerts for Young People—the LBSO reaches more than 25,000 students a year.