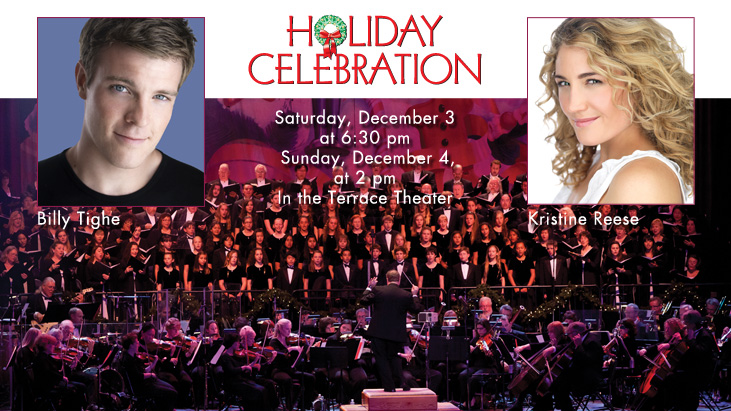 LONG BEACH, CA - Take a break from the hustle and bustle of Christmas shopping and enjoy some musical cheer when Long Beach Symphony Orchestra presents a pair of family-friendly Holiday Celebration concerts at the beautifully decorated Terrace Theater on Saturday, December 3 at 6:30 p.m. and Sunday, December 4 at 2 p.m.
The Holiday Celebration concerts feature Orchestra POPS! conductor Steven Reineke along with special guest vocalists Kristine Reese and Billy Tighe (National Tours of Wicked/Les Mis) along with Southern California Master Chorale (Dr. Sheridan J. Ball, director), Southern California Children's Chorus (Carol Aspling, director), professional dancers choreographed by Lee Martino and theatrical design by Gary Krinke.
This special concert is designed to delight audiences of all ages, and includes popular holiday favorites. And, of course, we'll have a visit from Old Saint Nick! Kids of all ages can have their picture taken with Santa Claus in the lobby.
These Holiday Celebration concerts will be held in the Long Beach Performing Arts Center's Terrace Theater at 300 E. Ocean Blvd. inLong Beach. Tickets are $30, $40 and $50. For more information, call 562-436-3203, or visit LBSO.org.
A special thank you to LBSO Holiday Concert sponsor The Dougherty Company Insurance Brokers and Orchestra POPS! Season Sponsor F & M Bank.
Steven Reineke began his tenure as The Long Beach Symphony Orchestra's Principal POPS! Conductor during the 2009-2010 season. Recently appointed Principal Pops Conductor of the National Symphony Orchestra in Washington, D.C., Reineke is also Music Director of The New York Pops, the largest independent pops orchestra in the United States. He holds the title of Principal Pops Conductor with the Modesto Symphony Orchestra, and is the former Associate Conductor of the Cincinnati Pops Orchestra, where for more than thirteen years he served as a composer, arranger, and conducting protégé of the late celebrated pops conductor Erich Kunzel. Reineke's recent guest conducting appearances include the orchestras of Los Angeles, Toronto,Houston, Detroit, Indianapolis, Baltimore, Vancouver andEdmonton. In 2009 he made his Boston Pops and Philadelphia Orchestra debuts. In 2008 Mr. Reineke made his Carnegie Hall debut conducting The New York Pops 25th Birthday Gala. He made his Hollywood Bowl debut in 2007 with the multi-faceted entertainer Wayne Brady and returned to the Hollywood Bowl in 2008 to conduct the Los Angeles Philharmonic. In addition, Maestro Reineke conducted, arranged and orchestrated the music for Mr. Brady's orchestral show and played the same role in his collaboration with rock legend Peter Frampton.
As the creator of more than one hundred orchestral arrangements for the Cincinnati Pops Orchestra, Reineke's arrangements have been performed worldwide, and can be heard on numerous Cincinnati Pops Orchestra recordings on the Telarc label. Steven Reineke is also an established symphonic composer. His works Celebration Fanfare, Legend of Sleepy Hollow and Casey at the Bat are performed frequently in North America, with the most recent performances by the New York Philharmonic and Los Angeles Philharmonic in July 2008. In August 2008 his Sun Valley Festival Fanfare debuted with the Sun Valley Summer Symphony to commemorate the opening of the orchestra's new pavilion. In 2005 his Festival Te Deum and Swan's Island Sojourn were performed by the Cincinnati Symphony and Cincinnati Pops, respectively. The Cincinnati Enquirer had this to say about Festival Te Deum: "Melodious and joyous, it had antiphonal brass in the balconies, organ, full orchestra and wonderful choral passages." His numerous wind ensemble compositions are published by the C.L. Barnhouse Company and are performed by concert bands around the world.
Kristine Reese graduated from the prestigious Cincinnati College-Conservatory of Music then moved to New York and immediately went out on the road with Kansas City Starlight's tour of Hello, Dolly!, starring Michele Lee. A few months later, she was sent out on the road again, this time with the National Tour of Mamma Mia!, where she understudied the role of Sophie. After a year on the road, she returned to New York and soon learned she would make her Broadway debut in the revival of Les Miserables. In that next year, Kristine worked at Atlanta's Theatre of the Stars, singing "The Star to Be," and The St. Louis MUNY, playing Frenchy in Grease. Kristine joined the National Tour of Wicked in 2008. She assumed the role of Nessarose in November 2008 in her childhood hometown of Minneapolis, MN. Kristine then originated the role of Nessarose on the current Second National Tour, which opened in March 2009, and went on to play over 1,000 performances in the role.
While traveling the road in various national tours and regional productions, Kristine was also traveling around North America performing in concerts with over a dozen Symphonic and Pops Orchestras, including the Cincinnati Pops, the Indianapolis, Baltimore, Detroit, Toronto, Modesto, Vancouver, and Edmonton Symphony Orchestras, and the National Symphony Orchestra inOttawa, ON. She continues to work and create new concerts with Maestro Jack Everly of the Indianapolis Symphony and Maestro Steve Reineke of the New York Pops.
Billy Tighe has performed with Symphonic Pops Orchestras and Broadway tours internationally and all across the country and is honored to have the opportunity to continually work with many of the worlds greatest musicians. His symphonic career started while attending the University of Cincinnati College Conservatory of Music where he began his professional relationship with the late Maestro Erich Kunzel of the Cincinnati Pops. Since receiving his BFA in Musical Theatre, he has worked with the Toronto, Atlanta,Modesto, Vancouver, Detroit, Indianapolis, Long Beach & Cincinnati orchestras in a variety of programs. When not performing with symphonies he is continually pursuing a career in professional musical theatre. His recent theatrical credits include the Broadway tour of Wicked the musical, the U.S. premiere tour of Dirty Dancing, The Marriott Theatre (Hairspray as Link), Goodspeed Opera House (Happy Days as Potsie), North Carolina Theatre (Dreamgirls as Dave) and many others. Currently, Billy is touring with the Broadway National Tour of La Cage Aux Folles starring George Hamilton, playing his son, Jean-Michel. Billy's studies began at the Cobb County Center for Excellence in the Performing Arts. Born in Germany, raised in Marietta, GA, college in Cincinnati, OH, and now calls NYC home with his wife and Boston Terrier Buster.
Southern California Master Chorale is a professional ensemble under the direction of Dr. Sheridan Ball. Made up of the finest singers Dr. Ball has encountered in his 30 years as a teacher, performer and conductor in the Orange County/Los Angelesregion, SCMC has presented some of the world's finest choral music to an ever-widening audience. Most recently, the Southern California Master Chorale performed Beethoven's 9th Symphony with the Long Beach Symphony Orchestra in honor of LBSO's 75thanniversary. SCMC has recently performed Orff's Carmina Burana with the Marina Del Rey Summer Symphony and Mozart's Requiem with the Golden State Pops Orchestra. The Southern California Master Chorale, under Dr. Sheridan Ball's direction, toured Chinain the summer of 2008 in conjunction with pre-Olympic festivities. The Chorale also did a concert tour of France, the Netherlandsand Copenhagen.
Southern California Children's Chorus (SCCC), Orange County's only chorus dedicated exclusively to meeting the educational and performance needs of children, seeks to do more than introduce youth to music and singing. It strives to enrich the lives of its members through programs stressing musical aptitude, teamwork, discipline, self-confidence and personal growth. Currently there are more than 340 young singers affiliated with SCCC, ranging from 5 to 21 years of age, and encompassing seven levels of sequential vocal and choral instruction. The children come from a wide geographic area of Southern California, sometimes traveling over an hour to attend weekly rehearsals.
The SCCC has an outstanding staff of five directors who are highly skilled in their chosen field of children's choral music. They provide the young singers with a caring, nurturing environment in which a full range of music can be learned. The Advanced Chorus, with 50 singers, rehearses once a week for 2 hours. In addition to learning compositions in multiple languages with themes ranging from the classics to folk and contemporary music, the choristers are taught skills in sight singing, ear training and music theory. The Advanced Chorus has performed major works including Handel's Judas Maccabeus and John Rutter's Mass of the Children. For the sixth year, the Advanced Chorus directed by Carol Aspling is pleased to be performing with the Long Beach Symphony Orchestra.
Established in 1935, the Long Beach Symphony Orchestra, led by Music Director Enrique Arturo Diemecke, launched its 77thseason in October 2011. Each year the LBSO draws loyal audiences from the greater metro-coastal area to its six Classics concerts in the Terrace Theater, four Orchestra POPS! events in the Long Beach Arena and two Holiday Celebration concerts in the Terrace Theater. The Orchestra works with the Long BeachUnified School District to provide sequential, curriculum-based music education opportunities throughout the year. Through its comprehensive music education programs—including professional ensembles in elementary and middle schools and widely acclaimed Miller Foundation Symphony Concerts for Young People—the LBSO reaches more than 25,000 students a year.