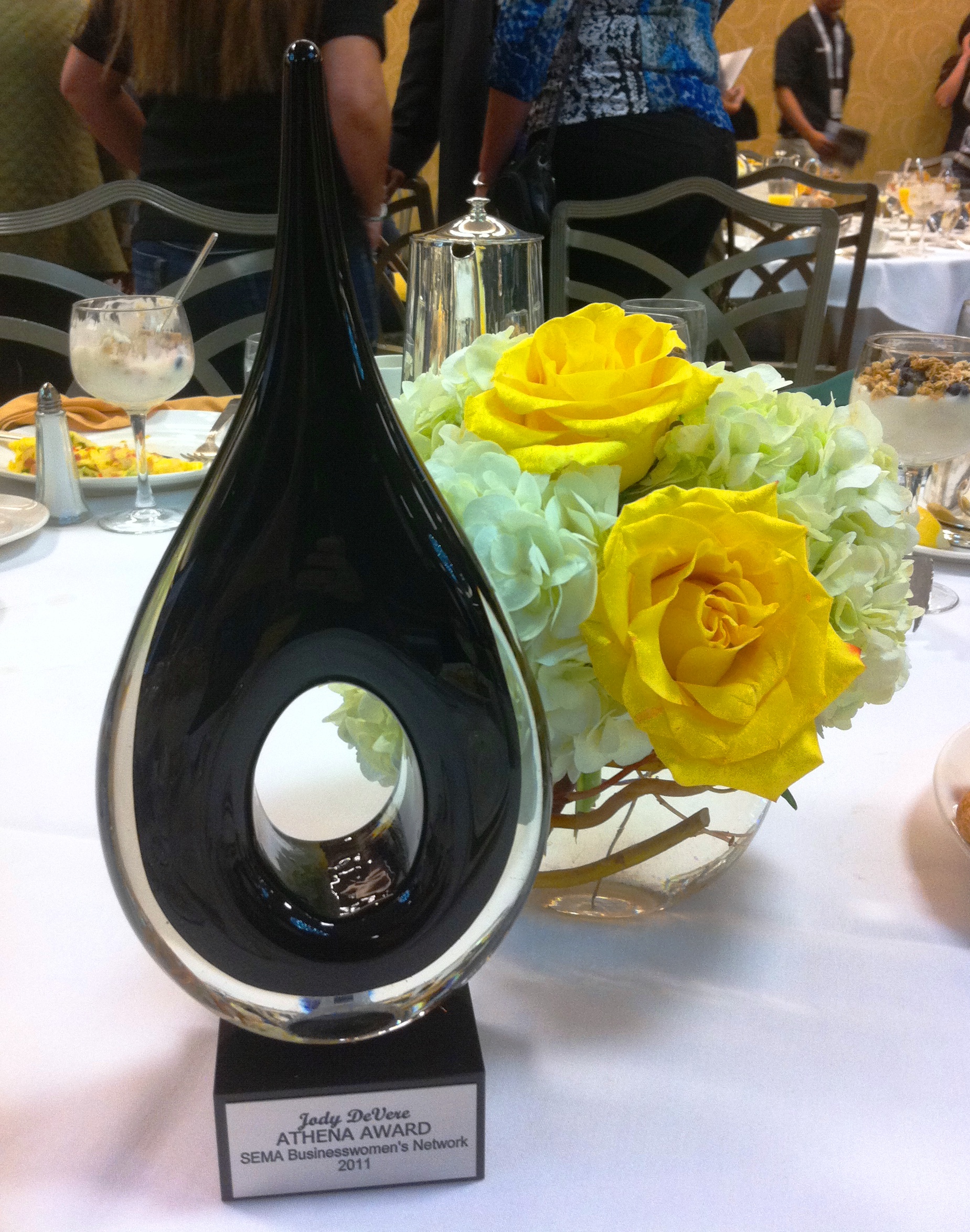 Automotive Marketing to Women pioneer and CEO of AskPatty.com, Inc. Jody DeVere was honored last week as the recipient of the 2011 SEMA Businesswomen's Network's Athena Award, which was presented at the 2011 SEMA Show in Las Vegas, Nevada (http://www.semashow.com/). The award, which is given annually established to honor an industry person - male or female - or company for outstanding contributions to women in the automotive aftermarket, was presented during the SBN Breakfast on Thursday November 3rd, 2011.
Jody DeVere was delighted to be honored by SEMA and the SBN and stated during her acceptance speech, "This award is for all women in the automotive aftermarket who I support and encourage to become leaders in our industry". She was a speaker during SEMA at the Tire Industry Association (TIA), Global Tire Expo on "What Women Want" as a part of her initiatives to champion for women in the automotive industry. During AAPEX she made several appearances at the booth of the breast cancer supporting wiper blade brand AutoTexPINK (http://www.autotexpink.com/), one of many causes and products she supports that benefit women.
Jody DeVere( www.jodydevere.com) is the CEO of AskPatty.com, Inc, a website, blog, and marketing to women agency providing automotive education to women consumers, as well as training, ongoing marketing support and education, and certifications to car dealers, independent service locations, tire dealers, collision centers, fast lubes, and other automotive retailers. As a social media marketing to women expert, journalist, car care expert, and safety spokesperson, it has been a primary goal to promote, mentor and support careers for women in the automotive industry, and she has more than twenty-five years of achievement as a successful entrepreneur focused on sales and marketing leadership to assist her in this quest. She is a champion for women in the automotive industry, and her company serves as the first point of contact for many women who are seeking the very best in car sales and service across the United States and Canada.
About the SEMA Businesswomen's Network
The SEMA Businesswomen's Network is a dynamic group of professionals representing the women of SEMA. The SBN oversees the continued development and management of the SEMA Mentoring Program, the Annual SEMA Speed Networking Breakfast, opportunities for SBN Member Networking, SBN Communications, SBN Projects, development of articles and member features, contributes regularly to SEMA Member News, and much more! The SBN, now over 270 members strong, is the fastest growing group within the SEMA membership. Welcome!
For more information, contact Nathan Ridnouer.

Women can find an Ask Patty Certified Female Friendly® auto dealer, tire dealer, collision center, auto service, quick lube and repair centers using the location search at AskPatty.com.

Go here to learn how to book Jody DeVere as a speaker.