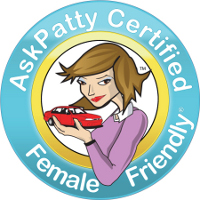 AskPatty.com and the Certified Female Friendly® program are sponsoring the first ever Diversity & Women's Issues educational track at a large automotive industry event during the 2012
AutoConnections Conference & Expo
September 5- 8th at the Aria Hotel in Las Vegas. AutoCon2012 is all about connecting dealerships with the right technologies, strategies, and leaders to create powerful new outcomes.
The AutoCon2012 leadership is making a commitment to support women in the automotive industry and provide education to improve results with women car buyers and owners during this event.
The AutoConnections Conference & Expo is a natural extension of the automotive communities DealerElite and Automotive Digital Marketing Professional Community that Ralph Paglia, Chris Saraceno and Mike Myers have built to meet the needs of dealers.
AutoCon2012 will be the industry's largest event for the automotive industry with an unprecedented quality of speakers, workshops, and exhibition space. The workshops will include subject matter experts, women in leadership in the automotive industry, dealer principals, and diversity specialists. Attendees that attend at least three of the Diversity Tract workshops will receive a Diversity Training certificate on the closing day of AutoCon2012.
Diversity and Women's Issues Workshops topics are set to include Recruiting, Hiring, & Retaining Women in the Automotive Industry; Case Studies of Dealerships Who Get It Right With Women; Diversity Marketing to Latinos Community; Diversity Marketing to LGBT Community; and Female Dealer Principals Speak Out.
AskPatty.com is offering discounted registration for dealership employees and a $500 voucher for auto dealerships to become AskPatty.com Certified Female Friendly® valid 60 days after event. AskPatty.com and the Certified Female Friendly® Program will also host a booth during the event. Dealer Owners and Principals can attend for no fee. Dealership employees are encouraged to use discount code -VIP- for registration to receive $100 off courtesy of AskPatty.com:
http://www.autocon2012.com/registration/askpatty-com-discount-registration/
Attendee Perk for Women at AutoCon 2012 Sponsored by AskPatty.com: One year membership in the
Women's Automotive Association International
valued at $100.00. A Women's Automotive Association International social networking event will take place during the events.
Jody DeVere CEO AskPatty.com Personally Invites Dealerships To Attend AutoCon 2012 September 5th - 8th In Las Vegas.
Watch the video:
http://youtu.be/slc1owwxBJM
About AskPatty.com, Inc.
With international headquarters in Thousand Oaks, California, AskPatty.com, Inc. takes a two-pronged approach to revolutionizing the women's automotive retail market: For consumers, the
AskPatty.com
website, is a safe and reliable source for expert automotive advice and research. For auto dealers, tire dealers, collision centers, auto service and repair centers, the revolutionary AskPatty.com Certified Female Friendly® program, designed from the ground up, trains and certifies automotive retail and service centers on how to attract, sell, retain and increase loyalty with women customers.
Women can find an Ask Patty Certified Female Friendly® auto dealer, tire dealer, collision center, auto service and repair centers using the location search at
AskPatty.com
.
Go here
to learn how to become Ask Patty Certified Female Friendly®.
AskPatty® and Certified Female Friendly® are registered trademarks of AskPatty.com, Inc.