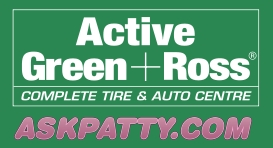 Automotive Marketing to Women pioneer and CEO of AskPatty.com, Inc. Jody DeVere is preparing for her trip to Toronto this November where she will join Rita Diamantakos of Ontario automotive chain Active Green + Ross Tire & Auto Centres in co-sponsoring the Toronto National Women's Show. As an AskPatty.com Certified Female Friendly® tire & service provider in Canada, the Active Green + Ross team are co-sponsors of the show's Workshop Stage, from which they will both be speaking to the women attending about the all-important role of the woman consumer in the auto industry, and what Ask Patty and CFF® locations like Active Green + Ross are doing to combat stereotypes and improve the quality of customer service for the female customer. The Active Green + Ross and Ask Patty teams are excited about the opportunity to reach women at an event that isn't automotive-themed, because a comfortable, neutral environment coupled with a warm no-nonsense, direct, and honest approach is exactly what women are looking for when it comes to buying new tires or seeking auto service... and they know they hold the purse-strings.

Women account for around 66% of all consumer purchase decisions in Canada - including automotive. "In effect, women have become the family's chief purchasing officer," says Jody DeVere, president and CEO of AskPatty.com. "Creating an experience that 'WOWs' women increases market share, drive ROI, and differentiate automotive retailers. We're here to show the women of Ontario what Active Green + Ross is about, the training they've completed, the commitment they've made, and put that knowledge, that trust, right into the hands of the Toronto woman consumer." DeVere believes this message, coupled with her female focused company's proven reputation training and certifying tire retailers to better serve women, will help attendees and other Ontario women to learn that there is an alternative to the stressful, male-focused auto shop experience in Active Green + Ross.

Accompanying Jody, Rita, and the Ask Patty and Active Green + Ross teams will be Kelly Williams, who will take the duo's namesake Workshop Stage each day to give attendees a few tips on driving with an eye on the environment. "Greening your Car with Kelly Williams," presented by Active Green + Ross, will be presented Friday, Saturday, and Sunday on the Workshop stage. The Toronto National Women's Show will take place at the Metro Toronto Convention Centre November 11, 12, and 13 2011. Attendees will be able to find them on the exhibiting floor at booth number 1430, distributing literature and answering questions.

About the Toronto National Womens Show
The ultimate girl's day out! Shop 'til you drop at over 450 exhibits and find everything from food and wine sampling, fashion shows, celebrity guests, free makeovers, health, wellness & beauty secrets, cooking demos, home renovation advice and travel ideas!

Make a day of it! Bring your friends, sister, daughter or mom and be entertained doing everything you love. Enjoy great deals and show specials, shop for well-known brands or find a unique piece of clothing or jewellery at one of the many boutique exhibits. Experiment with a new look, ask the experts for advice about hairstyles, make-up and fitness and see fashion shows for the latest style trends for night, day, work or play! Experience all the fun.

Check out the latest products just for women! Discover innovative new products and learn about services available just for women. Sample the latest beauty products, buy the newest kitchen gadgets plus arrive early for your goodie bag! It's filled with great samples and information about amazing promotions and giveaways available only at the show! Goodie bag quantities are limited and only while supplies last.

About Active Green + Ross Tire & Auto Centres
Active Green + Ross operate Southern Ontario's premier chain of Complete Tire & Auto Centres from Windsor to Ottawa and from Barrie to Toronto, with over 70 locations in Ontario to serve you.

They offer our customers a complete line and selection of tires from the worlds premier manufacturers.

In addition to the best selection and inventory of tires in the Metro Toronto Market, all Active Green + Ross locations offer complete general automotive service and repairs to most car and light truck models. Special emphasis is placed on Preventative Maintenance areas such as brakes, suspension and front end repairs, wheel alignment, tire balancing and lube & oil changes.

About AskPatty.com, Inc.
With international headquarters in Thousand Oaks, California, AskPatty.com, Inc. takes a two-pronged approach to revolutionizing the women's automotive retail market: For consumers, the AskPatty.com website, is a safe and reliable source for expert automotive advice and research. For auto dealers, tire dealers, collision centers, auto service and repair centers, the revolutionary AskPatty.com Certified Female Friendly® program, designed from the ground up, trains and certifies automotive retail and service centers on how to attract, sell, retain and increase loyalty with women customers.

Women can find an Ask Patty Certified Female Friendly® auto dealer, tire dealer, collision center, auto service and repair centers using the location search at AskPatty.com.

Go here to learn how to become Ask Patty Certified Female Friendly®.

AskPatty® and Certified Female Friendly® are U.S. registered trademarks owned by AskPatty.com, Inc.