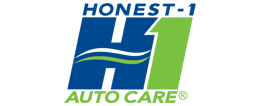 Honest-1 Auto Care in Provo, Utah, is proud to announce they are ready to address the needs of women consumers, as part of the growing network of AskPatty.com Certified Female Friendly® locations in North America. Team members at Honest-1 Auto Care have completed a training and certification process to provide a Certified Female Friendly® experience that exceeds women's expectations.
Visit the Honest-1 Auto Care AskPatty.com micro-site at
http://femalefriendlydealer.askpatty.com/?d=Honest_1_Auto_Care_Freedom_Blvd_
and at 1155 N. Freedom Blvd., Provo, UT 84604
To become AskPatty.com Certified Female Friendly®, Honest-1 Auto Care personnel completed an extensive training program on how to best serve women. Honest-1 Auto Care employees will participate in year-round instruction to enhance their awareness, appreciation, and commitment to a female-friendly service experience. Honest-1 Auto Care will also benefit from a unique marketing support program designed to reach out and build lasting relationships with women customers.
"Women influence 85 percent of the buying decisions in North American households, effectively becoming the family's chief purchasing officer," says Jody DeVere, CEO of AskPatty.com, Inc." AskPatty trains and certifies automotive businesses on how to communicate more effectively with women and ensure they feel safe, respected and empowered, which creates tremendous customer loyalty. Honest-1 Auto Care's commitment to women shows that management is serious about earning their business."
In conjunction with AskPatty.com, Honest-1 Auto Care has launched a female-focused micro-site that provides the tools and resources most requested by women. The micro-site gives women the ability to schedule service appointments, access coupons and discounts, and learn more about car care online from the comfort of their home or office. The micro-site is easily accessed by searching on AskPatty.com, or by going directly to their site.
About Honest-1 Auto Care
Honest-1 is the nation's only Eco-Friendly Auto Care chain, offering a full range of automotive service and repairs. Along with providing the best service, Honest-1 wants to ensure their customers are thoroughly educated on the systems and services necessary to keep their vehicles in the best running condition possible. Industry statistics show that 66% of customers bringing in vehicles for service are female. Honest-1 centers are designed to be family friendly with upscale features like tiled lobbies with leather easy chairs and couches, Internet cafe, complimentary beverages, large screen TVs, children's play areas secured by a low wall, tiled and upscale restrooms, and exceptionally clean work areas.
About AskPatty.com, Inc.
With international headquarters in Thousand Oaks, California, AskPatty.com, Inc. takes a two-pronged approach to revolutionizing the women's automotive retail market: For consumers, the
AskPatty.com
website, is a safe and reliable source for expert automotive advice and research. For auto dealers, tire dealers, collision centers, auto service and repair centers, the revolutionary AskPatty.com Certified Female Friendly® program, designed from the ground up, trains and certifies automotive retail and service centers on how to attract, sell, retain and increase loyalty with women customers.
Women can find an Ask Patty Certified Female Friendly® auto dealer, tire dealer, collision center, auto service and repair centers using the location search at
AskPatty.com
.
Go here to learn how to become
Ask Patty Certified Female Friendly
®.
AskPatty® and Certified Female Friendly® are registered trademarks of AskPatty.com, Inc.