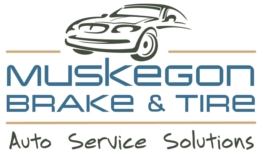 Muskegon Brake & Tire, with two locations in Muskegon, Michigan, is proud to announce they continue to strive and grow to address the needs of women consumers, as part of the growing network of AskPatty.com Certified Female Friendly® locations in North America. Team members at Muskegon Brake & Tire have completed a training and certification process to provide a Certified Female Friendly® experience that exceeds women's expectations.

"We don't need to look at general statistics, we already know that the majority of our customers are women. We want our female customers to feel comfortable when they walk into the office and we want them to know more about their car every time they leave. Knowing more about their car will allow them to make more informed repair purchase decisions. Our best customer, male or female, is an informed and educated customer," states owner Bob Cutler.
"In 2011, we held two Wine, Women and Wheels presentations to educate our female customers about their vehicles, in an environment that allowed attendees to get hands on learning about their cars and the different systems. Our next Wine, Women and Wheels event will be in the spring of 2010, and we already have people asking about the date."
Visit the Muskegon Tire micro-site:
http://femalefriendlydealer.askpatty.com/?d=Muskegon_Tire
3500 Whitehall Road, Muskegon, Michigan 49445
Visit the Muskegon Brake micro-site:
http://femalefriendlydealer.askpatty.com/?d=Muskegon_Brake
848 E. Broadway, Muskegon, Michigan 49444
To become AskPatty.com Certified Female Friendly®, Muskegon Brake & Tire personnel completed an extensive training program on how to best serve women. Muskegon Brake & Tire employees will participate in year-round instruction to enhance their awareness, appreciation, and commitment to a female-friendly service experience. Muskegon Brake & Tire will also benefit from a unique marketing support program designed to reach out and build lasting relationships with women customers.

"Women influence 85 percent of the buying decisions in North American households, effectively becoming the family's chief purchasing officer," says Jody DeVere, CEO of AskPatty.com, Inc." AskPatty trains and certifies automotive businesses on how to communicate more effectively with women and ensure they feel safe, respected and empowered, which creates tremendous customer loyalty. Muskegon Brake & Tire's commitment to women shows that management is serious about earning their business."

In conjunction with AskPatty.com, Muskegon Brake & Tire has launched a female-focused micro-site that provides the tools and resources most requested by women. The micro-site gives women the ability to schedule service appointments, access coupons and discounts, and learn more about car buying and maintenance online from the comfort of their home or office. The micro-site is easily accessed by searching on AskPatty.com, or by going directly to their site.
About Muskegon Brake & Tire
Muskegon Brake Clinic was originally founded by Vern Perin, a brake specialist, in the 1940s. For the next several decades, Mr. Perin built his shop's reputation until Muskegon Brake became known as one of the West Michigan area's most exceptional brake shops. After Mr. Perin passed away, his wife sold the business to local Snap-On representative Bob Scolnik in 1979. At the time, Muskegon Brake had eight bays. Mr. Scolnik worked over the next two decades to expand the shop into a multifaceted business with more repair capabilities. In 1998, Bob Scolnik sold the shop to Bob and Jeanne Cutler.
Over thirteen years of ownership, Bob and Jeanne Cutler have built Muskegon Brake & Tire to be one of the most respected automotive, fleet and heavy-duty repair providers in the West Michigan area. Today, Muskegon Brake boasts some of the auto industry's highest certifications and endorsements, including being AAA Approved, a Bosch Authorized Service Center, and ASE Certified.
Today, Muskegon Brake is truly a family business. Both Jeanne and Bob Cutler work full time in the business, as do both of their sons. As their sons learn the ropes of the business, they benefit from working alongside veteran service advisors and technicians, some of whom have 20 to 35 years of tenure with Muskegon Brake. To Bob and Jeanne Cutler, Muskegon Brake has become more than a company to invest in; it's become a personal and family investment, one which they hope will benefit the West Michigan community for many years to come.
About AskPatty.com, Inc.
With international headquarters in Thousand Oaks, California, AskPatty.com, Inc. takes a two-pronged approach to revolutionizing the women's automotive retail market: For consumers, the AskPatty.com website, is a safe and reliable source for expert automotive advice and research. For auto dealers, tire dealers, collision centers, auto service and repair centers, the revolutionary AskPatty.com Certified Female Friendly® program, designed from the ground up, trains and certifies automotive retail and service centers on how to attract, sell, retain and increase loyalty with women customers.

Women can find an Ask Patty Certified Female Friendly® auto dealer, tire dealer, collision center, auto service and repair centers using the location search at AskPatty.com.

Go here to learn how to become Ask Patty Certified Female Friendly®.

AskPatty® and Certified Female Friendly® are U.S. registered trademarks owned by AskPatty.com, Inc.