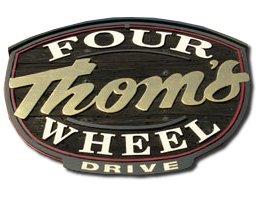 Thom's Four Wheel Drive, in Chicago, Illinois, is proud to announce they are ready to address the needs of women consumers, as part of the growing network of AskPatty.com Certified Female Friendly® locations in North America. Team members at Thom's Four Wheel Drive have completed a training and certification process to provide a Certified Female Friendly® experience that exceeds women's expectations.

"Our ASE certified technicians repair only what needs repairing and we ensure that our customers are aware of all available options prior to beginning any authorized repairs. With continued training through the AskPatty.com program, we are building stronger relationships with our customers to meet all their service and repair needs," stated Thom Paker, owner, Thom's Four Wheel Drive.

Visit the Thom's Four Wheel Drive micro-site:
http://femalefriendlydealer.askpatty.com/?d=Thoms_4wd_Chicago
and at 4118-20 N. Pulaski, Chicago, Illinois 60641
To become AskPatty.com Certified Female Friendly®, Thom's Four Wheel Drive personnel completed an extensive training program on how to best serve women. Thom's Four Wheel Drive employees will participate in year-round instruction to enhance their awareness, appreciation, and commitment to a female-friendly service experience Thom's Four Wheel Drive will also benefit from a unique marketing support program designed to reach out and build lasting relationships with women customers.

"Women influence 85 percent of the buying decisions in North American households, effectively becoming the family's chief purchasing officer," says Jody DeVere, CEO of AskPatty.com, Inc." AskPatty trains and certifies automotive businesses on how to communicate more effectively with women and ensure they feel safe, respected and empowered, which creates tremendous customer loyalty. Thom's Four Wheel Drive's commitment to women shows that management is serious about earning their business."

In conjunction with AskPatty.com, Thom's Four Wheel Drive has launched a female-focused micro-site that provides the tools and resources most requested by women. The micro-site gives women the ability to schedule service appointments, access coupons and discounts, and learn more about car buying and maintenance online from the comfort of their home or office. The micro-site is easily accessed by searching on AskPatty.com, or by going directly to their site.

About Thom's Four Wheel Drive
Thom's Four Wheel Drive & Auto Service Inc. located in Chicago, provides full service automotive and truck repairs on both foreign and domestic vehicles. Their technician staff members are all ASE certified, including one ASE Master Tech specializing in Volkswagen, Audi and European vehicles. Serving customers since 1979, Thom's 30-year history provides an in-depth knowledge on the changing styles, features, and improved technology in automotive repair.
"Our state-of-the-art equipment helps us diagnose your car quickly and efficiently and our library of technical data insures that our diagnostics are as accurate as possible in the ever-changing world of automotive technology. You'll barely feel as if you and your vehicle were apart."
Thom's specializes in all areas of foreign and domestic auto and truck repair. Over 35 years of experience in the four-wheel drive arena, with a particular strong reputation in the Jeep line. Services include: Fuel and engine work• Management of complex electronic systems• Starting and charging systems, Suspension and steering systems• Brakes• Ignition components and controls. Snow plows installations and repair service.
Auto maintenance, belts, wipers, cooling systems, power train, heating and air conditioning systems, electrical problems, and certified emissions experts.
Thom's started in September of 1979 in a small 1200 square foot shop at Western and Grace in Chicago, Illinois. Originally the shop was begun as an extension facility for a Jeep dealership that did not have enough room to repair all his vehicles. In the fall of 2002, Thom and his staff relocated to their present facility at 4118 N. Pulaski in Chicago. Thom's is a proud recipient of the Angie's List 2010 and 2008 Super Service Award, and a Better Business Bureau A++ rated company. Thom's is a recognized drop off center for the Greater Chicago Food Depository with consistent deliveries to local distribution centers and has proudly joined with the U. S. Marine Corp in their annual Toys For Tots Drive as a collection center. Thom's is an active member of the Pulaski Elston Business Association (PEBA).

About AskPatty.com, Inc.
With international headquarters in Thousand Oaks, California, AskPatty.com, Inc. takes a two-pronged approach to revolutionizing the women's automotive retail market: For consumers, the AskPatty.com website, is a safe and reliable source for expert automotive advice and research. For auto dealers, tire dealers, collision centers, auto service and repair centers, the revolutionary AskPatty.com Certified Female Friendly® program, designed from the ground up, trains and certifies automotive retail and service centers on how to attract, sell, retain and increase loyalty with women customers.

Women can find an Ask Patty Certified Female Friendly® auto dealer, tire dealer, collision center, auto service and repair centers using the location search at AskPatty.com.

Go here to learn how to become Ask Patty Certified Female Friendly®.

AskPatty® and Certified Female Friendly® are U.S. registered trademarks owned by AskPatty.com, Inc.