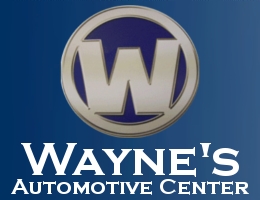 Wayne's Automotive & Towing Center, in Aiken, South Carolina, is proud to announce they are ready to address the needs of women consumers, as part of the growing network of AskPatty.com Certified Female Friendly® locations in North America. Team members at Wayne's Automotive & Towing Center have completed a training and certification process to provide a Certified Female Friendly® experience that exceeds women's expectations.
"With most of household decisions being made by women, my wife and I wanted our female customers to understand and feel comfortable with their service and repairs being done on their vehicles, stated Jeff Corbett. "We believe every woman should understand the process that we perform in doing a courtesy safety check on their vehicles, so they can make good decisions of the repairs or maintenance needed. We believe the AskPatty.com Certified Female Friendly® program is the perfect fit for the type of service we like to provide."
Visit the Wayne's Automotive & Towing Center micro-site:
http://femalefriendlydealer.askpatty.com/index.php?d=Waynes_Automotive_Aiken_SC
and at 1997 Richland Avenue E., Aiken, South Carolina 29801
To become AskPatty.com Certified Female Friendly®, Wayne's Automotive & Towing Center personnel completed an extensive training program on how to best serve women. Wayne's Automotive & Towing Center employees will participate in year-round instruction to enhance their awareness, appreciation, and commitment to a female-friendly service experience Wayne's Automotive & Towing Center will also benefit from a unique marketing support program designed to reach out and build lasting relationships with women customers.
"Women influence 85 percent of the buying decisions in North American households, effectively becoming the family's chief purchasing officer," says Jody DeVere, CEO of AskPatty.com, Inc." AskPatty trains and certifies automotive businesses on how to communicate more effectively with women and ensure they feel safe, respected and empowered, which creates tremendous customer loyalty. Wayne's Automotive & Towing Center's commitment to women shows that management is serious about earning their business."
In conjunction with AskPatty.com, Wayne's Automotive & Towing Center has launched a female-focused micro-site that provides the tools and resources most requested by women. The micro-site gives women the ability to schedule service appointments, access coupons and discounts, and learn more about car buying and maintenance online from the comfort of their home or office. The micro-site is easily accessed by searching on AskPatty.com, or by going directly to their site.
About Wayne's Automotive & Towing Center
Wayne's Automotive was originally started in 1980 by Wayne and Mary Lou Anderson. After a tragic and unexpected passing in 1983, Wayne's wife, Mary Lou, continued to run the facility. In 1985, Jeff Corbett purchased the business, which he had been employed at since the original owner passed. The business continued to grow and a new building was purchased in 1987. Wayne's Automotive moved from downtown Aiken to a larger facility at 1997 Richland Ave. E. In addition to expanding the building size with a total of 7 bays, a heavy-duty truck shop with 4 bays and acreage, Jeff also added state-of-the-art equipment, diagnostic tools and one tow truck to better service his customers.
In 2007 the company continued to expand, by purchasing another 4 acres to accommodate the growing fleet of 22 road service and tow trucks that range in light, medium, and heavy duty.
In 2010 with the assistance of his wife, Sherry Corbett, Wayne's Automotive has invested thousands in remodeling the building with additional offices, restrooms, shop area, and lounge to be friendlier to females and mothers of children.
Jeff Corbett has been named NAPA Technician of the year 3 times and has a Master Certification, with his shop being the only AAA Auto Repair and Towing Facility and ASE Blue Seal Certified. The management team attends continuing education classes with Automotive Training Institute yearly to ensure they continue to meet the needs of their customers. They stand behind their work and offer NAPA parts with a "Peace of Mind Warranty" Program that offers 24 months or 24,000 miles. Jeff also serves on the advisory board at the Aiken County Career Center for Automotive Technology, the board of Automotive for Aiken Technical College, the board of directors for the SC Towing Association, as well as receiving the Silver Ace Award for Towing excellence, which only 1% of towers in the country are recognized for excellence in service.
About AskPatty.com, Inc.
With international headquarters in Thousand Oaks, California, AskPatty.com, Inc. takes a two-pronged approach to revolutionizing the women's automotive retail market: For consumers, the AskPatty.com website, is a safe and reliable source for expert automotive advice and research. For auto dealers, tire dealers, collision centers, auto service and repair centers, the revolutionary AskPatty.com Certified Female Friendly® program, designed from the ground up, trains and certifies automotive retail and service centers on how to attract, sell, retain and increase loyalty with women customers.

Women can find an Ask Patty Certified Female Friendly® auto dealer, tire dealer, collision center, auto service and repair centers using the location search at AskPatty.com.

Go here to learn how to become Ask Patty Certified Female Friendly®.

AskPatty® and Certified Female Friendly® are U.S. registered trademarks owned by AskPatty.com, Inc.