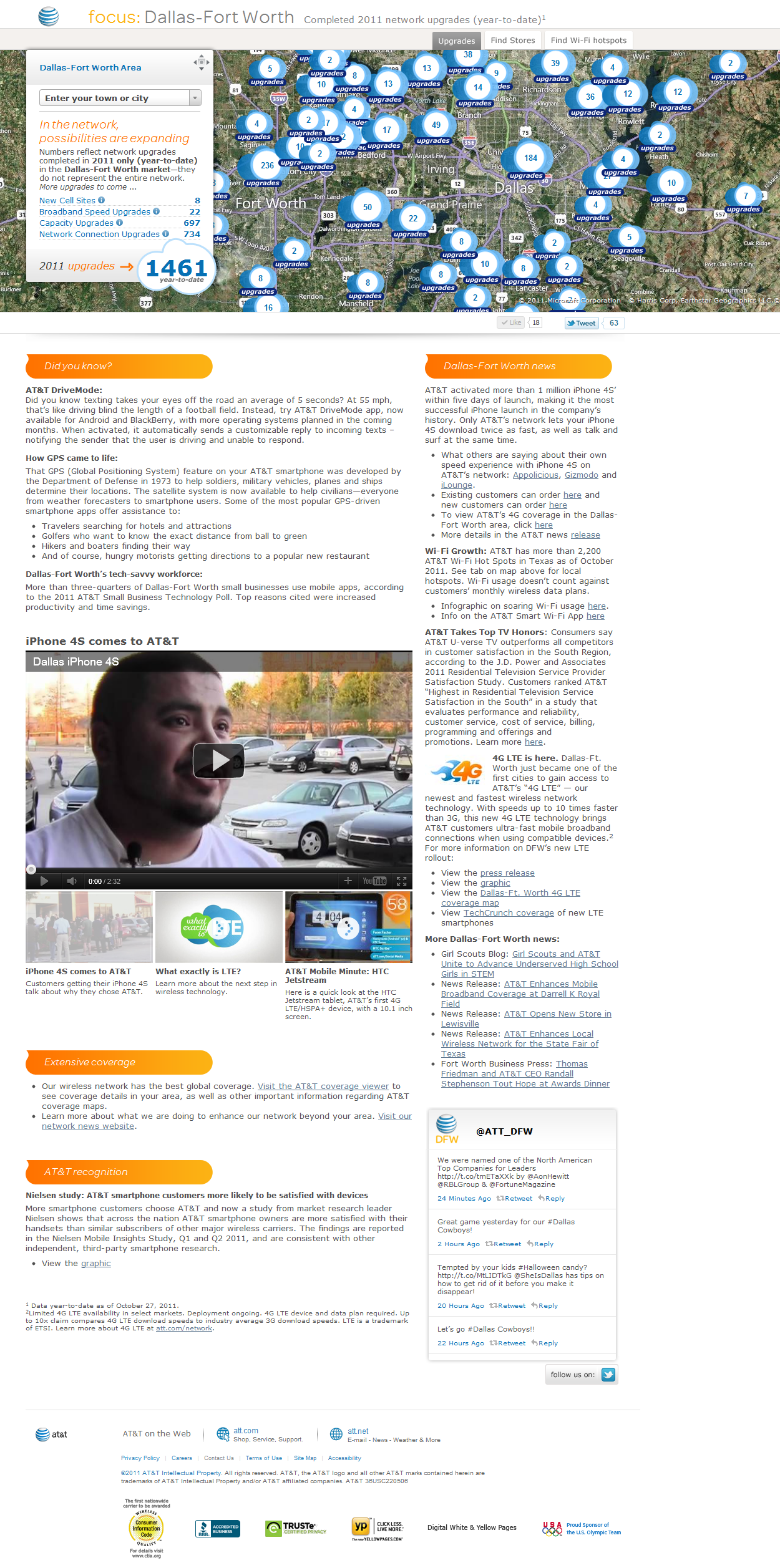 AT&T* has launched the "4G… It's Fitz Fast" campaign to support the Arizona Cardinals' wide receiver Larry Fitzgerald's First Down Fund. For every 4G smartphone** purchased between Oct. 24 and Nov. 20, AT&T will donate $5 to the Larry Fitzgerald First Down Fund, up to a total $20,000 contribution. The First Down Fund supports kids and their families by giving significant gifts in time, money and resources to numerous organizations across the country.
On Nov. 8, Fitzgerald will visit the Arrowhead Towne Center AT&T store to meet fans from 5 to 6:30 p.m. The store's address is 7530 W. Bell Road Suite 101, Glendale, AZ 85308.
In addition to supporting local charitable efforts, AT&T is offering consumers in 11 metropolitan areas a view of AT&T's wireless network enhancements. These local, industry-first microsites feature network enhancements which are updated each Thursday to include the most recent additions. The microsites are helping AT&T connect with its customers on a more personal level.
Year-to-date through October 27, 2011, these 11 metropolitan areas have received the following number of total network enhancements: Dallas-Fort Worth, 1461; St. Louis, 869; Kansas City, 369; Miami-Fort Lauderdale, 583; Tampa-St. Petersburg, 319; Houston, 658; Atlanta, 1662; Indianapolis, 392; Philadelphia, 1207; Detroit, 926 and Phoenix, 714. Enhancements include new cell sites, broadband speed upgrades, capacity upgrades and network connection upgrades.
As an example, in the Phoenix area, year-to-date through October 27, 2011, AT&T has:
Activated 57 new cell sites, providing more bars in the area.
Upgraded 4 cell sites, providing faster mobile broadband speeds.
Added 189 carriers to more efficiently manage available spectrum, providing extra capacity to reduce dropped calls and improve service quality at busy times.
Expanded 464 network connections with fiber lines at area cell sites, helping reduce dropped calls and enable HSPA+ 4G*** data speeds for compatible devices.
AT&T has also added updated information to its microsites about its 4G LTE network in the metropolitan areas where LTE is available. This information includes a new infographic and video welcoming 4G LTE.
For a full breakdown of what enhancements have been made and where, customers can visit each metropolitan area's individual microsite: Dallas-Fort Worth, St. Louis, Kansas City, Miami-Fort Lauderdale, Tampa-St. Petersburg, Houston, Atlanta, Indianapolis, Philadelphia, Detroit and Phoenix.
Customers can also receive real-time updates from each metropolitan area's dedicated Twitter handle. The handles for each city are @ATT_DFW, @ATT_STL, @ATT_KC, @ATT_Miami, @ATT_Tampa, @ATT_Houston, @ATT_ATL, @ATT_Indy, @ATT_Philly, @ATT_Detroit and @ATT_PHX.
*AT&T products and services are provided or offered by subsidiaries and affiliates of AT&T Inc. under the AT&T brand and not by AT&T Inc.
** The smartphones included in the campaign are the AT&T Impulse 4G™, 4G BlackBerry® Torch™ 9810, HTC Inspire™ 4G, LG Thrill™ 4G, Motorola ATRIX™ II, Samsung Infuse™ 4G, Samsung Galaxy S™ II, and Sony Ericsson Xperia™ PLAY 4G.
***4G speeds delivered by HSPA+ with enhanced backhaul. Available in limited areas. Availability increasing with ongoing backhaul deployment. 4G device required. Learn more at att.com/network.
About The Larry Fitzgerald First Down Fund
Larry established the Larry Fitzgerald First Down Fund to support kids and their families. Larry recognized that he benefited from youth programs and community support when growing up and wants to give back to support kids who are coming up today. In 2011, the Larry Fitzgerald First Down Fund has donated funds to summer youth programs in the Phoenix area and in his hometown of Minneapolis, to support positive activities for kids while they are out of school. The Fund also made donations to wildfire relief in Arizona as well as tornado relief in Minneapolis; two disasters in 2011 that displaced many kids and their families. For more information on the Larry Fitzgerald First Down Fund, please visit LarryFitzgerald11.com.
About AT&T
AT&T Inc. (NYSE:T) is a premier communications holding company and one of the most honored companies in the world. Its subsidiaries and affiliates – AT&T operating companies – are the providers of AT&T services in the United States and around the world. With a powerful array of network resources that includes the nation's fastest mobile broadband network, AT&T is a leading provider of wireless, Wi-Fi, high speed Internet, voice and cloud-based services. A leader in mobile broadband and emerging 4G capabilities, AT&T also offers the best wireless coverage worldwide of any U.S. carrier, offering the most wireless phones that work in the most countries. It also offers advanced TV services under the AT&T U-verse® and AT&T ¦DIRECTV brands. The company's suite of IP-based business communications services is one of the most advanced in the world. In domestic markets, AT&T Advertising Solutions and AT&T Interactive are known for their leadership in local search and advertising.
Additional information about AT&T Inc. and the products and services provided by AT&T subsidiaries and affiliates is available at http://www.att.com. This AT&T news release and other announcements are available at http://www.att.com/newsroom and as part of an RSS feed at www.att.com/rss. Or follow our news on Twitter at @ATT.
© 2011 AT&T Intellectual Property. All rights reserved. Mobile broadband not available in all areas. AT&T, the AT&T logo and all other marks contained herein are trademarks of AT&T Intellectual Property and/or AT&T affiliated companies.