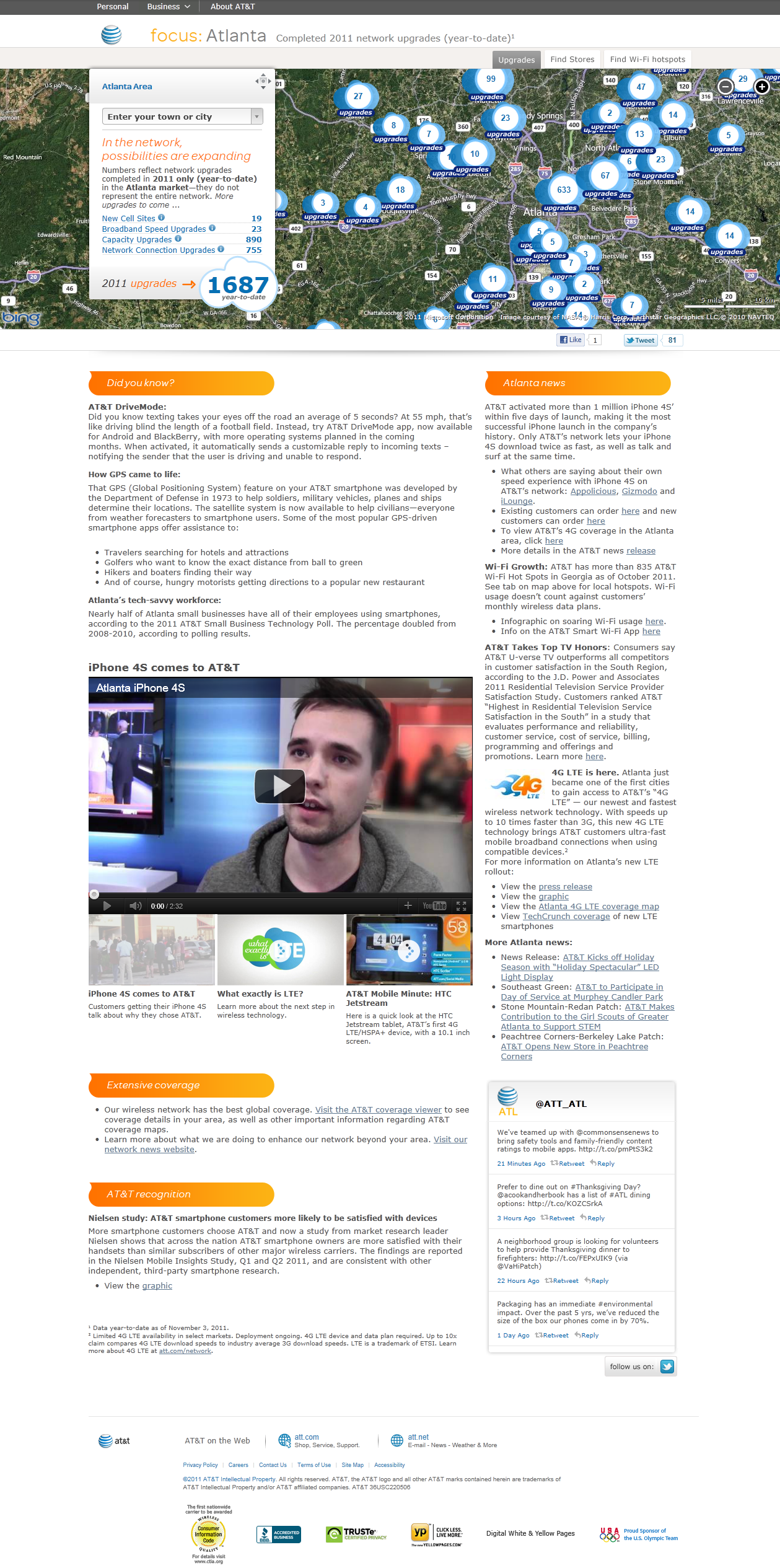 AT&T* and St. Louis Cardinals' player Albert Pujols are teaming up to raise awareness about the risks of texting and driving. Area teenagers ages 13 to 18 can visit participating AT&T retail locations in the St. Louis, Missouri area** through December 15, 2011 to enter to win*** a chance to bring Pujols to school for an assembly. Pujols joins AT&T in this important public safety initiative that encourages all wireless users, especially youth, to wait to send text messages until after driving.
"We all know that texting is now part of everyday life, but nothing is so important to risk lives," said Pujols. "It only takes a few seconds for that message to mean the difference between life and death. It can wait."
In addition to supporting local public safety initiatives, AT&T is offering consumers in 11 metropolitan areas a view of AT&T's wireless network enhancements. These local, industry-first microsites feature network enhancements which are updated each Thursday to include the most recent additions. The microsites are helping AT&T connect with its customers on a more personal level.
Year-to-date through November 3, 2011, these 11 metropolitan areas have received the following number of total network enhancements: Dallas-Fort Worth, 1,481; St. Louis, 872; Kansas City, 384; Miami-Fort Lauderdale, 601; Tampa-St. Petersburg, 357; Houston, 662; Atlanta, 1,687; Indianapolis, 392; Philadelphia, 1,214; Detroit, 927 and Phoenix, 715. Enhancements include new cell sites, broadband speed upgrades, capacity upgrades and network connection upgrades.
As an example, in the St. Louis area, year-to-date through November 3, 2011, AT&T has:
Activated 9 new cell sites, providing more bars in the area.
Upgraded 10 cell sites, providing faster mobile broadband speeds.
Added 418 carriers to more efficiently manage available spectrum, providing extra capacity to reduce dropped calls and improve service quality at busy times.
Expanded 435 network connections with fiber lines at area cell sites, helping reduce dropped calls and enable HSPA+ 4G**** data speeds for compatible devices.
For a full breakdown of what enhancements have been made and where, customers can visit each metropolitan area's individual microsite: Dallas-Fort Worth, St. Louis, Kansas City, Miami-Fort Lauderdale, Tampa-St. Petersburg, Houston, Atlanta, Indianapolis, Philadelphia, Detroit and Phoenix.
Customers can also receive real-time updates from each metropolitan area's dedicated Twitter handle. The handles for each city are @ATT_DFW, @ATT_STL, @ATT_KC, @ATT_Miami, @ATT_Tampa, @ATT_Houston, @ATT_ATL, @ATT_Indy, @ATT_Philly, @ATT_Detroit and @ATT_PHX.
*AT&T products and services are provided or offered by subsidiaries and affiliates of AT&T Inc. under the AT&T brand and not by AT&T Inc.
** AT&T locations within a 25-mile radius of Wildwood, Missouri, including: Arnold, Ballwin, Brentwood, Bridgeton, Chesterfield, Creve Coeur, Des Peres, Eureka, Fenton, Florissant, High Ridge, Kirkwood, Lake St. Louis, Manchester, O'Fallon (MO), St. Charles, St. Louis, St. Peters, Sunset Hills, Troy, Valley Park, Washington, Wentzville.
***No purchase necessary. Must enter in person. One entry per student. Contest rules available at participating stores.
****4G speeds delivered by HSPA+ with enhanced backhaul. Available in limited areas. Availability increasing with ongoing backhaul deployment. 4G device required. Learn more at att.com/network.
About AT&T
AT&T Inc. (NYSE:T) is a premier communications holding company and one of the most honored companies in the world. Its subsidiaries and affiliates – AT&T operating companies – are the providers of AT&T services in the United States and around the world. With a powerful array of network resources that includes the nation's fastest mobile broadband network, AT&T is a leading provider of wireless, Wi-Fi, high speed Internet, voice and cloud-based services. A leader in mobile broadband and emerging 4G capabilities, AT&T also offers the best wireless coverage worldwide of any U.S. carrier, offering the most wireless phones that work in the most countries. It also offers advanced TV services under the AT&T U-verse® and AT&T ¦DIRECTV brands. The company's suite of IP-based business communications services is one of the most advanced in the world. In domestic markets, AT&T Advertising Solutions and AT&T Interactive are known for their leadership in local search and advertising.
Additional information about AT&T Inc. and the products and services provided by AT&T subsidiaries and affiliates is available at http://www.att.com. This AT&T news release and other announcements are available at http://www.att.com/newsroom and as part of an RSS feed at www.att.com/rss. Or follow our news on Twitter at @ATT.

© 2011 AT&T Intellectual Property. All rights reserved. Mobile broadband not available in all areas. AT&T, the AT&T logo and all other marks contained herein are trademarks of AT&T Intellectual Property and/or AT&T affiliated companies.