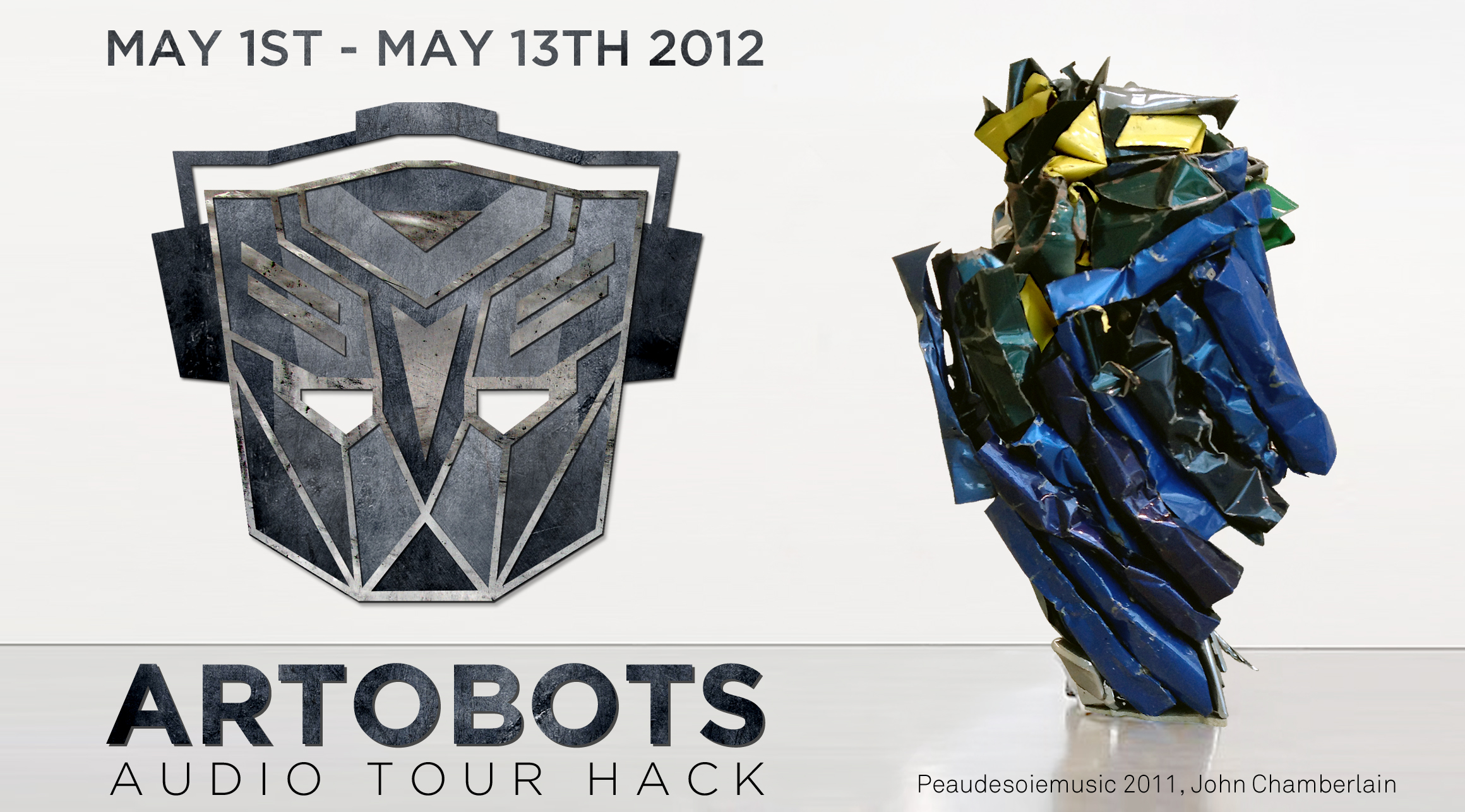 Created by art collective Audio Tour Hack, "Artobots" is an unofficial and alternative audio tour for the exhibition of legendary American Sculptor John Chamberlain, currently taking place at New York's Solomon R. Guggenheim Museum. It literally transforms the context of the exhibition and applies a fictional storyline set in the realm of the iconic pop-culture universe of the Transformers. The audio tour depicts a scenario where the Decepticons (bad guys) have created an exhibition to commemorate their defeat of the Autobots (good guys). The exhibition is made almost entirely out of Autobots wreckage from a futuristic war that took place on February 24, 2028 A.D. People can download the audio tour online at www.audiotourhack.com/artobots.html and are then encouraged to visit the museum for the full experience.
"Artobots" is the concept of Hal Kirkland, Creative Director/Director and part-time guerilla artist. This is his latest piece since a project called Store Buyout, where he and four others walked into a West Village bodega that was going out of business, bought everything, and repurposed the store's contents into ready-made art.
"Artobots" is brought to life by the collaboration with fellow artists and professionals from the communications industries: Mark Svartz (Author/Creative Director/Artist), Catherine Bolton (Strategist/Innovation), Wilson Brown (Creative Director/ Musician), Sean McGovern (Executive Producer), Ashkan Farood (Developer), Azin Shamma and Fabienne Feltus (Designers). It is an experiment in interactive storytelling and the application of alternative contexts to activate the imaginations of the audience.
Created as a respectful homage to John Chamberlain, the Guggenheim and Transformers, this exhibition utilizes the medium of audio tours to democratize the fine art world. It will encourage art fans to experience an artist they know and love through another lens. It will introduce technology and interactive storytelling to contemporize the museum experience. And it will celebrate a popular culture icon as an art form in its own right, all of which is intended to provide a richer level of engagement for existing audiences and to welcome many more.
"Artobots" is the first of a series of audio tour-centric exhibits that the Audio Tour Hack collective will be launching. To find out more about them and to follow their projects visit audiotourhack.com.
BINAURAL AUDIO TOUR: The audio tour features binaural sound technology which dimensionalizes sound so that you can sense precisely where the noise is coming from and how close it is, be it laser fire or robots walking around you. Headphones must be worn to enjoy the full experience.
SAMPLE SCRIPT
3. Resistance Was Futile. By Shrapnel, member of the Insecticons
"Although at first glance this piece appears to be a charred knot of steel, cables and wires, it was once called Bluestreak, the first Autobot to come in contact with the Decepticon invading force. As you can see, he has been forcibly shaped into a clenched black fist, a cultural symbol of Black Power made famous in the controversial podium salute during the 1968 Olympic Games in Mexico City. There were two reasons the Decepticon artist chose this symbol. First, wikipedia told him this would resonate with the human populace. And second, he had run out of materials to create an entire body".
TEAM & ROLES
Hal Kirkland - Creative Director / Writer/ Art Director
Mark Svartz - Creative Director / Writer
Catherine Bolton - Strategy/ Innovation
Sean McGovern - Executive Producer
Wilson Brown - Director of Audio
Pedro Botsaris - Composer/ Sound Designer
Ashkan Farhood - Director of Technology
Fabienne Feltus - Designer
Azin Shamma - Designer
Kate Williams - Trend Reporter/ PR
Samar Zaman - Social Media