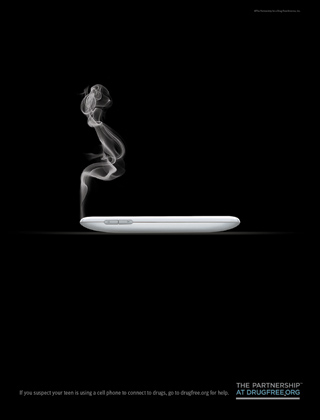 Lincoln, Neb. - Some of history's most effective public service announcements have relied on powerful images - ideas captured in memorable visuals that sink into our personal and social consciousness. For example, The Crash Dummies for safety belt education or Smokey the Bear, an icon that has endured for more than 50 years, for forest fire prevention. Now, on behalf of The Partnership at Drugfree.org, Nebraska-based Bailey Lauerman has developed a 21st century icon that today's generation of parents may remember years from now as "the smoking phone."
As part of a larger rebranding effort in which the organization changed its name to "The Partnership at Drugfree.org," the 25-year-old nonprofit approached Bailey Lauerman to develop work that would help strengthen the organization's role as a partner for parents, helping them prevent, intervene in and find treatment for drug and alcohol use by their children.
In a television spot running nationally, a smoking phone serves as the attention-grabbing icon for this generation of parents. The provocative visual tells parents who suspect their teen is using a cell phone to connect to drugs, "Don't ignore the signs. Go to The Partnership at Drugfree.org for help." The smoking phone also appears in national print and online media.
"This ad not only offers an incredibly unique and eye-catching visual, but it speaks to the essential role a mobile device plays in teens' social lives," said Caryn Pace, deputy director, creative development for The Partnership at Drugfree.org in New York. "Parents often find information when they don't expect it, whether that's on a cell phone or elsewhere and say, `Now what?' 'The smoking phone' directs them to our resources so that they can take action. We are extremely pleased with the creative experience we've encountered at Bailey Lauerman."
"We couldn't be more proud of our work for The Partnership at Drugfree.org," said Carter Weitz, president and chief creative officer of Bailey Lauerman. "We're flattered to hear our client's media partners making comparisons to some of the classic public service announcements created for this organization, such as the egg in the frying pan. But what we're most proud of is the opportunity we've been given to help parents save their teens from the danger of drugs."
About The Partnership at Drugfree.org
The Partnership at Drugfree.org
is a nonprofit organization that helps parents prevent, intervene in and find treatment for drug and alcohol use by their children. Bringing together renowned scientists, parent experts and communications professionals, this public health nonprofit translates current research on teen behavior, parenting, addiction and treatment into easy to understand resources at drugfree.org. The organization also reaches families through its community education programs which focus on local drug and alcohol issues of concern for parents, youth and the Hispanic community. The Partnership at Drugfree.org depends on donations from individuals, corporations, foundations and the public sector and is thankful to SAG/AFTRA and the advertising and media industries for their ongoing generosity.
About Bailey Lauerman
Bailey Lauerman is a nationally recognized, independent marketing communications firm with offices in Lincoln and Omaha, Neb. The agency is one of the most awarded in the country, and its staff of creative professionals supports some of America's leading brands and companies, including Cessna, ABC World News, Disney, Pepsi, Honeywell, OfficeMax, ConAgra Foods, TD Ameritrade and Union Pacific. Bailey Lauerman's work is consistently recognized in national creative competitions including the Effie Awards,
Communication Arts
, The One Show,
Graphis
, the Clio Awards, the ADDY Awards and the O'Toole Awards. More information about the agency is available at
www.baileylauerman.com
.