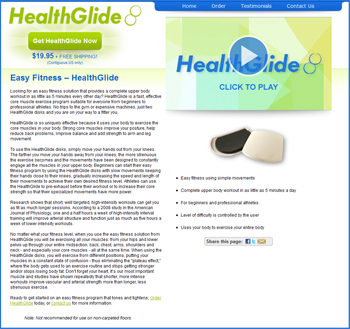 Cassopolis, Michigan - HealthGlide is an easy fitness solution that provides a complete upper body workout in as little as 5 minutes every other day. It is a fast, effective core muscle exercise program suitable for everyone from beginners to professional athletes. No trips to the gym or expensive machines, just two HealthGlide disks and you are on your way to a fitter you.
HealthGlide is so uniquely effective because the level of difficulty is controlled by the user and it uses your body to exercise the core muscles in your body. Strong core muscles improve your posture, help reduce back problems, improve balance and add strength to arm and leg movement.
To use the HealthGlide disks, simply position your hands on the disks and move them away from your knees. The farther you move the disks away from your knees, the more strenuous the exercise becomes. Workout instructions that have been designed to constantly engage all the muscles in your upper body are included with the disks. Weighing in at less than 6 ounces it's a fast, effective complete upper body workout designed to tone & tighten and you can even "pack your gym" when you travel.
HealthGlide invites you to visit their redesigned web site to see the HealthGlide disks in action by viewing the video on their homepage -
www.healthglide.com
. Also, their web site now makes purchasing the HealthGlide disks as simple as one, two, three with their user friendly shopping cart. Visit their web site today or
contact HealthGlide
for more information.
HealthGlide - working to provide the Easiest and Fastest way to find and keep an ideal and strong body weight.