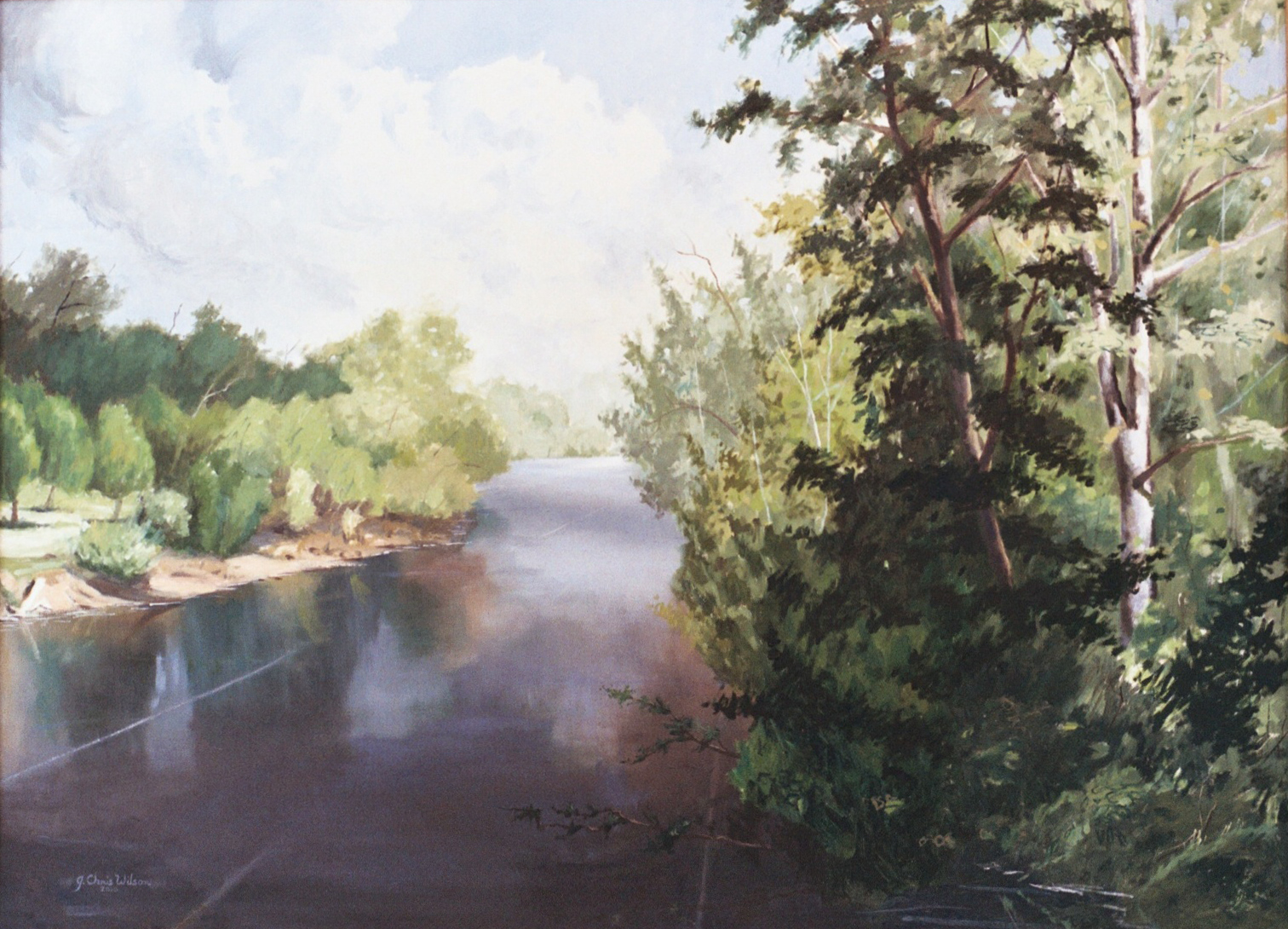 Extraordinary and unique paintings from J. Chris Wilson, a Southern regional artist, are currently on exhibit at the N.C. Japan Center at North Carolina State University. Wilson, professor of art and artist-in-residence at Barton College, is privileged to be the first non-Japanese artist to feature a solo exhibition at the Center. Located at the Spring Hill House, 705 Barbour Drive in Raleigh, the An Artist's Scenic Journey – The Japanese Sojourn exhibit includes eighteen Japanese themed paintings and an oil-on-canvas landscape painting from his current North Carolina series, From Murphy to Manteo – An Artist's Scenic Journey.
The Japanese Sojourn was inspired while Wilson served as visiting professor at Aichi Shukutoku University in Nagoya, Japan, in 1994 and early 1995. The exhibition will continue until June 1st.
"My desire is to communicate what the experience of being in a particular scenic landscape feels like," said Wilson. "Making art is a combination of what you see, what you know, and what you feel. I am honored to have a solo exhibition at the N.C. Japan Center and look forward to continuing to share these paintings with the public."
While the exhibition at the N.C. Japan Center focuses primarily on the Japanese Sojourn, Wilson is also displaying pieces from his current North Carolina collection From Murphy to Manteo – An Artist's Scenic Journey. Inspired by his journey to Japan, Wilson is creating a comprehensive portrait of North Carolina scenic landscapes – with some of the paintings measuring nearly 16 feet in width. The series captures the heritage and history of North Carolina along the U.S. Highway 64 corridor, a 563-mile journey from the mountains to the sea. Several of Wilson's large landscape paintings included in his From Murphy to Manteo series are on exhibit in the lobby of the North Carolina Museum of History in Raleigh.
Although a Georgia native, Wilson has resided in North Carolina since the early 1970s. He began teaching art at Barton College in the fall of 1974 and is currently in his 37th year with the College. Wilson's designation as artist-in-residence is the first in the history of the school. He has exhibited throughout the Southeast and all across North Carolina. Wilson's art is represented in numerous public and private collections in the United States, especially in the Southeast, and in England, Japan and Saudi Arabia.
About the North Carolina State University Japan Center
Founded in 1980, The North Carolina Japan Center serves as a focal point for the interaction between Japan and North Carolina, and is a statewide resource intended to assist all citizens, universities, companies, and public and private institutions in relations with the Japanese. The Japan Center is open weekday mornings until noon.
For additional information, please visit http://www.ncsu.edu/ncjapancenter/.
About Barton College:
Barton College, founded in 1902, is a four-year, private, liberal arts college located in Wilson, North Carolina. Ranked by U.S. News & World Report as one of the 2012 Best Regional Colleges in the South and by Princeton Review as one of the 2012 Best Colleges in the Southeast, Barton offers a wide range of professional and liberal arts programs leading to the baccalaureate degree, as well as a Master of Education degree in Elementary Education. Committed to providing a challenging academic environment in the classroom, Barton also provides a strong focus on student leadership development outside the classroom. Serving a population of about 1,180 students, the College draws students regionally, nationally, and internationally to provide a remarkably diverse student population for the Barton Experience.
For more information on Barton College, please visit www.barton.edu.
About J. Chris Wilson:
The former director for the Scholastic Art Awards for Eastern North Carolina, J. Chris Wilson is originally from Waycross and St. Simons Island, Ga. He is married to Kathleen and has a son Matthew and a daughter Singleton. Wilson has served on the faculty of Barton College from 1974 to 2012 and, now, is continuing at Barton as artist-in-residence. He earned a Master of Fine Arts degree from the University of Georgia, where he also completed post-graduate work, with Lamar Dodd as his major professor.
For additional information or to view Wilson's work, please visit www.jchriswilson.com.