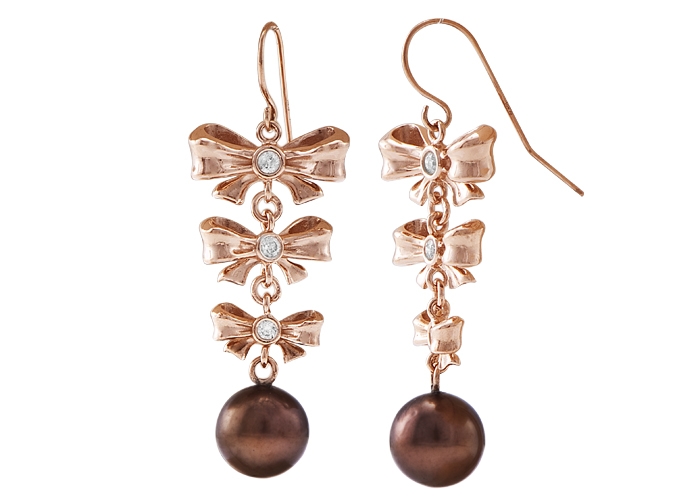 Just in time for spring fashion, Maui Divers Jewelry will launch its Hipu'u (pronounced hee-poo-oo) Aloha Collection during Ala Moana Center's 5th Annual Shop A Le'a Week. Bow-themed fashion has transcended the ages and Maui Divers is pleased to interpret this internationally popular design through fine Hawaiian jewelry. Translated, Hipu?u Aloha means "to bind or tie together in love" as in a relationship, both between people and with the Hawaiian islands themselves. Contemporary styling delivers this line of pendants, earrings and rings in 14K yellow, rose and white gold – often with pearl highlights.
"Spring is definitely the season for new fashions and we can't think of a better time to reveal our Hipu'u Aloha Collection than during Ala Moana's Shop A Le'a," said Maui Divers Jewelry President Mary Beth Brenner. "And we're not just launching this new line, we're also celebrating Hawaii's largest fashion event with a terrific gift with purchase offer, exciting prize giveaways and more."
From March 19 through 25, 2012, shoppers who spend a minimum of $300 at Maui Divers Jewelry's Ala Moana store will receive a complimentary Freshwater Pearl Strand gift with a retail value of $95. Maui Divers also invites shoppers to enter to win great prizes all week, including a three-night stay in an oceanfront suite at the Sheraton Waikiki. Plus, in support of Ala Moana's "Dress for Success" philanthropy helping women re-entering the work-force, Maui Divers will also provide a 10% discount on any purchase when a gently-used piece of women's business apparel or accessory is donated to the program.
The week culminates with a fashion show on Saturday, March 24th at 3 p.m., featuring pieces from the new collection followed by a meet-and-greet at the Ala Moana store with collection creator and Maui Divers' Vice President of Design, Michele Hulme.
About Maui Divers Jewelry

Founded in 1959, Maui Divers is the largest jewelry designer and retailer in Hawai'i. Renowned for its unique, high-quality handcrafted designs featuring pearls, precious corals, Hawaiian gold, diamonds and other beautiful gemstones, the company owns and operates 56 concept locations—Maui Divers Jewelry, Island Pearls, Pick-A-Pearl and Maui Divers Jewelry Luxury Collection—on the four major Hawaiian Islands, and in San Francisco and Guam. For more information on Maui Divers Jewelry, call toll free (800) 253-6016, direct at (808) 946-7979 or visit MauiDivers.com.