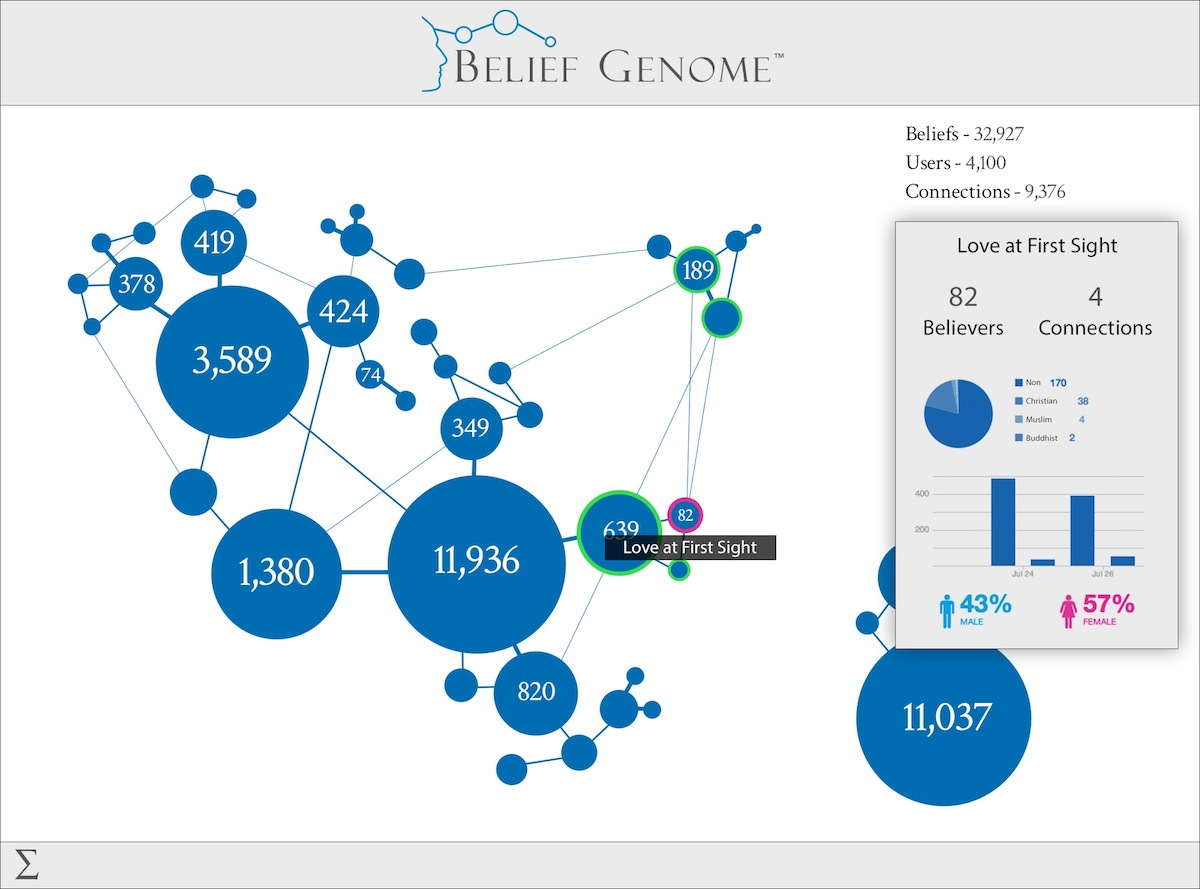 PRESS RELEASE
Belief Genome™ Aims to Map all Human Beliefs With Help of Kickstarter
The Open Source Religion Network™ Debuts Online Tool for Tracking Beliefs
BOISE, Idaho — October 26th, 2012 — The Open Source Religion Network is introducing Belief Genome™, a free online app for people to list, track, identify, discover and analyze beliefs, and belief interrelationships by using the Belief Genome map, and Belief Analytics™.
Belief Genome is a scientific endeavor which gives users a platform for self-discovery, research, and an idea of their "place in the universe" of beliefs. Members are able to compare their beliefs to friends, family, lovers, colleagues or organizations and the world at large.
Like other scientific platforms that utilize "citizen scientists", Belief Genome hopes to fill in the global network of human beliefs by mutually exploring and discovering them with the help of enthusiasts across the world.
Sidian Morning Star Jones, founder of TOSRN and Belief Genome, notes, "Beliefs are the often hidden yet underlying subtext for all human decisions, actions and behavior. Our intent is to provide a platform for both personal discovery and anthropological research so that as individuals we can be better informed and make more conscious and intentional decisions for ourselves as well as for our communities, and our collective world."
Sidian adds, "Anything that can be identified as a belief can be measured, inter-related, and mapped both socially and geographically."
For example,
What beliefs are predominant across specific ages, genders, or geographies?
What spikes in particular beliefs occur after major world events?
Which religions have largely adopted "non-religious" beliefs like 'love at first sight'?
How do beliefs of candidates from differing political parties compare or contrast?
How do people's beliefs change over time?
Sidian adds, "Belief Genome can be viewed as an intersection between technology and spirituality as it uses contemporary tools to track and gain insight about our deeper ideas of life and the universe, but it is also a platform for scientific understanding of sociological, psychological, and theological data. We really want to know and understand what makes us as human beings do what we do. Some explore outer space; we explore inner space."
Belief Genome is using Kickstarter, the preeminent crowd-funding platform as a tool to help fund our online technology platform, and develop new features and functionality such as real-time physics, viewing modes, and API's.
For more information on our Kickstarter campaign go to: http://www.kickstarter.com/projects/sidianmsjones/the-belief-genome-project
Belief Genome is a project of The Open Source Religion Network, a company dedicated to housing products and services with open source ideologies in religion and spirituality.
Sidian concludes, "We consider Belief Genome and Open Source Religion a new generation in the relationship between spirituality, religion and technology. Our goal is to provide completely unbiased products, services, and data to foster knowledge and understanding of our fellow human beings and emphasize strength in the unity of our pluralistic perspectives. Join us in building a better future for all."
About Belief Genome
Belief Genome™ is an open source technology startup that intends to map all human beliefs, their connections and interrelationships. The free online Belief Genome app gives users the ability to list, track, identify, discover, compare and analyze beliefs by using the Belief Genome map, and Belief Analytics™. Belief Genome is an offshoot of The Open Source Religion Network. www.beliefgenome.com
# # #
Contact
Press: Sidian Morning Star Jones
Email: sidianmorningstar@gmail.com
Phone: (208) 570-0252
Connect With Us
Facebook: Facebook.com/BeliefGenome
Twitter: Twitter.com/BeliefGenome
Social Network: OpenSourceReligion.net
Kickstarter: http://www.kickstarter.com/projects/sidianmsjones/the-belief-genome-project