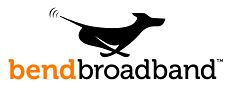 Bend, Oregon –Jan. 9, 2011 – The Deschutes Children's Foundation is ready to kick off 2012 thanks to a big Christmas bonus that will help the charity assist hundreds of families in need! Thanks to donations from generous community members, BendBroadband's second annual Holiday Giving Match Fund has raised over $20,000 for the nonprofit.
A local leader in corporate citizenry, BendBroadband created the Holiday Giving Match Fund to help those most in need, by pledging to match a percentage of funds donated by community members. That turned out to be a big number. Tuesday, December 20th, BendBroadband's CEO Amy Tykeson handed over an $8,000 check to the Deschutes Children's Foundation.
"Deschutes Children's Foundation works with many of the same nonprofit agencies that BendBroadband supports financially," said Sonja Donohue, Community Relations Manager at BendBroadband. "Our holiday matching donation to Deschutes Children's Foundation will provide crucial assistance to more than two dozen Central Oregon nonprofits."
As part of its mission, Deschutes Children's Foundation manages four nonprofit centers in Bend, Redmond and La Pine, and donates the use of the office and classroom space to nonprofit and government agencies that directly serve children and families.
"BendBroadband's support could not have come at a better time," said Deschutes Children's Foundation Executive Director, Kim McNamer. "We see the negative impact the economy is having on the community, and BendBroadband's donation will ensure we can continue providing rent-free office space to 26 amazing nonprofit and government agencies serving so many children and families in our community."
The Deschutes Children's Foundation practices a model of co-location that puts like-minded nonprofit and government agencies together in a shared facility to promote collaboration and efficient services. Simply put, shared equipment and staffing save additional money, and centralized property management saves programs time. "The end result is nonprofits share resources to serve more children and families," said McNamer.
"The synergy between the nonprofits that work out of Deschutes Children's Foundation's community campuses is a model of efficiency that will only provide children and families with increased access to life-changing services," said Donohue.
Donations to the Deschutes Children's Foundation can be made on their homepage, http://www.deschuteschildrensfoundation.org/.
About BendBroadband
Committed to supporting the Central Oregon communities it serves, BendBroadband is a family-owned, local company serving the area since 1955. BendBroadband focuses its charitable contributions and sponsorship efforts on youth, and by supporting an array of arts and entertainment in Central Oregon. Each year, BendBroadband's financial contributions help more than 70 nonprofits and/or events. The company also provides more than $700,000 of in-kind advertising and media assistance. As part of its Community Partners Program, BendBroadband provides more than 30 nonprofits with free Internet and/or cable services. Additionally, the company encourages employees to take paid company time to volunteer in the community, assisting nonprofits with valuable projects.
A true community partner, BendBroadband also provides its viewers with extensive local sports, civic programming and local features created and produced by COTV, channel 11 and 611. www.bendbroadband.com.
###