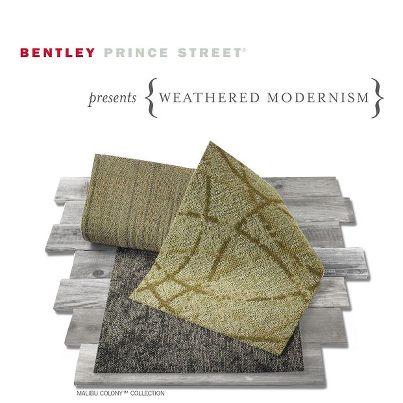 [Chicago, IL] Bentley Prince Street's new products, showroom and associates are embracing the design philosophy of Weathered Modernism at this year's NeoCon World's Trade Fair, which runs June 11-13, 2012 at the Merchandise Mart in Chicago. Attendees are encouraged to visit Bentley Prince Street's showroom, located on the 10th floor in suite #1060, to immerse themselves in vintage California design that combines the old with the new for an effect that is beautifully weathered and effortlessly modern.
New Bentley Prince Street products to be introduced at NeoCon 2012:
The Malibu Colony™ Collection Inspired by Vintage California's Malibu Movie Colony, the Malibu Colony Collection's mix of distressed patterns and neutrals complemented by fresh tones will transport the design world back to a place which was once the exclusive beach hideaway to silver screen era stars. The collection's colorway is designed to coordinate with some colors from 2011 NeoCon Gold Award winner Oscar Worthy™, along with American Riviera™ and Zuma Bluffs™.
American Riviera and Zuma Bluffs are complimentary products to the Malibu Colony Collection and gather inspiration from Malibu's beach scene. Remembering the new while embracing the old, these two products exhibit designs of beautiful decay.
"We are constantly reaching out to our partners and customers to develop new products that wow them, and this year I believe we have redefined luxury," says Anthony Minite, president of Bentley Prince Street. "Our new products are beautiful and also tell the story of our roots, environment, culture, partnerships and people."
Bentley Prince Street's showroom is designed to provide an enriching experience for all. The new look reuses some of last year's NeoCon design elements by reimagining them with contemporary architectural elements and newly acquired items. This aesthetic gives value to the longevity of objects and also ties into Bentley Prince Street's legacy of quality and sustainability initiatives, such as ReEntry® 2.0, Cool Carpet™ and Mission Zero®.
"I don't think we've ever been this excited about NeoCon," says Valerie Ottaviano, VP of Design. "We are confident we will strike NeoCon gold again with fresh new designs that reflect eroded, aged textures, like wood and metal, done in modern color palettes."
Weathered Modernism is just as much about people as it is products. Bentley Prince Street is very proud of its strong industry relationships, many of which will be visible at NeoCon. To mention a few, Modern Motion™ will be on display in the Robert A.M. Stern Architects' showroom and its 7th Floor exhibit space; another Bentley Prince Street product, Oscar Worthy in 18x36 inch carpet tile will be installed in the GSA booth; and an Oscar Worthy area rug will be featured in a communal space on the 7th floor of the Merchandise Mart. For more information on where Bentley Prince Street products will be displayed during NeoCon, please stop by showroom Suite #1060 to see a directory.
The following Bentley Prince Street associates and partners will be present and available throughout the show:
Anthony Minite, President
Valerie Ottaviano, Vice President of Product Design
Holly DeBrodt, Director of Sustainability
Rose Tourje, Founder/President of ANEW
Bentley Prince Street will again participate in extended hospitality hours on Monday, June 11 from 4 to 7pm and co-host its annual After Party with Crossville at the House of Blues on Tuesday, June 12 from 5 to 8pm. Additionally, Mr. Minite will be participating in "Meet the Presidents" day Wednesday, June 13, where he will be greeting students from 9 am to 12 pm in the Bentley Prince Street Showroom, suite #1060.
Engage with Bentley Prince Street anytime on Facebook, Twitter, YouTube & Designing For Life Blog and follow @bpscarpet and #AreaRugs during #NeoCon12 for special updates.
About Bentley Prince Street
Defining style, color, quality and service for 30 years, Bentley Prince Street manufactures and markets award-winning broadloom, carpet tile and area rugs for commercial interiors across the globe. Bentley Prince Street is committed to sustainable commerce and innovations to integrate style and function with environmental practices through its Mission Zero® goal of eliminating any negative impact it has on the environment by the year 2020. With the industry's most comprehensive vertical carpet manufacturing facility, the company maintains third-party certification to the ISO 9001:2009 Quality Management System and the ISO 14001:2004 Environmental Management System. Based in Los Angeles County, California, Bentley Prince Street is a subsidiary of Interface, Inc., a global provider of floor coverings. For more information, please visit www.bentleyprincestreet.com and http://bpscarpet.blogspot.com
# # #
Media Inquiries:
Angela Moore
310-429-8868