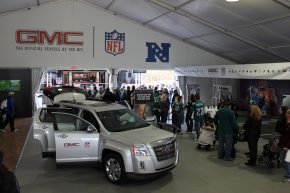 Bill Rapp Superstore is excited to announce that, GMC will have more than 500 vehicles on display and driving around Indianapolis among its activities during Super Bowl XLVI Week:
Never Say Never Moment of the Year
By voting on the GMC Facebook page or at www.NFL.com/GMC, football fans have had the opportunity to help decide the "2011 GMC Never Say Never Moment" from five finalists selected earlier this month. A winner will be announced during the first-ever "NFL Honors" awards show on NBC the night of Feb. 4.
In 2011, wide receiver DeSean Jackson was the inaugural winner for the improbable 65-yard punt return he made in a comeback win late in the season.
"Jackson's big play perfectly demonstrated the Never Say Never attitude that drives the NFL's best players and our designers and engineers alike." said Craig Bierley, GMC Advertising and Sales Promotion director. "All five of this year's candidates have proven they are equally deserving, but only one can win."
Fans who vote for their favorite performance will also be eligible to win a new 2012 GMC vehicle of their choosing.
NFL Experience
GMC will be the presenting sponsor of the 20th edition of NFL Experience, pro football's interactive theme park, taking place at the Indiana Convention Center from Friday, Jan. 27- Saturday, Feb. 4. The NFL Experience features activities for football fans of all ages and appearances by more than 100 current and former NFL players.
Included is a "time splice" feature that uses a multi-camera array to capture video of a participant diving for a football or tackling a friend in front of a stadium backdrop. A computer program sequences the images to create a 3D-like animation that can be posted to Facebook or Twitter.
Visitors can test their skills by participating in a variety of interactive attractions including "Quarterback Challenge," a passing accuracy game and "Extra Point Kick," a field goal kicking game. Kids ages 6-12 can participate in the NFL PLAY 60 Youth Football Clinics at the Clinic Field to engage in non-contact, continuous action while learning lessons in teamwork. The Vince Lombardi Trophy will be on exhibit, along with all 45 Super Bowl rings.
Additionally, attendees will have an opportunity to create a video calling play-by-play of a Never Say Never Moment with announcer Mike Tirico and win prizes including autographs and signed memorabilia. The NFL Experience will also host youth football clinics throughout the week and NFL Play 60 Kids' Day on Wednesday, Feb. 1.
About Bill Rapp Superstore:
With 55 years of service to the Syracuse, NY area, the Bill Rapp Superstore offers the largest selection of new and certified pre-owned vehicles in Central New York. At their state-of-the-art facilities, they offer you the best price on any new Buick, GMC, Nissan, Subaru or quality-certified preowned vehicle. For more information call 880-965-8205 or visit their store at 3446 Burnet Avenue, Syracuse, NY 13206.
Press Release Promoted By Automotive Advertising.