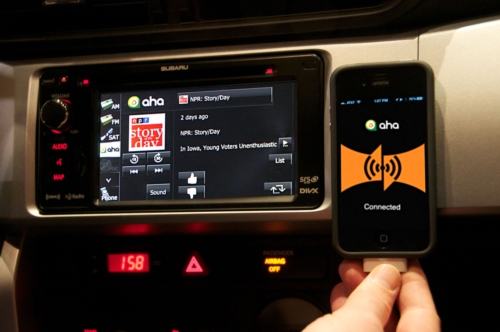 Bill Rapp Superstore is excited to report that, Subaru of America, Inc. and Aha by HARMAN, the first interactive platform that makes web content safe for drivers, have announced a partnership that will use the Aha platform to seamlessly bring Web-based content into Subaru vehicles letting drivers interact with web-based content right through their radios. Subaru is one of the first automotive manufacturers to integrate Aha's service into its vehicles.
Aha is powering the Web-connected "fourth band" of radio, alongside AM, FM, and satellite radio. Offered on future models, Subaru owners will have instant access to tens of thousands of stations of Web-based content such as: on-demand music from MOG® and Rhapsody®; Internet radio from SHOUTcast™, CBS RADIO™, and Slacker®; live news; the latest information, news and entertainment podcasts from NPR® and others; free audio books; personalized traffic reports; Facebook® and Twitter® newsfeeds; personalized restaurant recommendations from Yelp®; and much more. Aha will be easily accessed through the Subaru's optional in-car radio/infotainment system. Aha's app for iPhone® integrates with the vehicle, allowing Subaru owners to enjoy Aha while driving. In early 2012, Aha will launch an Android app, which will also integrate with future Subaru vehicles. Users will be able to customize their Aha stations from their iPhone, Android device, or the Web.
"Smartphone activity is at an all-time high and the consumer is looking for a safe interface to interact with the content in their vehicle. Subaru has been evaluating connected car solutions for some time, and Aha is the first product that meets our criteria for safety, great design, and broad content options that can be personalized for each driver," said David Sullivan, Car Line Manager, Subaru of America, Inc. "Without having to touch their smartphone, Subaru drivers will safely be able to access content like traffic, nearby restaurant information, music, and a growing wealth of web-based information now available through their Subaru optional infotainment system integrated with Aha."
"Buyers of new Subaru cars will be able to enjoy their favorite Internet content on-demand just as safely as selecting a radio station thanks to Aha," said Robert Acker, HARMAN VP and General Manager of Aha. "We have built a cloud-based platform that will be continuously updated in the future, so as the Web changes and new services emerge, Subaru drivers will always have access to the most up-to-date content through Aha. With an Aha-enabled radio at their fingertips, Subaru drivers will be among the most well-connected drivers on the road."
Aha is currently available in aftermarket head units and as a free app for iPhone. Aha will soon update its iPhone app to include even more stations and content, and will also launch its app for Android™ smartphones. Aha is currently working with additional automotive and consumer electronics manufacturers on multiple integrations that will launch throughout the year.
To reserve your new Subaru with Aha click here.
About Bill Rapp Superstore:
With 55 years of service to the Syracuse, NY area, the Bill Rapp Superstore offers the largest selection of new and certified pre-owned vehicles in Central New York. At their state-of-the-art facilities, they offer you the best price on any new Buick, GMC, Nissan, Subaru or quality-certified preowned vehicle. For more information call 880-965-8205 or visit their store at 3446 Burnet Avenue, Syracuse, NY 13206.
Press Release Promoted By Automotive Advertising.