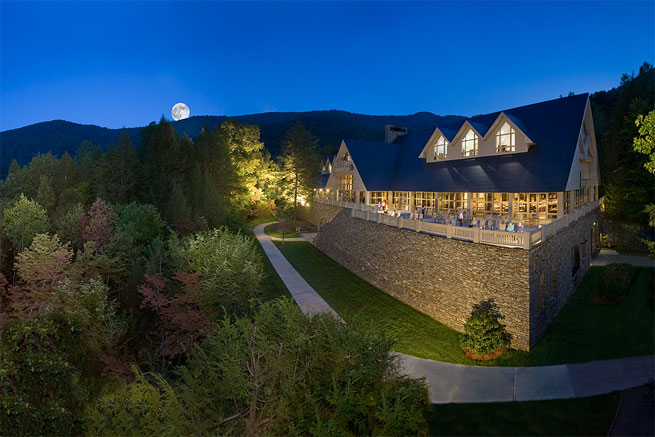 Asheville, N.C., April 2, 2012 – The following events will take place at the Billy Graham Training Center at The Cove in May:
May 4-6: "The Hard Side of God's Family" with Steve Brown
As in most families, strife is often found within the family of Christ. But, why can't we get along? Participants in this seminar will discover why unity in the church is a prerequisite for revival and how they can help bring God's family together. Steve Brown is an author, former pastor and professor emeritus at Reformed Theological Seminary. He is the founder of radio's Key Life Network and hosts the talk radio show Steve Brown Etc.
May 12: The Cove Open House and Night of Worship
This event is free and open to the public. Drop by The Cove from 10 a.m.–3 p.m. to tour the Billy Graham Training Center and Chatlos Memorial Chapel and catch a glimpse into the lives of Billy and Ruth Graham. Afterward, join us for a stirring evening of modern worship led by Asheville-area bands. Preregistration is recommended for this free concert and is required for an optional buffet dinner ($20). Overnight lodging is also available at applicable rates.
May 21-23: "Senior Celebration: Cliff Barrows and Friends" with John Munro and Squire Parsons
We live in a fallen world where anguish and hardship dominate our 24-hour news cycle and sometimes define our own lives. As Christians, how should we respond to the suffering we see and experience? Participants in this special seminar, designed for those 55 and older, will learn how to adopt a biblical response to the storms of life. John Munro is senior pastor of Calvary Church in Charlotte, N.C. A native of Scotland, he holds degrees from Edinburgh University and Dallas Theological Seminary and has pastored for more than 25 years.
May 23-24: "Church Staff Retreat: How to Lead Others in Times of Change" with Reggie McNeal
While changes in structure, methods, and practices may be inevitable, every leader knows good transitions to new paradigms are not. This two-day church staff retreat offers inspiration and education for church and parachurch ministry teams. The format includes plenary sessions and Q&A with our main speaker, along with time to meet together with your team for planning, interaction and reflection. Reggie McNeal is an accomplished author, a founding pastor, and the missional leadership specialist for Leadership Network. He has spent more than a decade as a denominational executive and leadership development coach and has taught as adjunct faculty for Fuller Theological Seminary, Southwestern Baptist Seminary and Trinity Evangelical Divinity School.
May 25-27: "Unstuck: How Christ Moves Us Beyond a Painful Past" with Chip Ingram
Pain is part of the human existence, and while it helps us grow to maturity, for some of us it feels crippling. Participants in this seminar will learn how a distorted self-image, dysfunctional families, rejection, and shattered dreams are inhibitors to experiencing the abundant life Jesus promised. Chip Ingram is the senior pastor of Venture Christian Church in Los Gatos, Calif. He is an author and president of the media ministry Living on the Edge.
Throughout the Month: Personal Spiritual Retreats
Personal Spiritual Retreats are self-directed opportunities (2 nights/3 days or 3 nights/4 days) for an individual or a couple to experience renewal in the peacefulness of The Cove setting, allowing them to refocus on growing their relationship with God. These are offered on a space-available basis. For more information, please contact our reservations department at (800) 950-2092. Special rates are available for those in full-time Christian ministry.
About The Cove: Nestled in the scenic mountains of Asheville, N.C., the Billy Graham Training Center at The Cove offers guests a unique and serene experience for purposeful Bible training through in-depth seminars; personal spiritual retreats; concerts; programs for seniors, women and church or ministry leaders; and many other inspirational events throughout the year. The Cove is also available for group events for Christian churches and nonprofit ministries who are looking for a conference and retreat center. Facilities can accommodate small groups, such as board meetings and church staff retreats, as well as large groups up to 450 guests. Visit www.thecove.org or call (800) 950-2092 for information on pricing or availability for events at The Cove. You can also connect with The Cove on these social media sites: Facebook, Twitter and YouTube.
-30-