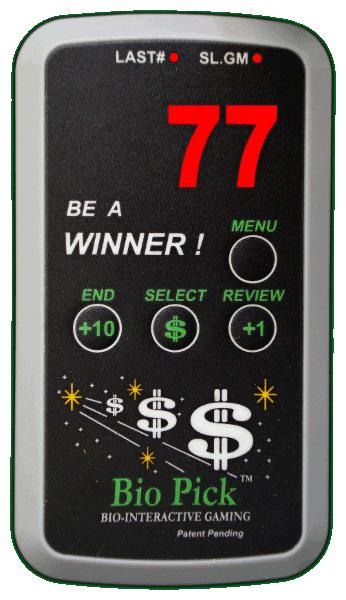 SYRACUSE – R & G Specialty Products announced today the availability of a new product that helps select lottery numbers based on biological input – using technology similar to polygraph lie-detector technology – resulting in lottery numbers to play that are intuitive and uniquely personal. The hand-held device with built-in bio-sensors is already programmed to support all lotteries in North America and, with its USB port, is easily updated via the Internet to play any lottery in the world, as well as adding new and changing lotteries as they are introduced. The product, named "Bio-Pick," is on sale now for $19.95, and can be ordered either from Amazon.com (http://amzn.to/sn1C9I), or from the Bio-Pick website (http://bit.ly/stsKDM).
"Bio-Pick is one of the most unique gadgets on the planet," said R & G Specialty Products spokesperson, Marc Abshire. "It's a great gift idea or stocking-stuffer for the lottery players on your list. Of course, nobody can absolutely guarantee winning with any lottery product, but we believe Bio-Pick is a superior way to play Lotteries, Keno, and other numbers games, rather than relying on random 'quick-pick' or sentimental numbers. It's not so much about winning the jackpot—it's more about winning with unique, personal numbers. It's easy to use, it's personal, and it's fun to play."
With literally thousands of lottery prizes being won daily, Bio-Pick was developed to reduce the chances of winners having to share their prizes with others who may have matched the same numbers. The device reads the electro-chemistry of the person holding it, and responds to those readings. The numbers generated are based on the player's natural sense of timing and intuition to make the number picks.
Orders placed by December 20, 2011, are guaranteed to arrive to U.S. destinations prior to Christmas Day.